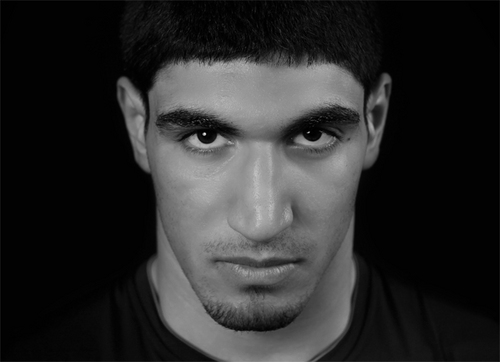 Over the offseason, Enes Kanter became by far the most talked about Jazz player on the team. In fact, in terms of the NBA-wide attention it has received, the Kanter offseason transformation story has become the most talked about Jazz-related story since Greg Miller attempted to verbally body-slam Karl Malone (which, verbally or not, is never a good idea). In case you do not have Twitter or you were in a remote village in southern Honduras for the last four months with no internet, here are five places where you can read up on all of Kanter's offseason antics. By the way, these are in no particular order. Is Salt City Hoops listed as number one? Sure. Is that a coincidence? Probably not. Does that mean we think we're better than those other sites? Definitely not. Am I asking myself easy questions to distract you from our shameless self-promotion? Um… Your comprehensive guide to "The Summer of Kanter":
5. Enes Kanter on NBA.com
4. Enes Kanter on TrueHoop
3. Enes Kanter on Deadspin
2. Enes Kanter on Deseret News' Jazz blog
1. Enes Kanter on Salt City Hoops
Offseason Accomplishments: See above. For a comprehensive summary of the content of those links, you could just look at this picture.
Patronus: Earl Watson. Confused? Metaphorically speaking, a Patronus is a protector, the Jungian archetype of our inner animal instinct for self-preservation. In fact, the best English rendering for the Latin word "Patronus" would be patron, benefactor, or protector. Though in the Harry Potter cosmology, the Patronus appears infrequently as a messenger or as an apparition of warning, it is primarily used in the purpose of the aforementioned guardianship. If then, we were to look at the Harry Potter universe and the basketball arena both as figurative representations of the struggle within our divided selves–our unprotected and helpless psyche manifesting itself as a witch without her wand or as an exposed, second-year Turkish center without the proven toughness of his fearless back-up point guard–we see that there is a repressed, psychological need for that watchful, protective shadow. I think then, it's abundantly clear that Earl Watson would have to be Enes Kanter's patronus.
Stat to Watch: Rebounding Percentage. While his offense disappointed at times during his rookie year, Enes Kanter's rebounding never did. The difficulty in gauging the prospective success of a rookie is that his strengths are never developed enough to prove that they may outweigh his weaknesses. In other words, a rookie may have a skill set, but until that rookie becomes a more established version of himself, we cannot know whether those skills are potent enough and whether his weaknesses are manageable enough to justify his presence on the court. We already know with Enes Kanter. His offense may never develop (extremely unlikely, considering he is only 20 and he has already shown at least some post moves this preseason that were absent last season), but he already possesses an elite NBA skill: rebounding. If you give Enes Kanter 25 minutes of playing time, you are guaranteed at least eight rebounds. In his rookie season (HIS ROOKIE SEASON), Kanter averaged 11.5 rebounds per 36 minutes. He also had a better offensive rebounding percentage than Dwight Howard and Kevin Love. Typically those percentages go down as playing time goes up, but even taking such a dip into consideration, Kanter can still be reasonably expected to place in the top 10 of that statistical category for the foreseeable future.
Three Outcomes for the Season:
1. Kanter finishes the season as the Jazz's starting center. This could happen a variety of ways. The most likely are that Al Jefferson gets either injured or traded, which forces Ty Corbin to either go small and start Favors at center or to turn to Kanter. Given Corbin's commitment to traditional definitions of positions, he would probably choose gradually bring along Kanter as the starter. There is the extremely unlikely possibility that Kanter plays well enough in back-up minutes that he takes the center position from Big Al, but again, this is extremely unlikely. For this to happen, Corbin would have to be confident that the Jazz's wing players could carry the offensive load.
2. Kanter spends this season backing up Jefferson and training to become the center of the future. If Jefferson plays the season out with the Jazz (and I think he will) and Kanter takes significant steps forward in his offensive game, the Jazz will have no reason to re-sign Jefferson, and Kanter will be the opening day starter one year from now.
3. Kanter busts. I don't think this will happen, but since I've spent the last 700 words recklessly hyping him, I felt obligated to add a reverse-jinx caveat to everything I've said. So yeah. Kanter will bust.