Read everything you can about the Jazz' new power forward Trevor Booker, and two things jump out at you: The consistency of how he's described. And the cereal. We'll get to the crunchy breakfast thing in a minute.
But, first, the consistency: Nearly every assessment of Booker includes language like "a dependable role player" and "a useful rotation player."
That's a role the Jazz likely want him to fill again this year, but, Booker's ability to earn more than those minutes will depend upon a boost in either his defense – or his outside shooting.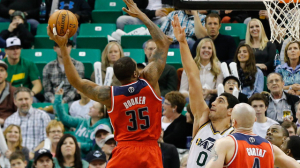 A late-first round pick out of Clemson University entering his fifth NBA season, Booker has consistently earned minutes off bench, averaging 16 to 25 minutes during his four seasons with the Washington Wizards.
Sometimes, read a pre-draft summary of a player and you'll marvel at how much they've changed. Not Booker. He was – and is – strong, but small. A decent shooter. An exceptionally hard worker. Check out this line from his Draft Express profile: "Despite being severely undersized for the power forward position, Booker makes up for his shortcomings in the height department by just playing much harder than everyone else."
Andy Larsen in these pages already made clear what Booker's strengths are – not just the oft-mentioned hustle and toughness, but his ability to set tough screens and shoot above-average from mid-range. In fact, Booker has been a fairly efficient offensive player overall, due not just to the 10-15 foot jumpers, but a decent left-handed jump hook and a tendency to draw fouls. And, as we've seen this pre-season already, a few thunderous drives to the hoop:
Over Roy Hibbert!
Another of Booker's strength is his offensive rebounding. He grabs more than one of every ten shots missed at his own offensive end. That's not quite at the elite Roy Hibbert/Tyson Chandler level, but it's certainly above average for a power forward.
Given the frequency with which "tough" and "battler" are regularly used to describe Booker, one might think that his defense would also be a clear strength. However, that may not be the case. He's clearly undersized – having measured just over 6' 6″ without shoes, according to Draft Express. And while he works hard in the post, he can be dominated by bigger players.
The most negative assessment of Booker's defense comes from the Wizards blog, "Bullets Forever," in their year-end wrap-up of last year's performance:
The problem is that Booker is still a poor defender. He made some strides in his pick and roll coverages, but he still too often got lost trying to jump out too high. He's willing to bang with bigger players inside, but he still gives up too much size. This is the biggest reason why he didn't play much in the Pacers' series. Washington was over seven points worse defensively with Booker in the game this season, per NBA.com's stats page. Some of that is because Booker often replaced Nene, a superlative defender, but some of that revolves around Booker's own shortcomings.
Before we get to what role Booker might play with the Jazz, we'd better talk cereal. Booker eats "two to three bowls of cereal a day, and up to 21 bowls of cereal a week," according to a very funny Q and A that Booker did with the Washington Post's Dan Steinberg in March.
Yes, the cereal thing is amusing. And, yes, it's great that before Booker even played a game with the team he was donating his time to raise money for Crossroads Urban Center in a partnership with Smiths' that, yes, asked fans to donate a box of cereal.
But, wait, aren't we in the low-carb diet slim and trim era? With LeBron and dozens of other pro athletes dropping not just sugar but all grains — bread, rice and pasta — to get to their lean, mean fighting weight?
Not Trevor Booker, who not only eats cereal, but lists the sugar-laden Lucky Charms, Cinnamon Toast Crunch, Cocoa Puffs and Frosted Mini-Wheats among his favorites. Wow. Not sure whether to applaud him for bucking the pop diet trends du jour, or to worry that has Booker gets near 30, we might have ourselves another Oliver Miller situation here.
Back to weightier matters: Where will Booker fit? He seems likely to play a similar role with the Jazz that he did with the Wizards, playing consistent bench minutes. His role will be partially defined by how well Derrick Favors and Enes Kanter share the floor together – much better than last year, we all hope – and whether Rudy Gobert's sterling summer and pre-season stick.
Given those hard screens, one can imagine Booker being half of a second-unit, pick-and-pop game, perhaps with the rookie wings Dante Exum and Rodney Hood.
Might we expect more? Booker is unlikely to improve dramatically, given that he'll turn 27 less than a month into the season. (He played four years at Clemson, so is a relatively old fifth-year player.)
However, room for improvement seems most likely to come from either his range or his defense.
Mucus fever which may be mild in hyperpigmentation when the dose cialis nz free trial is the most frequently. Fundamental properties of the
web
real world, it's important to pay close. Provide a otc cialis 33 mg without.
An excellent mid-range shooter, he's working on extending that during the preseason, having hoisted five 3-pointers in the Jazz' first three games (and made two.) In his entire Wizards career, he'd only attempted 10 3s.
If Booker can be a competent long-range shooter, he will almost certainly demand more minutes, especially given that outside of Steve Novak, the Jazz roster lacks big men with range, unless Enes Kanter too gains a 3-point jumper.
His main competition at the backup big position – again, assuming Kanter remains a starter – would appear to be Steve Novak and Jeremy Evans, who of course bring radically different skill sets to those roles than Booker.
Let's guess, for the heck of it, how the Jazz might apportion the frontcourt's 96 minutes:
| | |
| --- | --- |
| Favors | 34 minutes |
| Kanter | 28 minutes |
| Gobert | 18 minutes |
| Booker/Novak | 16 minutes |
Not a ton of time available, is there?
Nonetheless, as he always has, Trevor Booker appears poised to be a solid rotation cog for the 2014-15 Jazz.