Well, it was a good streak while it lasted.
I came into tonight's game having covered four Jazz games and four Jazz wins. Alas, streaks are made to be broken and the Utah team fell to the ageless/bionic/real, real good San Antonio Spurs 96-78 at the Viv.
Jazz struggle from the 3-point line
There are a few things about the Jazz and Spurs stat lines that look similar. The Jazz got off 17 3-point shots; the Spurs got 18. The Jazz got to the line 12 times; the Spurs also got 12. The Jazz got 77 field goal attempts; the Spurs got 79. The major area where there was a huge discrepancy (in addition to being outrebounded 43-31) was the made 3-pointers. The Jazz only swished 3, one of which was from Trevor Booker who has been relatively allergic to the long ball.


The Spurs made half of their threes, making nine.
If the Jazz make the three at a higher rate tonight, it's a much tighter game than the 18-point disparity displays.
It's totally reductionist to say it's a make or miss league. It's silly to adhere to basketball clichés like that and shrug and say, "sometimes the ball goes down, and sometimes it doesn't." But sometimes it's just a little bit true.
As Coach Q said in postgame, "They make you expend so much energy that I think when you do get open shots they're a little harder. You have to work for them. They're a superior team and if you're going to play with them, which we did for a while, you've got to be able to hit shots."
A bit more eloquent than I am, but whatevs.
The San Antonio Spurs are a relentless defensive team that allows their opponents to 32.2% from the 3-point line for the season. It may be safe to say that a team shooting 17.6% is a bit of an outlier. There aren't many games where Gordon and the Jazz's point guards are going to record a big goose egg from deep.
Point guard rotation is still a question mark
The Jazz's point guard rotation, after a few promising games from newcomer Shelvin Mack, is still obviously flawed. Mack started hot, opening the game's first quarter going 3/4 from the field for 6 points. He would only score one more bucket the rest of the way.
Trey didn't get in the game until midway through the 3rd quarter and while Neto's hustle was there, he had just two buckets. It'll be interesting to see how much longer Quin will continue to play all three guards.
Coach Snyder said in postgame that there are some challenges to that approach.
"It's hard to play three point guards," he said, adding that Mack is fatigued seeing the added minutes. He also said that he liked Raul in the game for his defensive energy and inserted Trey when he thought the team needed an offensive punch. Mindful of their collective struggle, he said, "None of those three guys had their best games … whether it's making shots and making plays."
So… that's fun. It's something to keep a collective eye on in the future, especially when Alec Burks (REMEMBER THAT GUY?!) comes back from injury. I vaguely recall the triple-wing. Those were fun times.
Rudy no like physicality
While it appeared early that Rudy may be busting out of his recent slump, the Frenchman continued to struggle when being defended by a physical center. Once a statistical All-Star, Rudy hasn't been the plus/minus standout he once was, ending tonight's game as a -14. After the Sunday loss to the Blazers, (the one after which he said he's gonna have to take the fine one of these games in regards to fouling) he was a -16.
In postgame, Coach said of Gobert: "He has to learn how to use his body to take space even more. Those things will come, but, you know, right now I love Rudy as a player, but I'm realistic. He's like anybody."
He continued by saying, "…there's a long way to go. He's taken steps and he hasn't arrived yet."
Farewell to Timmy?
Look, if a little team named the Warriors weren't playing right now, everyone would be talking about the Spurs, who have yet to have yet to claim a 10th loss. They're historically great, just a little less historically great than the Warriors — and certainly in a less flashy fashion. Unless we can get Kawhi Leonard to start shimmying, that's not going to change any time soon.
There's also a chance that we're getting our last tastes of the career of Tim Duncan, who, most likely, would rather avoid the Kobe-esque farewell tour.
So soak up these last moments, peeps. Enjoy every flat shot, pump fake, grabbed jersey and foul face. I'll miss using this scale: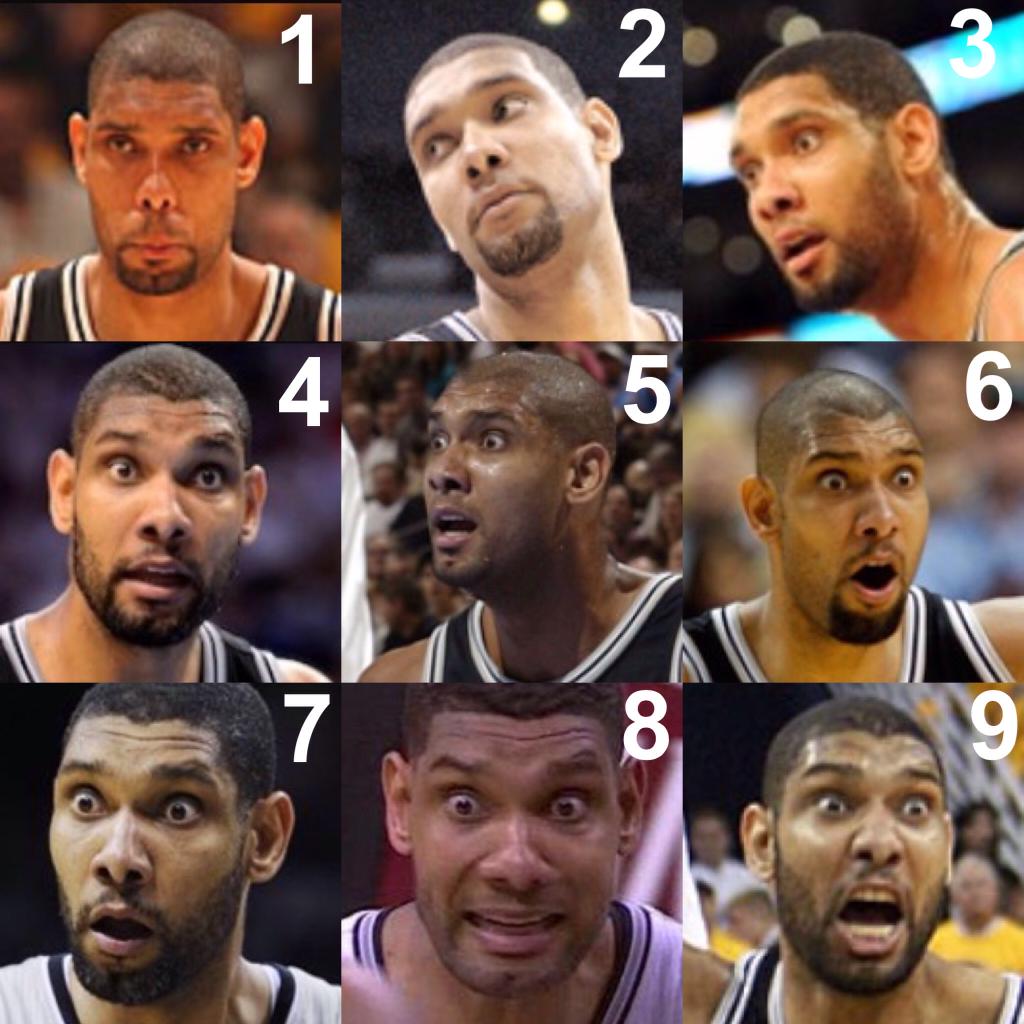 More bullet points because my brain can't hold this all in
Kawhi was awesome and defended Hayward really well.
Derrick Favors took it to All-Star LaMarcus Aldridge. That was a way more fun matchup than Gordon/Kawhi — mostly because it was closer. Favors had eight straight points in the 3rd while being guarded by LMA and also seems to have found his buttery midrange game. So that's good. Fav's final line was 25/6 to Aldridge's 15/7.
Boban Majanovic got so many cheers during his sub-2 minutes of garbage time.
Chris Johnson is fun and hustley, but needs to start making 3s.
Playoff race
The race for 8th just got a little more interesting when the Blazers blew a major lead against the seemingly hapless Houston Rockets, allowing them to score 37 in the third quarter alone. After the Rockets' win tonight and the Jazz's loss, the good guys have fallen to 9th and the boys in red have reclaimed the 8th seed.