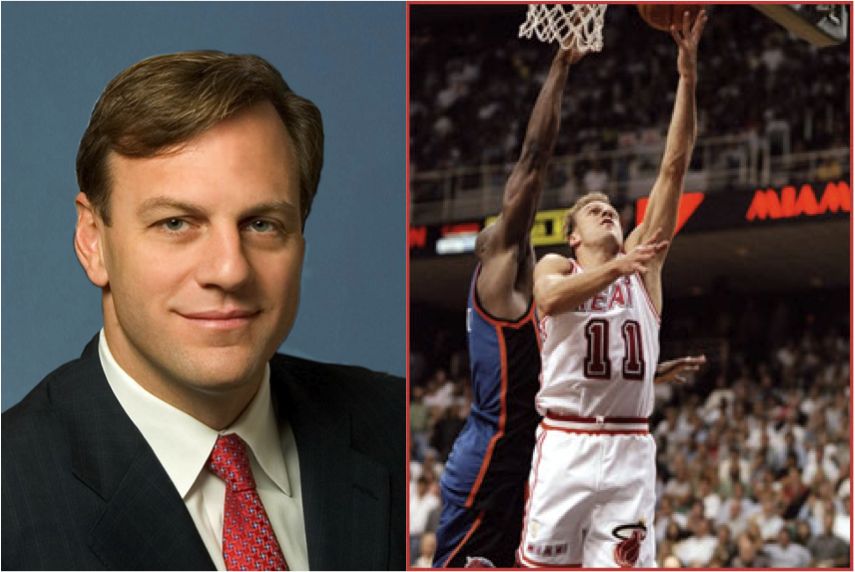 Here at Salt City Hoops, we're occasionally accused of being too analytical. Basketball is a fun sport, they say, and we're being too objective about it. Jumbo Rudding, on the other hand, is not analytical. He is zany. He is infamous for his out-of-left-field basketball jokes and opinions. We're thrilled to have him contribute a mailbag each week on Salt City Hoops. Interested in submitting a question to Jimbo's mailbag? Email it to Jimbo at mailbag@saltcityhoops.com or tweet@JimboRudding to appear.
Q: When you and John Crotty go to Chuck-A-Rama, what does his first plate usually consist of? How about his last plate?
@agreenhalgh28
John Crotty. Now there's a name I haven't thought about for a minute. Crotty looked like a guy you would either watch play basketball or watch try and figure out why your furnace is making that loud clicking noise.
If I didn't have the internet and was strictly going off of memory, I would guess that Crotty had the following four separate stints with the Jazz:
Barely made the team and played from 1984 to 1986.
Signed again for the 1993–1994 season.
Traded back to Utah in 2001.
Checked out the ESA furnace in 2011.
Now, after perusing the internet, I was surprised to find out that Crotty went undrafted and had an 11-year NBA career. That's pretty impressive when you consider Adam Morrison was drafted third overall and ended up playing in only 161 NBA games. However, Adam Morrison DOES win the contest for grossest facial hair ever.
Also, Crotty only played for the Jazz twice, 1992–1995 and then again from 2000–2002. So, I guess I was dead wrong about his NBA stints with the Jazz. Although I did check his Wikipedia page and it looks like he is a whiz at fixing furnaces. Good looking, good at basketball, and good at furnace repair. The original triple threat!
Oh, and his first plate would consist of a salad with TONS of beets and his last plate would have 17 scones.
Q: Would we all love LeBron James so much if he looked like Wilford Brimley? Call me crazy, I'd love him more.
@SpamIsDelish
I've tried so hard over the years to hate LeBron. I just can't do it anymore. That doesn't mean that I'm going to buy his jersey and start trying to go bald or anything. What it DOES mean is I'm not going to hate him just because he's good at basketball. If he were playing in the Western Conference and had knocked the Jazz out of the playoffs multiple times then I would probably have to rethink that. For now, though, I'll remain quietly indifferent.
When it came to Jordan and Kobe, I could feel the hate flow through me like a Sith Lord watching the first battle of Geonosis. Ha, not that I know what that battle is or even what it meant for the overall morale of the rebel alliance. Only a NERD would know that and bullies cured my nerdery with swirlies years ago.
I agree with you about loving LeBron more if he looked like Wilford Brimley. It would be awesome to see LeBron out there playing in a flanel and work boots and getting his mustache caught in the net. It would also be amazing to see all the little kids in awe of his game and wishing he was their grandpa.
I love Wilford Brimley. He will always be Pop Fisher to me.
*****First one to tweet me and tell me what movie the character Pop Fisher is from will get an RT and also the rest of my Parmesan Chicken from Applebee's that's been in my fridge since Tuesday.*****
Wilford looks like the type of grandpa who would take his grandkids to a matinee and blame his diabetes for being too cheap to spring for popcorn.
Q: Did you hear that career backup PG Mark Jackson got fired and his rookie replacement took the team to the Finals? Thoughts?
@the6bees
Poor Mark Jackson. Always the backup, never the bride.
In an effort to get to know Mark a little better, I looked up some facts about his life and was pretty surprised at what I found. Check this out:
Born April 1, 1965 and instantly thought he was a better doctor than the one who delivered him.
In 1980 he went on his first date to see Disney's "The Watcher in the Woods" and was so scared he managed to pee both his pants and his date's pants.
In 1979, he got his first job delivering newspapers after John Stockton quit to focus more on basketball. This only lasted a week after multiple complaints that he "wasn't as good as the last kid."
Got REALLY into cowboy poetry at St. John's University.
Became a member of the Stockma Delta Phi fraternity.
While in college he somehow dated a girl for a month before realizing she was only a statue in front of the campus library.
Was the 18th pick of the 1987 NBA Draft. Three years and two picks after John Stockton.
Traded to the Clippers in 1992.
Perfected the cat's dance moves to Paula Abdul's "Opposites Attract" music video.
Traded to the Pacers in 1994 for Pooh…Richardson.
In 1995 he got WAY into pogs.
Traded to the Nuggets in 1996.
Accidentally left his sunglasses in a Denny's.
Traded back to the Pacers in 1996.
In June of 1999, he had his first of several anxiety attacks because of the Y2K bug.
Signed with the Raptors in 2000.
Left his favorite jacket on a cruise ship.
Traded to the Knicks in 2001.
Traded back to the Nuggets after the 2001–2002 season.
Saw the movie "Beaches" for the first time and loudly cried in front of his friends.
Signed with the Utah Jazz in 2002 and played backup to John Stockton.
Tried to convince DeShawn Stevenson and John Amaechi that he was better than John Stockton.
Wasn't even close to being better than John Stockton.
Signed with the Houston Rockets in 2003.
Decided the goatee would stay forever.
Retired in 2004. One year after Stockton.
In 2006, he had an affair with an ex-stripper.
He was the target of an extortion plot by the ex-stripper with which he had an affair.
Decided to become a pastor.
In 2011 he was hired to be the coach of the Golden State Warriors.
In 2014 he was fired as coach of the Warriors and replaced by someone who is better.
I believe that Mark Jackson will coach again. He has a good understanding of the game and seems to enjoy the NBA spotlight. It will be interesting to see how far this rollercoaster ride of a career goes.
One thing I learned while researching Mark is that no one is immune to mistakes. All we can do is our best.
Q: I ran into Jerry Sloan at a Great Clips on a discounted haircut night. Would you expect anything else?
@Zachw56
This makes total sense. He probably brings the coupon in every time, even though they never ask for it. I would bet some of my own money that Jerry has absolutely no idea how much money he even has.
Kudos to Jerry for sticking with the same haircut his whole life. He really hasn't strayed at all. He probably goes to that same Great Clips every month and just says, "The regular, Cheryl." Then Cheryl is secretly upset because her name is really Carol and Jerry still hasn't figured that out. No matter how many times she says, "It's Carol, Jerry," he just acts annoyed that it's taking her so long to start cutting.
During a haircut in early 1993, Carol made the mistake of rounding the back instead of squaring it the way Jerry always requested. When she held up the mirror for Jerry to see, he yelled, "D&%$# Cheryl!" and stormed out without removing his cape. Jerry eventually brought the cape back and apologized for his outburst and they have been good friends ever since. In fact, Jerry served as a shoulder to cry on when Carol's husband left her for a woman he met while trying to sell his banjo at a pawn shop.
If you enjoyed reading about the adventures of Jerry and Carol, please see all previous Jimbo's Mailbags.
Q: I think the Jazz could consider drafting Hope Solo as a third rim protector. What do you think?
@DanceSasquatch
Hope Solo? You mean Han Solo? Yeah, um…that guy doesn't exist. It was a movie. Looks like someone needs a swirly! :)
I do agree with you that the Jazz need a third rim protector. I'm hoping they can figure out how to get Tomic over here. From what I hear he is a pretty great passer and an okay scorer. You can't have too many of those types.
————-
Thanks for all the questions, you guys! Hope you're getting some good pics of the kids running through sprinklers. See you next week!