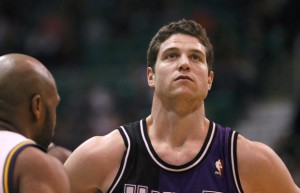 When it comes to hypothetical situations, none tears Jazz nation asunder more quickly than mentioning "Jimmer Fredette" and "Utah Jazz" in the same sentence.  Normally put aside in favor of a shared Jazz fandom, either side of the BYU/Utah "Holy War" froths at the mouth either for or against Utah making a play to add the former BYU wunderkind and adopted son of Provo.
Because I've had a brother attend and graduate from each of the Holy War participants, I've come to consider myself as something of a Switzerland regarding the Ute/Cougar rivalry.  In the interest of full disclosure, I will admit a slight leaning towards BYU, as that was the first school a sibling attended, thus garnering my interest for a longer period of time.  Nonetheless, I hereby declare myself an impartial observer of the situation, and have committed myself to looking at the move purely from a basketball standpoint.
The Pros:
While some of the luster has certainly faded, Jimmer maintains cult hero status in the Beehive State, making him the best investment-per-dollar the Jazz could make from purely a marketing standpoint.  With what appears to be a rocky season ahead, bringing the Jimmy Chitwood of Provo back to Utah would certainly generate buzz and inject some excitement into a potentially otherwise lackluster year.
From his rookie year to last season, Jimmer's field goal and three-point field goal percentages both increased.  Though still only shooting 42% from the floor, his 41.7% from three was more than respectable.  Jimmer would likely see an increased number of open looks from deep playing within Utah's flex offense, which is more conducive to his playing style than the unique sets run by the Kings, which appeared to center around DeMarcus Cousins getting angry and Marcus Thornton chucking it at will.  Also bolstering the hypothesis that a move to the Jazz would improve Jimmer's statistics is the fact that thus far in his career, his playing time has been less reliable than a recently rear-ended 1973 Ford Pinto.
Dennis Lindsey's desire to utilize the remaining cap space to acquire additional assets via taking on an unwanted contract could be a way to get Fredette without giving up anything other than the cap space Lindsey was planning on giving up anyway.  Though my fellow SCH blogger Dan Clayton believed the Kings were not high on the list of likely teams wanting to pay to dump salary, the Kings may be willing to part with Jimmer if it also means jettisoning an undesirable player/contract, such as Travis Outlaw.
Have you seen the Jazz's bench lately?  To say it could use some additional depth is an understatement.
The Cons:
Jimmer's fame/infamy in Utah, while bringing in additional interest, could prove to be too potent, to the point where warring factions of fans booing or cheering when Fredette checks in could put a damper on or completely overshadow other more important aspects of the game, such as the development of the key Jazz players.  Would Lindsey & Co. really want to bring in such a polarizing player that would usurp the spotlight from Favors, Hayward, Burke, Kanter and Burks, esq.?
Yes, the current Jazz bench is shallow, but where exactly would Jimmer fit in?  It certainly wouldn't be in place of Alec Burks, whose prominence figures to rise the most significantly next year.  Would Utah play Jimmer over new acquisition Brandon Rush, who boasts a very similar three-point percentage while providing better defense and athleticism?  This also seems unlikely, leaving only the possibility of Fredette playing a backup point guard role.  Fredette's pedestrian 3.4 assists per 36 minutes raises questions about how effective he can be as a floor general/facilitator in the NBA, especially considering he was a pure scorer in college.  While Jimmer probably has a little more upside than newly-inked Jazzman John Lucas III, Lucas is a better pure fit at the reserve point guard slot.
The Verdict
Acquiring Jimmer Fredette would be a reasonable roll of the dice for the Utah Jazz.  In the ever-evolving NBA game, you can never have too many 41% three-point shooters.  As no other three point specialists are available for that price, nor do they have the instant buzz generating capabilities and name recognition that Fredette garners in Utah.  As Sacramento is also under the cap, the asking price may end up being too high, depending on how desperate the Kings are to shed salary, either to get further under the cap or to take on another player via trade.
Yes, bringing Jimmer to play in the half-friendly confines of Energy Solutions Arena has some Tebow-ish potential to command an undue amount of notice. I would anticipate the hullabaloo to die down in a relatively short amount of time, making the move a solid, yet unspectacular one in terms of basketball impact.