Recent controversial tweets from Chandler Parsons, CJ McCollum, Javale McGee and even Shaq have set Twitter ablaze these past few weeks. In an attempt to stop, drop and roll, the NBA issued a new edict addressing social media use by official team accounts and players. Lucky for Jazz fans, our guys tend to stay at the edge of the embers, but a few of them are still close enough to come away smelling like smoke occasionally. It's mostly lighthearted mischief between them——no bridges burned, but under every self-respecting bridge is a troll. While I will always and forever stand behind my statement from months ago that Rudy Gobert is the best social media follow in the NBA, I'm here to announce there's another Jazz man who's holding his own behind the screen.
Joe Ingles has emerged this season as more than a glue guy. He's a regular contributor, threading the needle on backdoor cuts, leading the Jazz in steals per game (1.2), and confidently drilling threes with accuracy (44.1%). He even led the league in three point percentage for several weeks, which had some thinking a 3-point contest invitation was certainly warranted. It never came, but Joe took the snub with humor. "I probably would've only got five or six shots off," the forward told Jody Genessy of the Deseret News, cracking about his often deliberate release.
Rudy said Slow-Mo Joe would have gotten through at least two racks.
No invitation did not mean a complete vacation for the Australian two-guard. Ingles still went to work this All-Star break, firing off sarcastic shots at teammates who have surely come to expect it by now. It appears Jingles likes his humor like he likes his shot——scalding.
Target no. 1: Rudy Gobert
Target no. 2: Gordon Hayward
While Hayward credited his coaches teammates for helping him get to his first All-Star game, Jingles gladly accepted.


And while watching the game Joe didn't hesitate to offer critique of G-Time's performance.

Target no. 3: Dante Exum
Unfortunately for Exum, Jingles does not limit his public ridicule of his fellow Aussie to the All-Star break alone. Dante is probably target three through ninety three. Here are some of the most egregious, including a double whammy for Hayward and Exum about jersey sales.
In classic troll form, Joe lurks in the comments in comedic fashion.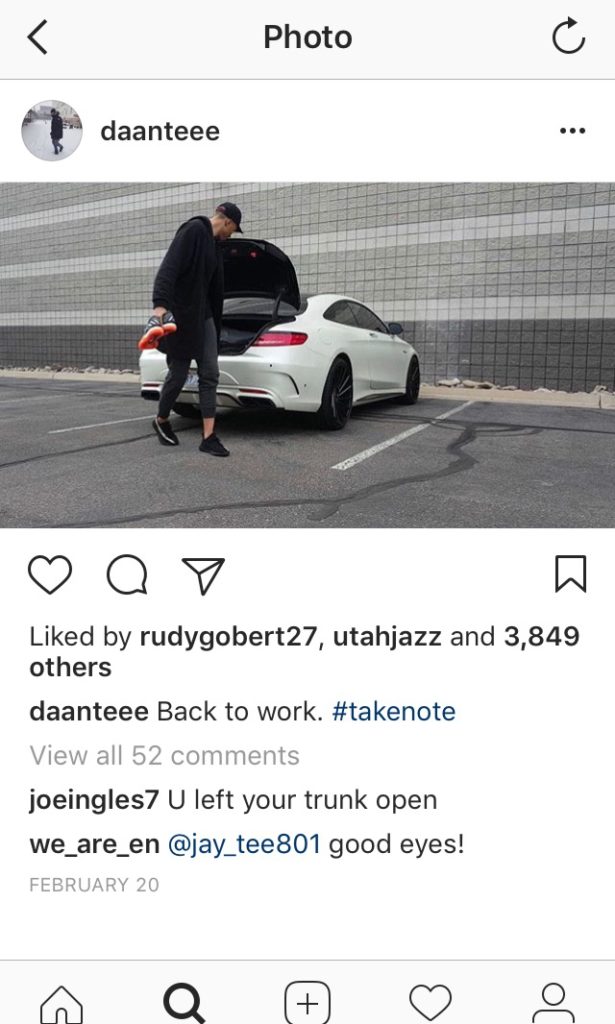 And here he gives a baby-faced Exum the proper patronizing treatment.

Target no. 4: Trevor Booker
It may seem surprising that a former Jazz player makes this list, but any opportunity to rib somebody is one worth taking for Ingles. In Booker's return to Utah in a Brooklyn uniform, Joe laid the sarcasm on thick to make sure Booker knew the sentiment was the fans' alone.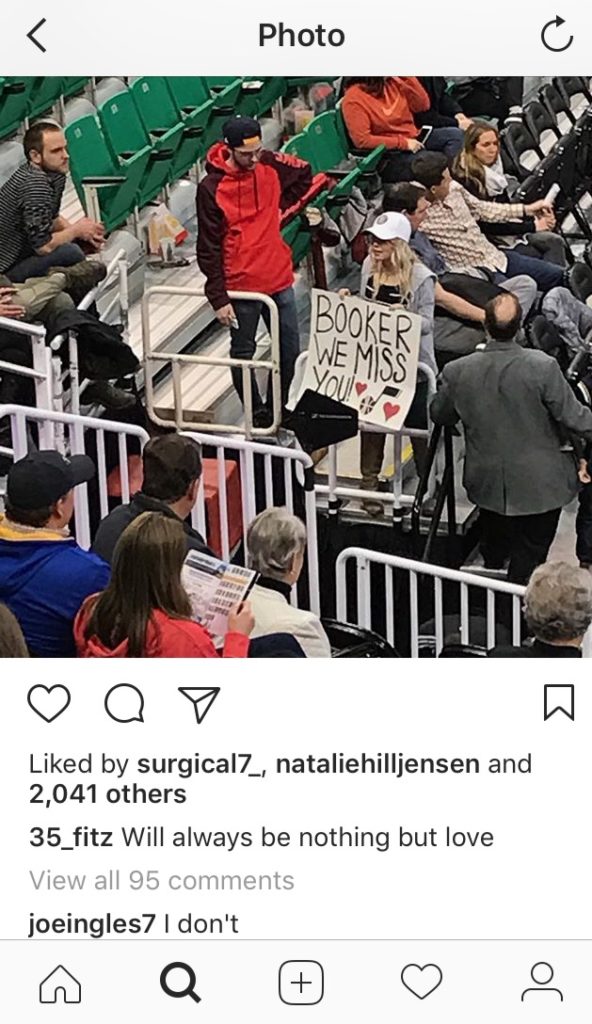 The thing is he doesn't leave his shenanigans in the digital world. He makes sure Booker knows he's just plain unwelcome here.
It's clear the banter makes the locker room a more fun place to be. Even Coach Snyder gets in on it sometimes.
"I can barely stand to be around Joe for a few minutes during practice. How are you holding up?" he asked Gordon Monson of The Salt Lake Tribune during a 2015 interview.
Then he added, "We have diverse guys on this team. But Joe's helped us be and stay connected. I've been hard on him, at times. But he's been a bridge, someone I can rely on, even though this is his first year, to keep it together, to keep everyone focused. There's trust there and it's appreciated."
His role and that trust have evolved since then.  Ingles doesn't back down from a challenge, whether it's guarding Lebron, or taking a big shot. Ingles is happy to jaw on the court too, though he insists he and E'Twuan Moore were simply talking about their agent. Mmhmm.
Every team needs the guy who can dish it and who can take it. If Jingles doesn't like how you're jangling you're going to hear about it from the scoreboard, your unsightly stat line or, if he really likes you, an insulting tweet. Oh, that we could all be so lucky.