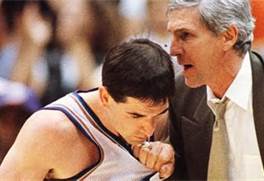 Within a matter of days, the NBA saw two all-time greats ride off into the sunset. After tremendous careers spanning parts of three decades, Grant Hill and Jason Kidd announced their retirements. The praise for their distinguished achievements that has since ensued is very fitting and deserving. The news has spawned debate as to where this pair fits in the annals of NBA lore.
Specifically, in the case of Kidd, it has lead to discussion of the best point guards in NBA history and where he fits in the pecking order. Seeing the barrage of tweets and articles that highlight Kidd's career was enjoyable, but the Jazz devotee in me naturally gravitated to one Mr. John Stockton and his greatness.
Several have asked who had the better career: Kidd or Stockton? I won't go too in-depth on this, as that is a topic for another day. Suffice it to say, that while Kidd has the edge in some areas (better rebounder, stronger defender, earned a championship with Dallas), Stockton has my vote due to his own advantage in others (all-time leader in two major statistical categories, durability, better shooter).
Even the most die-hard of Jazz fans can sometimes underestimate just how good Stockton was. If you will indulge me, I would like add another perspective on his place amongst his fellow elite point guards.
First, we know most of the following statistics and accolades by heart:
The all-time leader with 15,806 dimes. Led the league in assists nine consecutive seasons. Tallied 1,000+ assist seasons.
With 3,265 steals, also the all-time leader in thefts.
10-time All-Star. Co-All-Star MVP in 1993.
11-time All-NBA selection. Five-time All-Defensive team member.
Two-time Olympic gold medal winner.
Led the Utah Jazz to the playoffs each of his 19 seasons, including two Finals appearances in 1997 and 1998.
Played every game in 17 of his 19 campaigns. Including 182 postseason outings, #12 played in 1,686 of 1,708 possible games (98.7%).
Apparently one autobiography.
And so on and so on.
Well, here is one more statistic that illustrates Stockton's mastery: points accounted for. I remember fondly many instances where John Stockton would orchestrate a brilliant quarter where he either scored or assisted nearly every basket for the Jazz. He essentially accounted for almost every point for his squad. This was a rather common occurrence, and one way in which he could quietly dominate.
The formula is simple: (assists x 2) + points scored. Obviously, we cannot accurately ascertain how many of a player's assists resulted in three-pointers by teammates, but we can figure out the minimum points an individual accounted for during his career.
Along with the 15,806 assists, Stockton scored 19,711 points (which might be a surprising total: he was a very underrated shooter and scorer). While we cannot gauge how many three-pointers John assisted via the likes of Jeff Hornacek, Bryon Russell, and Darrell Griffith, we know that Stockton accounted for at least 51,323 points. Astounding.
Let's compare him against some of the game's best playmakers:
| | | | | |
| --- | --- | --- | --- | --- |
| Name | Games played | Assists | Points Scored | Pts Accounted For |
| John Stockton | 1,504 | 15,806 | 19,711 | 51,323 |
| Oscar Robertson | 1,040 | 9,887 | 26,710 | 46,484 |
| Jason Kidd | 1,391 | 12,091 | 17,529 | 41,711 |
| Gary Payton | 1,335 | 8,966 | 21,813 | 39,745 |
| Magic Johnson | 906 | 10,141 | 17,707 | 37,989 |
| Steve Nash | 1,202 | 10,249 | 17,285 | 37,783 |
| Isiah Thomas | 979 | 9,061 | 18,822 | 36,944 |
| Andre Miller | 1,126 | 7,956 | 15,496 | 31,348 |
| Bob Cousy | 924 | 6,955 | 16,960 | 30,950 |
These are some impressive numbers by some very impressive players, but Stockton's total is remarkable. Obviously, his longevity and lack of missed games contributes greatly, as some counterparts accounted for more points per game played. In future posts, I will delve deeper into points accounted for, but for now, this gives you a feel for the impact Stockton had on the game. While Karl Malone and his prolific scoring earned most of the headlines, Stockton's contributions were amazing.