In a very surprising move, Kevin O'Connor will relinquish day-to-day GM duties for the Jazz. Yahoo's Adrian Wojnarowski first broke the news and it was quickly confirmed by Brian T. Smith of the SL Trib.
Here's BTS talking about the move on 1320 AM with Gunther and Graham:
O'Connor will apparently maintain his role as the top basketball person in the Jazz front office, but will give the GM title to whomever the Jazz hire to take over his day-t0-day duties.
Woj went the next step and mentioned Spurs assistant GM Dennis Lindsey as a possible replacement candidate. Lindsey was a candidate earlier this summer for the open GM spot for the Orlando Magic.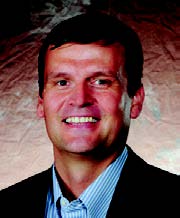 So I guess we might as well get to know Dennis Lindsey. Here's some information from the Spurs media guide:
DENNIS LINDSEY VICE PRESIDENT/ASSISTANT GENERAL MANAGER Joined the Spurs in the summer of 2007 … spent the previous 11 seasons with the Houston Rockets … started with the Rockets in the summer of 1996 … served as the team's personal video coordinator/scout for two seasons … during the 1998–99 season was Houston's director of basketball development … in the summer of 1999 was named the team's director of player personnel … after three seasons – in the summer of 2002 – was promoted to vice president of basketball operations/player personnel … served in that position for five seasons before making the move to San Antonio … served as a coach at the Reebok Euro Camp, for the top young players in Europe, from 2004–08 … participated in the NBA Basketball Without Borders Africa program in 2003 and 2005 … a native of Freeport, Texas … earned All-State honors in 1987 as a senior at Brazoswood High School in Clute, Texas, for Coach Bob Cook … led Houston to the 1987 BCI National Championship … played four seasons at Baylor for Coach Gene Iba … named the Southwest Conference Player of the Week during his sophomore season (2/3/90) … college teammates included Michel Williams, David Wesley and Melvin Hunt (who is currently an assistant coach with the Cleveland Cavaliers) … his Baylor teams made appearances in the 1988 NCAA Tournament (Baylor's fourth time in the tournament and first since 1950) and the 1990 NIT Tournament (the third appearance in school history) … received his undergraduate degree from Baylor in 1992 and his graduate degree in sports management from the United States Sports Academy in 1994 … started his professional career as the assistant head coach at Fort Worth Southwest High School … then spent two seasons as an assistant coach at Pensacola Junior College before joining the Rockets … he and his wife, Becky, have four children, Jacob, Matthew, Meredith and Jessica Claire … nephew Jeff Panfil plays college football at Purdue … his father-in-law is long-time football coach F.A. Dry (he served as the head coach at both Tulsa and Texas Christian as well as an assistant with the Houston Oilers).