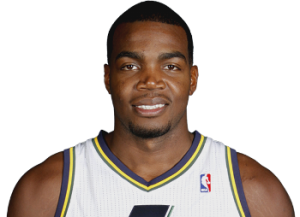 Initially, this was going to be a post about Millsap's potential contract with the Jazz considering the ongoing discussions between the organization and the power forward from Louisiana Tech. Given the #WojBomb that dropped Friday morning about the GSW-UTA trade, things changed a little bit. Then Friday night, news came out about both Paul Millsap and DeMarre Carroll signing with Atlanta. So this post has been tweaked a few times.
Did the Hawks get a good deal for Millsap at $19 million over 2 years? To dive in a little bit, what are some contracts that have been doled out to similar players? For power forwards and centers, we're seeing a range from $9 million per year to nearly $14 million per year. On Twitter, Peter Novak suggested Splitter's $9 million per year should be the floor for Millsap's next contract, and the ceiling somewhere near David West's contract with the Pacers. In the first week of free agency, here are a few of the commitments we've seen:
Tiago Splitter, San Antonio Spurs, $36 million/4 years
Tiago Splitter helped make the Spurs a defensive presence this season, jumping from 11th to 3rd as his minutes increased from 19 minutes per game to nearly 25 minutes a game, including 58 starts (up from 2 the year before). Additionally, he's 6'10'' and some math whiz out there could probably figure out the correlation between each additional inch for a semi- to very-talented center and how many more millions comes along with each inch. The Spurs aren't known for doling out outrageous contracts, so while some of us may have had an initial sticker shock when hearing about this contract, I'm guessing we'll see it as a reasonable contract in a few years.
David West, Indiana Pacers, $36 million/3 years
I don't think David West's influence on the Pacers' Eastern Conference Semifinals run can be underestimated. His veteran presence and defensive toughness helped anchor the top-ranked defense in the league (up from 10th the year before). His previous contract was $20 million over 2 years, so while this contract is an increase in both the number of years and in the amount per year, it's a reasonable bump in each. Like the Spurs, the Pacers haven't been known to sign their own to ridiculous contracts, and given Indiana's success since West's arrival, I think this one is understandable. For comparison's sake, West stands at 6'9'', 250 lbs, a slight height increase over Paul Millsap.
Al Jefferson, Charlotte Bobcats, $41 million/3 years
I feel like every discussion and debate that could be had about Al Jefferson has been had by Jazz fans over the past few years. Crafty, low-post offensive wizard with pump fakes and pivots galore, an aversion to contact (look at his numbers pre- and post-ACL injury—very interesting!), and a sieve-like defender. He rarely turns the ball over and he shoots at a near-50% clip from the field. If you want offense, he'll get you offense. If you want defense, you'll have to look elsewhere. If you want a good locker room guy, he's it. He's comfortable being a team's number one option, he's 6'10'', and those are a few reasons why he got $14 million per year.
So where did that leave Paul Millsap?
Interestingly, Millsap's per-36 numbers are incredibly close to West's. Last season, per-36, West's stats were slightly higher in field-goal attempts, field-goal percentage, free-throw percentage, defensive rebounds, assists (by 0.1) and points. Millsap had the slight edge in three-point percentage (33.3%!), free-throw attempts, offensive rebounds and total rebounds, steals, blocks, and fewer turnovers. The numbers are very, very close. But West is an inch taller, a better defender, and led the Pacers to the best-ranked defense in the league (though, obviously, Roy Hibbert's emergence had something to do with that, as well).
Millsap's team likely made the argument that he's a better, more skilled player than Splitter, and that his comp is closer to David West. There's some merit to that argument, which is why he's getting $10 million per year, but his height and lack of being a first or second option is probably part of what contributed to the contract only being 2 years. The newer CBA is shortening the length of contracts for players who aren't a first or second option.
Having said that, I think the Hawks got a good deal for Millsap at $19 million over two years. They don't tie up any significant money long term, they get a very good PF that will help make teammates better and will fill up the stat sheet. He'll work hard, and he's added a weapon to his offensive arsenal every year. Until the Miracle in Miami, who knew he had three-point range? Even with a small sample size, he shot 33% from three last year. While rebounding and hustle plays have been his forte since entering the league, he's become a much more complete offensive player.
Good luck in Atlanta, Paul Millsap. You were the epitome of a Jazz man during your time in Utah – you'll be missed.