Tuesday was the first day of the Jazz's summer league mini-camp, designed to get the team's Las Vegas Summer League roster ready for the next two weeks of fringe NBA action. The Jazz will first practice for 4 days at the Zions Bank Basketball Center before heading down to Las Vegas to compete in the NBA's largest summer league for the first time. The roster for the mini-camp1: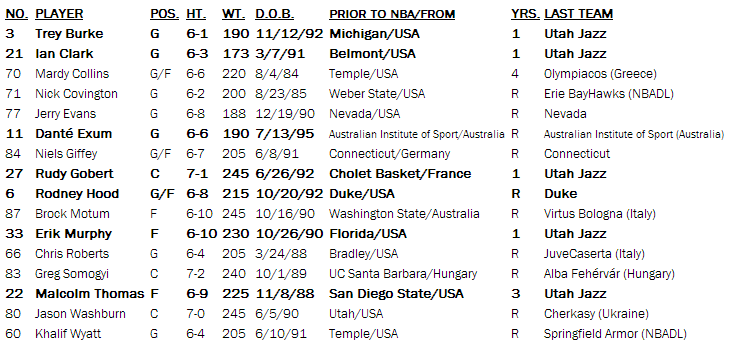 As practice ended, Quin Snyder gathered the players bolded above (those with NBA contracts for next season) on the far end of the practice court, and ran through a quick drill displaying some of the spacing that he'd like his team to feature next season. In particular, he demonstrated the flexibility that getting the ball to the high post after a pick-and-roll can offer. After receiving the ball near the free throw line, Snyder showed that it's easy to then swing the ball to an open corner three shooter, or simply dump it into an open low post player, in order to take advantage of the collapsing defense. It was interesting that Snyder was teaching these lessons on Day 1, as well as that he wanted his contract guys to get in a little more work than their non-contract counterparts.
Quin Snyder
After this, Quin Snyder came over and was interviewed by the local media. Here are some highlights.
On Dante Exum: "He's fast. I think more than anything he really looks like he knows how to play.  He knows how to play the pick and roll, he kicks the ball ahead, a willing passer, it was fun to see him and Trey interact. Clearly, they've done a really good job teaching him in Australia. "
The coaching staff haven't made a decision regarding Dante and Trey playing on the floor together during summer league, nor for the season itself.
What was Snyder looking for in his coaching staff? "I wanted to get guys who could really coach. When I say coach, I mean teach."
Are the coaches already implementing the system? "A little bit. It's hard, but we're playing a passing game, especially on misses. We really want to emphasize pace. You'll see more pick and roll, more penetration. The biggest thing for us is to understand spacing."
What does Snyder want to see out of Trey Burke? "I want to see him get over screens, I want to see him defend pick and roll on the ball. You can tell it's important to him, and that gets me excited. Offensively, he's got a great tempo, he's got a really good feel for the game. And in pick and roll, you can tell those kind of things come instinctively to him. There's gotta be a pride that we all have in defense, and specifically pick and roll defense, and that's going to be an emphasis. It's not easy, especially in the West.
What are his current points of emphasis? "I wanna see the ball move. And I wanna see us guard. Those are the 2 biggest things." 2
How involved will he be in coaching the summer league team? "I'll be involved in practice, if I see something I'll go talk to the coaches and maybe talk to one of the players. Brad's terrific, and he's going to coach the team. And I feel comfortable with me not distracting them."
 Trey Burke
As Snyder left the interview space and Trey entered, Snyder quipped to the local media: "Tell Trey he's gotta play defense!"
Naturally, the first question was about defense. Burke said Snyder and the coaches were "Kinda getting on us about making that a priority."
Burke seemed legitimately excited to play with Exum, saying "It'll be interesting to see how it works."
How have things changed since last year's disappointing summer league performance? "The game [has] slowed down a lot for me, I'm seeing things quicker out there. Slow in the mind, fast on the court."
About Quin Snyder, Trey says "I've built a personal relation ship with him already."
About the Jazz trading backup PG Diante Garrett: "Me and Diante, we had a really good relationship. Though we played at the same position, we always had each other's back, we competed every day and in practice against each other. He made me better and vice versa. Wherever he goes, that team is going to get a good player and a hard worker and I wish the best for my friend."
About acquiring Steve Novak:  "Before I got to the NBA, I watched him in New York, and he was in my mind one of the best shooters in the NBA. So I think he's definitely a guy who's going to bring veteran leadership and a guy who can stretch the floor. That's something that we need."
Trey texted Gordon " a couple of months back" when he got married. Little communication since.
I asked Burke about the difference between last year's coaching staff and this year's coaching staff. His response defended Ty Corbin and company: "I think last year's coaching staff was good as well. As much negativity as they got from fans or whoever, I think they knew what they were doing. I think we were just a young team, it was just a rebuilding process for us last year. Now with a new coaching staff I think they're giving us a little more freedom on the offensive end, allowing us to play more, and bringing out that potential out of everybody even more. On another note, I think both coaching staffs really emphasize defense, and that's one thing I really like about this new coaching staff as well, cause Coach Snyder and all the other guys are really honest about being in our spots, talking, and we're going to need that coming up for this next season."
So, how good can the Jazz be this upcoming season? "I think we're ready to take a step forward. I understand we're still young, it's only been a year since last season, but I don't wanna keep saying this is a rebuild process. We're a young team, I think we have talent, to take that next step for really competing and winning games in this league. We just gotta continue to work, continue to build that chemistry amongst ourselves and the coaching staff, and I think we'll be fine. This organization has won in the past, and that's where we're trying to get back to."
Dante Exum
Then it was Dante Exum's turn.
How was his first practice with the Jazz? "The high altitude got to me a bit. I had the coaches on the sideline stressing defense, so I was trying to stay locked in and get through the practice."
According to Exum, Ian Clark played point with the Jazz as well. Whoever got the rebound (out of Dante, Trey, and Ian) would push the ball up the floor. "It wasn't a problem for me, and it's good to get off the ball and let someone else run the show."
How have his first couple of weeks in Salt Lake City been? He reported that he hasn't seen a lot of the city. Dante is looking for an apartment now, but it probably won't actually happen until he gets back from Vegas.
What is Exum trying to accomplish at summer league? "I just want to go in and play hard. Coach has stressed defense a lot and I know a lot of people knock me on my defense, but people haven't watched me play in a while. So I want to go out and play as hard as I can and help my team on the defensive end and turn defense into offense."
Dante says that the Jazz practice facilities and experience are not substantially different than those that he worked with at the Australian Institute of Sport.
Is Exum looking forward to playing games, after not having played in a legitimate 5-on-5 game since December? "You don't even know it."
Derrick Favors posted the bottle of Aussie Shampoo that he gave to Dante on Monday, so naturally we had to ask him about it on Tuesday.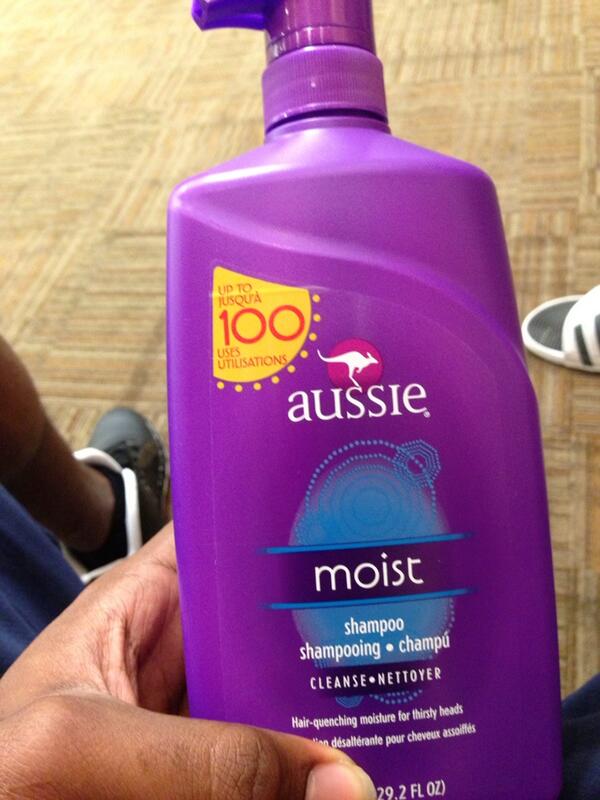 His response? "Second day in and I'm already getting gifts. I guess the veterans aren't too hard on me. He gave me 'Aussie Shampoo' which I actually haven't seen. I'm about to hit the showers and test that out."
Finally, prompted by this post by Moni at JazzFanatical, I asked Dante Exum about the John Stockton book on his shelf he posted on Instagram a couple of months ago.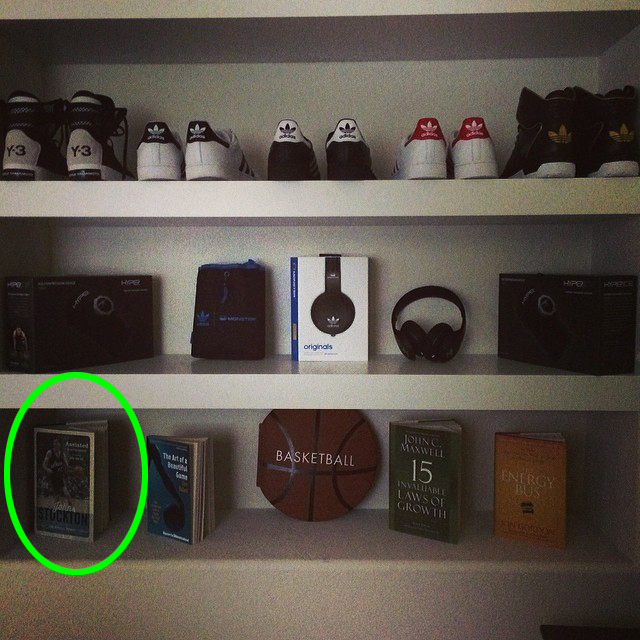 Impressively, Dante's actually has a connection with the Jazz's Hall-of-Fame point guard: "My dad roomed with him at the Portsmouth Invitational Tournament, so my dad's talked about him and how he came into the league. He came into the league and he wasn't the man straight away, he kind of worked his way up. you look at him and what he's done over his career, and as a point guard, and you definitely look up to that. And it's an interesting book too. I hope that I get to learn from him and the Jazz bring him in and he gets to teach me a few things. It's something I want, I'm sure he'll be happy to come in and help the Jazz in any way possible."
Not only does Exum own the book, he's actually read it too. That's pretty neat for an 18-year-old who the Jazz hope can turn into their next franchise guard.