We're now only a month away before the training camp begins: Media day is Sept. 30 and training camp begins shortly after — with the first preseason game taking place on Oct. 8. As a result, the time for players to improve their games is running short. With only a few weeks of individual practice left to go before getting into a team setting, each player should have focused on a specific list of core items to improve for the upcoming season. Let's run down the Jazz roster, and find something achievable, yet substantial, each Jazzman can improve on between now and training camp (if they haven't already).
Andris Biedrins: Simply, Biedrins' problem is 90 percent mental. Yes, he's bad at free throws. Very bad. But the lack of aggression Biedrins displays (allegedly in part due to his woes from the line) hurts his team far more than the 9 free throw misses he had last season. Biedrins finished dead last in usage percentage (3.7%!) last season — and it wasn't even close. The next lowest player who played at least 500 minutes last season, Joel Anthony, had a 8.6% usage percentage and 3 reasons not to shoot (named LeBron James, Dwyane Wade, and Chris Bosh). To recap, Joel Anthony shoots more than twice as often as Andris Biedrins does. Andris is probably crazy.
The good news: if aggression is a switch (which seems to be the way television sports analysts treat insanely complex mental processes like "being aggressive"), then Biedrins simply has to flip said switch, and then firmly duct tape it to the ON position in the next month or so. The bad news: he's had four years to try this maneuver before, and mental processes don't work like light switches. We're off to a great start.
Trey Burke: Trey Burke is a good jumpshooter, but if Jazz fans had only watched the Orlando Summer League, they wouldn't know it. Burke shot just 24% over the course of the week, putting a damper on many fans' expectations from the very beginning. While some of this can be attributed to luck, or longer defenders, the primary reason for Burke's struggles was his shot selection. Burke had a high usage percentage in college: He ended up using 28.3% of his team's possessions during his last college season, shooting once every 2.45 minutes he was on the floor. However, against the longer and tougher defenders in the OSL, Burke shot every 1.98 minutes he was on the floor, significantly more often. Though the data isn't available to quantify, it seemed as if he was taking a lot of long two-point jump shots, which can hurt any player's overall percentage. Burke was eager to show he belongs, but needs to realize that his opportunities to shoot are going to be more rare, not more frequent, at the NBA level.
Alec Burks: One major reason Burks has been largely kept off the floor so far in his career is that the coaches consider him to be raw at the defensive end. The Synergy numbers agree. Last season, Burks finished with an allowed 0.99 PPP, good for only 421st in the league (out of about 450 players). Other statistics are more kind. 82games considers him a roughly average defender, and the Jazz were better defensively with him on the floor last year, so this isn't a closed case yet. But while Synergy data often paints an incomplete picture, it has the value of providing video to justify its results. In particular, Burks' pick and roll defense needs some work. Burks allowed 1.03 PPP off the pick and roll last season, compared to just 0.79 PPP for SG counterpart Randy Foye. Watching the video, it seems Burks has real struggles getting around the screener: Burks tends to stay stuck to the screener a split-second longer than other guys do, allowing good guards to more easily swing past for an easy layup or open shot. It may be difficult to achieve in individual training, but if the young Burks can figure out a way to slide through screens more quickly, it will make a radical difference in his defensive effectiveness.
Ian Clark: We don't have a tremendous amount of information on Clark's game, and what we have is relentlessly positive, given his low level of competition in college and his excellent performance in summer league. We'll get more valuable data soon, as Clark gets some PT in the NBA. In the meantime: Clark needs to work on his Monday game. Belmont played no games on Monday last season, and given that the Jazz will play 18 games on the worst day of the week this year, Clark needs to be sure his biorhythms don't get a case of the Mondays.
Jeremy Evans: Evans' defensive deficiencies are more obvious than Burks': he simply gets beat up down low against heavier opponents who go through him. Like Burks, the Synergy numbers are not impressed with Evans' defense, as he allows 1.07 PPP, good for just 448th in the league. Jeremy probably can't change his life-long stature and build in a month, so perhaps a new defensive move would help? He actually draws a lot of charges already (10th in the league per 36 minutes), so that's out of consideration. He could take a page out of another relatively slim big man's book: Chris Andersen used the "pulling the chair" technique in last year's playoffs to some success. Spending the next month learning some ways to deal with large humans is probably the most important course of action for Jeremy as he gets exposed to more minutes next season.
Derrick Favors: Most agree that Derrick Favors' defensive game is somewhere between solid and spectacularly good, but there is significant diversion in opinions on his offensive potential. Favors' elite athleticism allows him easy finishes at the rim, where he shot an excellent 68.2% last year, but it's his game outside of that space that needs refinement. Derrick shot a team-worst 0.52 PPS on jump shots last season, shooting just 29.6% from mid-range overall. He attempted quite a few (29) hook shots last season as well, but finished with a worst-on-team 31% on those as well (both Kanter and Jefferson shot about 65% on hooks).
So what's the answer to his mid-range woes? It's probably unrealistic to ask Favors to add a mid-range game in a month. Intriguingly, he made a lot of the difficult types of mid-range shots he took last season. For example, he made 5 of his 7 fadeaway shots, and made 15 of 34 on his turnaround jumpers, far better than his normal percentage. Perhaps he's spent too much time working on the attractive highlight shots to beat good defense, and not enough time on the simple face-up jump shot? It's a big ask for just a month's worth of practice, but a return to simple jump shot fundamentals in practice may lead to improvement for Favors.
Rudy Gobert: It's hard to pinpoint areas of improvement for players we've seen so little of, but we can turn to Gobert's overseas statistics for an idea of the Frenchman's game. Gobert's shooting statistics were great: he shot better than 71% from the floor! His rebounding was good (9.5 REB/40min), but not elite. Unfortunately, his passing was basically non existent: he totaled only 11 assists for the entire season, reminiscent of Kanter's 8 assist season in 2011-12. Like Kanter's rookie year, once Gobert receives the ball, he'll either shoot it or turn it over, with very little middle ground to do anything else. Luckily, once again, Gobert has a model for improvement: Kanter's passing significantly improved this season, when he totaled 31. While that's not yet really a passable (chortle) total, Gobert's development into a team player on the offensive side of the floor would mean more minutes in the future.
Gordon Hayward: Part of Hayward's strength is his wide-ranging skill-set, he has very few flaws as-is. To give you an example, NBA.com's on-court/off-court stats have this nifty color coding feature: a stat is green if it is significantly (10%) above average when a player is on the floor, a neutral blue when the player makes roughly no impact in that area, and a red if a team performs significantly worse in that statistic. NBA.com tracks 82 different stats in this regard for each player. Hayward has zero red stats, in other words, when he's on the floor, the team either performs roughly as it does on aggregate or improves. He was the only player on the Jazz to do that (although not the only player in the NBA. In general, high-minute superstars have this property as well).
So we may have to be a little bit creative to find a weakness. Like most things about Hayward's game, Gordon's midrange shooting is slightly above-average. However, when you look at the shot chart, there's a clear split: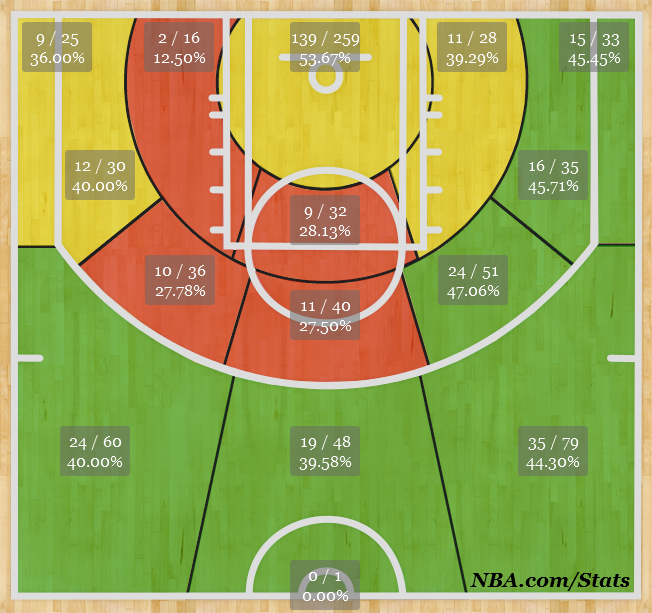 Hayward's right side shooting is very significantly better than his left: on the right side of mid-range, Hayward shoots a very respectable 44.7%, which would be one of the best mid-range shooting marks in the league. Unfortunately, however, anything in the middle of the floor or left is off-kilter: just a 28.5% average. As the focal point of an offense, teams will start to scout this, and force Hayward left to take advantage of this weakness. It'd be best if Hayward starts preparing for this style of defense during his remaining month, by practicing shooting from the left side of the floor.
Richard Jefferson: Richard Jefferson's larger offensive slips simply aren't going to reverse course. As the latest edition of Basketball Prospectus stated, "Jefferson is a leading example of how poorly non-star wings tend to age in their early 30s." Jefferson had adapted somewhat with an improved outside shot, shooting 44% and 42% from 3 in 2011 and 2012, but regressed last year with a 31% total, significantly under league average. While the sample size wasn't huge, just 45 threes, which in itself was a problem: Jefferson reverted to a primarily midrange game last season, which led to some pretty inefficient play overall. Jefferson's hope at continued offensive relevance lies in those outside shots, where his slipping athleticism hurts less.
Enes Kanter: On this week's Saturday Show, I mentioned Kanter's outlet passing as an easy, but effective source of improvement. On video, it's clear: Kanter somewhat stifles transition opportunities by being reluctant to throw the ball to a sprinting wing, but he makes up for it with a strong post-up game. His post-up game is quite good: Kanter actually shot 48% on post up opportunities last season, which is a pretty high percentage (Jefferson shot 44.9%, and Favors shot just 41.9%, for example). Unfortunately, Kanter was actually less efficient overall in post-up situations, due to his turnovers. Kanter gives the ball to the opposition in more than 23% of his post ups, much higher than Favors' 13% or Jefferson's 8%. Indeed, Kanter's turnover rate is the 3rd highest for a center in the league, just behind DeMarcus Cousins and Hamed Haddadi.
So what's the problem? Well, watching the video, Kanter's post-up moves take too long to initiate. Though he's quite quick once he starts his move (sometimes to the point of being out of control), he often takes a few seconds to consider his first move. This has a whole bundle of negative effects.
First, the defense has time to double team Kanter from the weak side. This often surprises him — either resulting in a simply stripped ball or a panicked, often off-target pass away. Should the defense not get the ball directly from the double team, a 3-second violation often comes next. Kanter picked up more 3-second violation TOs than the rest of the Jazz combined last season.
Second, the "Alfense" problem: ultimately, this leads to a stagnant offense in which everyone simply watches Enes Kanter with the ball, minimizing the chance at an easy look. Improving this would make Kanter a more efficient player overall, allowing him to back up his excellent shooting percentages.
John Lucas: Lucas' biggest problem is his size: opponents were excellent last year against him in post ups, and could just shoot over him for spot up jumpers really effectively. He can't change his size, so a more realistic option is to work on shot selection. He took 1.2 shots per game from 16-23 feet last season, only shot 31% on those, and was only assisted on 21% of them. Those are difficult jumpers to make, and helps to explain why his overall shooting percentage is less than 40.
>Brandon Rush: Obviously, Rush's first priority needs to be a return to health: he was actually the 7th most efficient player in the league (in terms of Synergy points per possession) in his last full season of 2011-12. Beyond that, Rush's off-ball cutting could use some work. Right now, Rush's game is totally built on his spot-up jumper: he doesn't really have the handle to create offense for himself, and that's likely not going to develop in a month. Rush could, however, move off the ball in order to get open layups, in the mold of someone like Quincy Pondexter, who forces the defense to be aware of both the corner three and watch for backdoor opportunities. Rush only got 4.9% of his shots off cuts in 2011-12, hopefully that improves in a new Jazz system in the upcoming year.
Marvin Williams: Marvin had a bad 2012-13. In his last season with Atlanta, Williams was thoroughly average at everything, but looked to be a solid pickup for the wing-depleted Jazz. Unfortunately, he regressed in every single box score statistic besides blocks last season, turning from average to below-average across the board.
Marvin's most interesting weakness is his poor shooting when he gets small amounts of playing time in an individual game. Check this table out from his entire career:
| | | | |
| --- | --- | --- | --- |
| MPG | G | FG% | 3P% |
| 40+ | 52 | 0.487 | 0.374 |
| 30-39 | 218 | 0.465 | 0.335 |
| 20-29 | 230 | 0.428 | 0.315 |
| 10-19 | 56 | 0.33 | 0.259 |
The relationship is pretty clear: The more playing time Marvin gets, the better he shoots. It doesn't appear to be an effort issue, as his rebounding numbers don't show this pattern, and the relatively effort-unaffected 3-point shooting numbers drop precipitously when he gets less playing time. This isn't a career stat influenced by outlier seasons, either: Marvin shot worse with 10-19 MPG of playing time in literally every season of his 8 year NBA career. It would be nice to fix this, especially this season as he figures to be coming off the bench for starter and large minute-user Gordon Hayward for the majority of the year. But, honestly, his incentive to improve on his shooting in low minute situations is pretty low; everyone wants more playing time. Still, in the Jazz's ideal world in which everyone acts only in the team's self-interest, Marvin may want to break his shooting practice sessions into shorter time blocks.
While it's probably not realistic to hope that every Jazz player has an enhanced 2013-14, there's room to grow for everyone on the roster. Each should be possible to upgrade, at least somewhat, in just a month of practice, but all would have a relatively large effect on overall efficiency, either offensively or defensively.