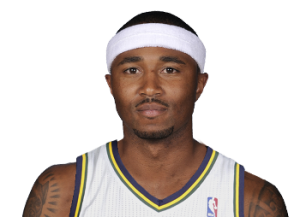 When Mo Williams started off last season chucking up a shot pretty much every chance he got, I knew it was going to be a long season. In the first five games, he averaged 15.4 FGA per game, second-highest on the team at that point, and the Jazz were 2-3. As much as I liked Mo off the bench his rookie year, and as hopeful as I was that he'd be an asset to a team that desperately needed 3-point shooting and speed during his second stint with the Jazz, his tendency to look for his own shot and play hero ball didn't mesh with a team heavy on talented, post-up bigs.
Fast forward to this offseason, which is one of the more pivotal offseasons for the Jazz in recent memory. No point guard is under contract for next year, and though last year's PGs include a good passer (Tinsley), a tough defender (Watson), and a decent scorer (Williams), none of them inspire much excitement in the fan base should they return. They're not the best options for moving forward and taking a talented—but still raw and improving—core to the next level. So what should be the plan?
Here's my plan for shoring up the point guard position along with my reasoning for each point (pun intended):
1. Sign Jose Calderon to a two-year $20 million contract.
2. Draft Dennis Schroeder at #14.
3. Draft another PG.
4. Give the young kids significant playing time.
Point 1. Why Calderon? Who else of the available point guards would be either a) the point guard of the future and worth putting big bucks into, or b) willing to be a stop-gap solution until we can sign, trade for, or groom the point guard of the future? As thrilling as it would be to see Chris Paul in a Jazz uniform, that's not going to happen—though recent events give us a glimmer of hope. Jeff Teague would cost more than I'd be willing to pay to pry him away from Atlanta: he's a restricted free agent and they have plenty of money to match. With the amount the Jazz would have to pay to get him, they'd be banking that he'd be our point guard of the future. I don't see that happening.
Calderon is next on the list. His defense is poor which is, unfortunately, also one of the knocks on Mo. Point guards lit us up last year, and it'll be hard to watch that happen again for the next year or two. But assuming Kanter, Favors, Hayward, and Burks get significantly more burn this year than last, there will be very good defenders behind Calderon to compensate for his defensive deficiencies. The main benefit to signing Calderon would be that he's a true pass-first point guard. That's exactly what Favors, Kanter, Hayward, and Burks need in order to develop, along with increased playing time. Calderon, before the trade to Detroit, won the starting position over Kyle Lowry—who wasn't making his teammates better—because Calderon did make his teammates better. A true point guard could do wonders for our young core.
Calderon likely wouldn't demand more than a two-year contract given the market and his age, while allowing the Jazz to keep financial flexibility moving forward: the big-money extensions won't kick in until the 2014-2015 season for Hayward and Favors. If Calderon doesn't work out after this season, he's an expiring contract the next and could be used in a trade.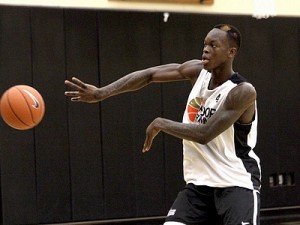 Point 2. Draft Dennis Schroeder. He measured 6'2'' in shoes with a 6'7" (!) wingspan. He's very athletic, plays defense, has a pretty good shot, can get into the lane, and passes well. When asked about his strengths, the first thing he said was that he plays good defense, and the second was that he sets up teammates. Those are two things we need the most from the PG position. His athletic ability and wingspan will only help him improve defensively his first few years in the league, and his defense, combined with Calderon's tutelage as a pass-first point guard, could make Schroeder a pretty good point guard. He could come along slowly while Calderon takes the bulk of the PG minutes. If Schroeder's ready to take over starting point guard duties at the end of Calderon's contract, great! If not, skip to Point 4.
Point 3. Pick another PG in the draft. I don't see another point guard I'd desperately want at #21—I don't want Shane Larkin because his defense is poor, he's short and doesn't have length—so take the BPA there and use the second-round pick on someone like Nate Wolters, Phil Pressey or Myck Kabongo (unlikely where we are in the second round, but possible if we get another pick somewhere). The Jazz like to carry three point guards, and having another young point to learn under Calderon could be a good thing.
Point 4. (Not to be confused with Derek Fisher.) Let the young kids play. Turn the team over to Hayward, Favors, Kanter, and Burks. There will be some rough times. But they may also surprise us. The thing about these guys is they're all at least good defenders, which can't be said for the veterans they're replacing. The offensive game will come along for them; we saw flashes from each of them this last season. If they do surprise us and we make the playoffs, great! If not, we'll have a better idea of where we are, what holes we need to fill, and we'll end up with a lottery pick in a stacked draft. The point guard of the future could be there.
This isn't a fool-proof plan—it requires making assumptions. But it's a plan that could work and keeps the financial flexibility intact, which is very important to the organization and to building a championship contender. The next month will be very telling.