I began my eulogy of a passing era of Jazz basketball before it was officially over. Last month, I shared a look at jump-shooting trends that defined recent Jazz basketball, and now that nearly every veteran free agent of the team is headed elsewhere, we can continue to put a bow on whatever we're calling this last stage of franchise history.
Drawing dividing lines between basketball epochs is sometimes less complicated. When John Stockton and Karl Malone left the franchise in 2003, it was clearly a new chapter for the Jazz. Ten years later, Al Jefferson and Paul Millsap walked, again signaling a fresh start and a focus on youth. But in between? When did the current era begin, or was it just an extension of the Deron Williams-Carlos Boozer version of the Jazz's identity.
If you read my month-old jump-shooting piece, you know my opinion: the 2010-13 Jazz were something other than merely version 3.1 and had a wholly different feel than the 3.0 counterpart of Williams, Boozer, Memo Okur & Andrei Kirilenko. That study showed that the Jazz changed overnight as a unit even before Williams was a Net and Jerry Sloan was impermanently retired from basketball.
Today's post is really Volume II of that same idea. In fact, the topic today may actually explain why the 2010-13 Jazz were so much more of a jumper-reliant team than their late 00s counterparts. It's about pace. And it's about Jefferson.
Slowing down = Settling
How do you add one of the game's elite low post threats and still see a reduction in looks in and around the paint? By settling.
It's no secret that early possession attempts are generally higher-percentage.shots than later in the shot clock. Go to any team's "Shot Clock Usage" section on 82games.com and you'll see that the later in the shot clock you go, the further the team's eFG% drops. It's true for literally any team in the league, and it's because the shots you take earlier are generally the shots you want to be taking: fast break layups, open jumpers in the secondary or good shots resulting from quick execution. Late shots are more often the team that the other team has tried to force you into taking through good defense.
In last season's fall camp, Jazz coaches and players talked about speeding up their offense for exactly that reason. But for whatever reason, it's one of the preseason promises that never really materialized. The Jazz casually strolled to a 20th-place ranking in possessions per game (93.4), down from 13th the season before.
I was borderline obsessed with this topic throughout the season — largely because I wondered what happened to all the pace talk from October — and would talk about it every chance I had with different folks.
"Certain teams don't let you get up and down like that," was point guard Jamaal Tinsley's explanation when I asked him about it midseason. Makes sense: it indeed takes two to tango, so even if you focus on early offense, the other team can still limit how many possessions you'll get per game. That's why teams talk about controlling the pace; if you can dictate, you can more consistently play your style of ball even against varied opponents.
To wit, the four conference finalist teams were better at dictating tempo. The Spurs (6th in pace) consistently generated early offense regardless of their opponent, while the Heat, Grizz and Pacers were all among the eight most deliberate teams. It doesn't matter which extreme you go to, but you have to have an identity and be disciplined enough to get what you want if you're going to be an elite team.
(Conversely, if you look at the middle third in pace rankings, you find the teams whose pace runs close to league average because they let their opponents dictate the pace more often than they establish it themselves. These teams are almost all lottery teams, including of course our Jazz.)
At any rate, I'm not sure Tinsley's explanation works for the Jazz's pace question. Gordon Hayward was probably more accurate when he answered the question: "We want to push the ball up, but whenever we get into half court sets, that's when we slow it down a lot. So (the Jazz' s pace ranking) wouldn't surprise me."
Thanks to 82games.com tracking shot clock usage, we can see that Hayward was spot on.
Shot Clock Stats: The Smoking Gun
The Jazz weren't a running team who was simply slowed down by their adversaries, as one theory suggests. Their shot clock usage numbers show that they simply slowed down their own sets, starting as soon as the 2010-11 season started.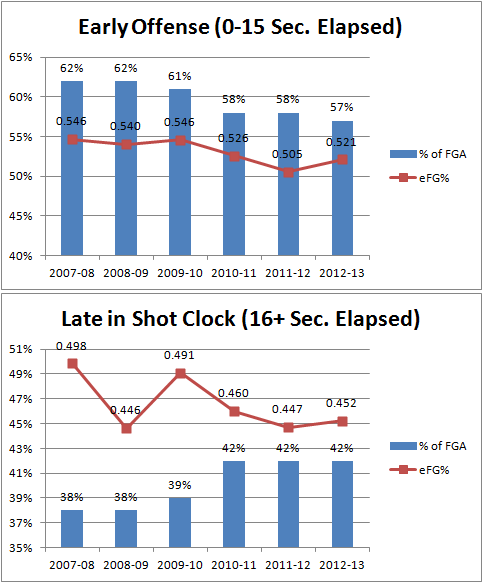 As with the jump shot study, it doesn't work here to point to the Jazz losing their all-league PG. You can't attribute it to the coaching change, either. The changes to both pace and jump shot reliance happened while Sloan was still patrolling the sidelines and Williams was still running the offense. Tha variable, if you're trying to define the start of an era, was Big Al.
2010-13: Its own era
Every year during the holidays, I wait to start my shopping because I want to come up with the best gift ideas possible. Sometimes inspiration hits and I nail the Santa thing, but more often than not, I suddenly realize it's December 22 and I've bought nothing, so I hurry out and just pick something off of my friends' Amazon wish list, which I could have done in October and saved myself the headache. The 2010-13 Jazz did the same thing waiting for Jefferson to find them a sweet gift in the left block.
Jefferson has a Kevin McHale-esque repertoir of slick post moves that make him one of the game's best in close. But his game also requires him to hold, turn, size up, fake, jab, fake again, think, probe, and then go. Sometimes he also requires a repost, and you get to start all over again. Every second that he spends deciding what to do, the option list gets shorter for the team. Now you don't have options A, B, C and D available to you. When the shot clock gets really low, you have A (Al goes up) or F (someone gets the ball in their lap and has to huck).
That's why 2010-13 has to be remembered as its own little era of Jazz basketball and not a sub-stage of the 00s redesign. The 2004-2010 reset was a dynamic team with multiple threats that got to the rim at an insane rate and didn't let the clock force them into bad offense. Whether it was Williams to Boozer or Milt Palacio to Mikki Moore, those teams were creative, decisive and always in motion. Then, the Jazz introduced what might have been considered a slight personnel shift (replace Boozer with Jefferson) and suddenly it was an offense of holding, standing, watching, sometimes heaving.
The Jefferson Jazz were still an effective offense overall, and Big Al is truly a world-class dude that I enjoyed covering. None of this is meant to sound like an indictment. Rather, I'm just a careful Jazz historian who sees as clear a style shift in 2010 as what the Jazz saw between the Maravich-Dantley era and the new timeless Jazz that came into play courtesy of Stockton and Malone.
Jazz version 2010-13 wasn't bad or ugly or morally wrong or anything like that… but it was its own era.