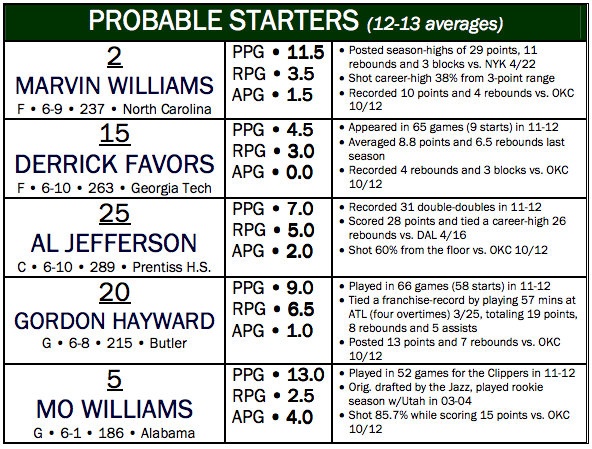 UTAH JAZZ (1-1) vs. LOS ANGELES LAKERS (0-2)
Preseason Game #3 • AWAY Game #2 • STAPLES Center • Los Angeles
October 13, 2012 • 8:30 p.m. (MT) • TV: None
RADIO: 1280 AM/97.5 FM
Coming off a nice win at home last night against Kevin Durant and the OKC Thunder, the Jazz get their first look at the new Laker superteam. Kobe is questionable for the game with a shoulder injury and Dwight Howard is still recovering from back surgery and won't play. The two teams will play again on Tuesday in Anaheim.
Once again Paul Millsap will be away from the team while he is with his family following the death of his grandmother. All our best to him and his family. Earl Watson is still out while he rehaps his left knee. Jamaal Tinsley is back with the team after missing Friday's game for personal reasons.
The Lakers are winless in the preseason, with losses to Golden State and Portland. According to the Elias Sports Bureau, the third quarter is the LA achilles heel:
Leading by seven at halftime of their first preseason contest against Golden State and tied with Portland through two quarters in their second preseason outing, the Lakers were outscored 37-10 by the Warriors and 29-18 by the Trail Blazers in the third quarter; a 66-28 overall total for the two third quarters combined (38 point margin). For sake of comparison, during the 2011-12 season, the Lakers also outscored their opponent in the opening half 48.9 to 47.7 points on average but were also outscored in the third quarter, albeit by a quite slimmer margin (23.6 points for the Lakers to 23.7 points for all opponents).
Not that you care, but the Lakers and Jazz have played each other 14 times in the preseason, with games also played in Provo, Honolulu, Ogden, Anaheim and Fresno.
Some interesting stuff about Coach Corbin in the game notes:
With a basketball career spanning 30 years, Corbin has both played and coached under some of basketball's best. In addition to seven seasons working as an assistant under Jerry Sloan and another three seasons playing for him, Corbin also played for Rick Adelman, Cotton Fitzsimmons, Pat Riley and Lenny Wilkens over 16 seasons as a player. In fact, Corbin is tied for the second-most NBA playing experience among all current NBA head coaches, trailing only Golden State's Mark Jackson (17 seasons) by one season.
The game won't be televised, sadly. In the meantime, here are some highlights of Gordon Hayward's great performance against the Lakers in April of 2011, just for fun: