Vantage Sports, now a source of advanced basketball analytics for NBA teams, players, and trainers only, will begin a Kickstarter campaign this week to gauge interest in releasing a product for a general audience. Should the Kickstarter be successful, NBA fans, media, and analysts would all have access to much of the same data that teams and players use to analyze their performance.
What statistics will be released? I spoke with Vantage CEO Brett McDonald to get an overview of the different stats that Vantage track, and they're all very cool. As McDonald explained, "Synergy does some things, SportVu does some things, but we felt like there was more to be done".
Many of Vantage's stats seek to correct problematic traditional stats, or fill in gaps where we have limited information. You can find a YouTube presentation here of Vantage's dataset, but let's break it down further.
Defensive Stats

Defense remains the most difficult side of the ball for NBA analysts and fans to get a grasp on, and part of the problem is the lack of good data. Vantage seeks to change that. Their on-ball stats above keep track of how an opponent guarding a player with the ball reacts to an action taken by an opponent. If a shot is attempted, Vantage counts the success of that shot, whether or not it was closed out effectively, and just how much of an impact the defender had on the shot. If instead, a drive occurs, Vantage keeps track of whether a player was able to stay in front of the ballhandler, or if not, was able to at least push him off a preferred line. Using this data, teams might be able to decide matchups more effectively. A player with a great ability to stay in front of an opponent might be matched up with a driving wing, whereas a great closeout player might be matched up against a shooting wing.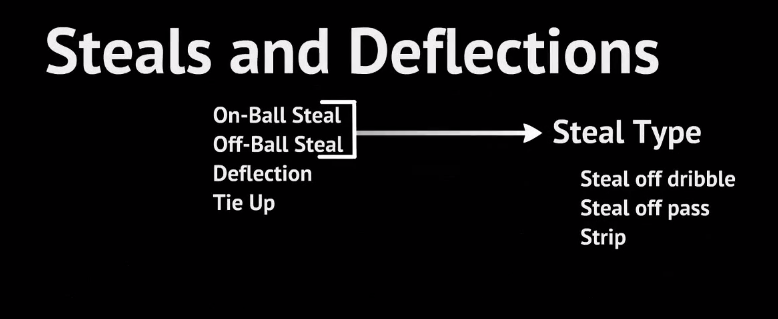 We currently know the number of steals a player has, but we don't know how a player got those steals. This dataset breaks down steals into on and off-ball types, and then further breaks those steals into pickpockets and intercepted passes. Deflections and tieups are also counted. Finally, Jazz coaches can find another job while on the bench.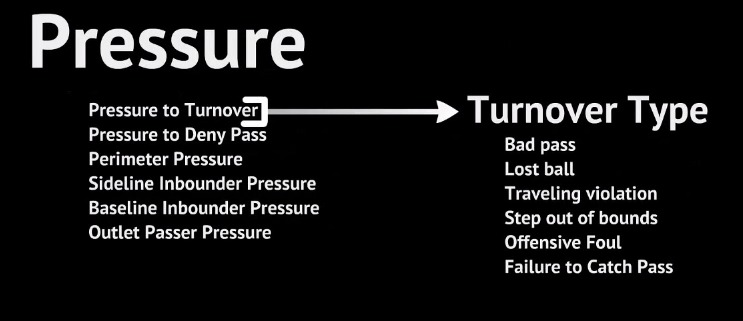 Vantage also keeps track of the number of times a defensive player puts pressure on his opponent. Sometimes, when that pressure results in a turnover, Vantage keeps track of what kind of pressure led to what kind of turnover by the opposition. We could use this to understand the impact of having a point guard who pressures the ball coming up the court, for example.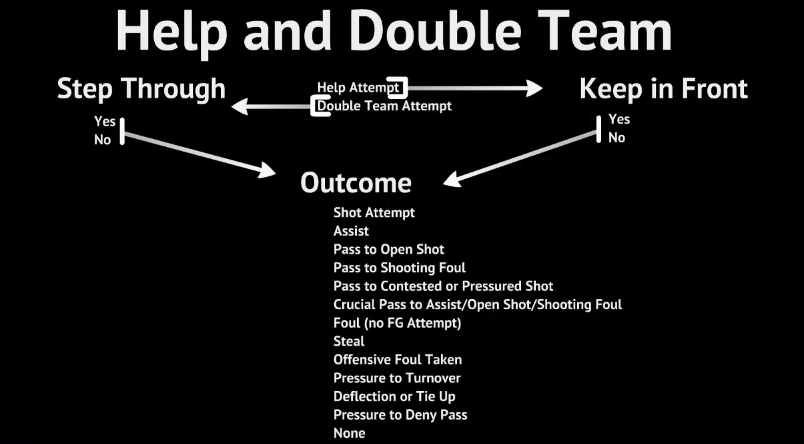 As difficult as on-ball defense is to analyze, off-ball defense is nearly impossible with the data currently available. Vantage's dataset, again, changes that. Here, Vantage's analysts keep track of when defenders make an attempt to help a teammate on defense, whether that be standard help after a mistake, or by simply double teaming an opponent. Vantage then keeps track of the success of that double team or help defense, and records the outcome of the helping action by the defender. Again, this could help coaches immensely: for example, should a team choose to double team X player in the post?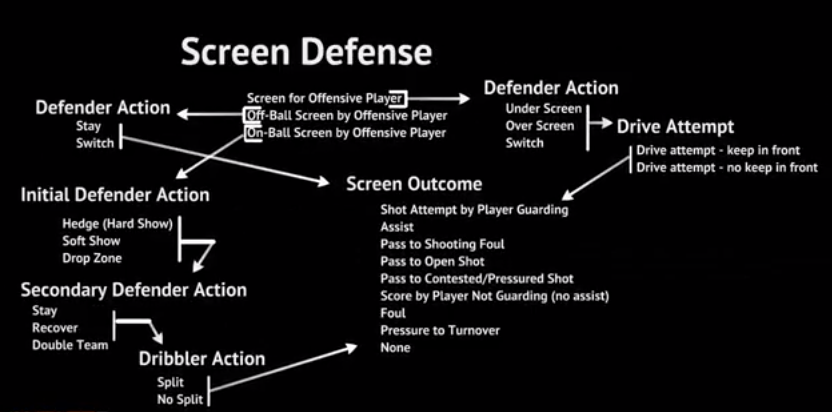 Especially important in the modern NBA, Vantage's stats do a really incredible job at tracking the impact of screen plays. Both on-ball and off-ball screens are covered. The system keeps track of whether the primary defender goes over or under the screen, and whether the secondary defender tries to cut off the ballhandler, hedges, or plays a drop zone against the screen. Then, the system tracks the success and failure of each play, leading to more informed decisions about which actions defenders should take against picks.
Offensive Stats
Vantage looks at each offensive possessions as a series of actions in which players make moves before and after receiving the ball. Notably, unlike Synergy, this data is tracked throughout the possession, so that a pick-and-roll that leads to an open spot-up shooter is correctly classified as a success for both actions. Above is the list of pre-acquisition moves that a player might go through in order to receive the ball in a possession. Naturally, the likelihood of each of these moves leading to points is tallied.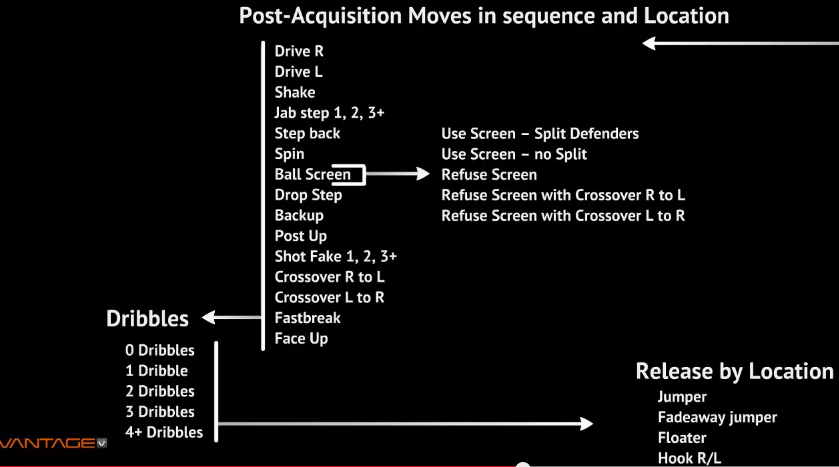 After a player receives the ball, he has many choices on how to proceed. He may simply drive, choose to crossover his opponent, use or refuse a screen, or relocate the ball through dribbling. He also may shoot. Vantage's dataset tallies of all of these possibilities, then tracks the success of the player's choice. Again, this might be extremely helpful for players who are trying to become more efficient.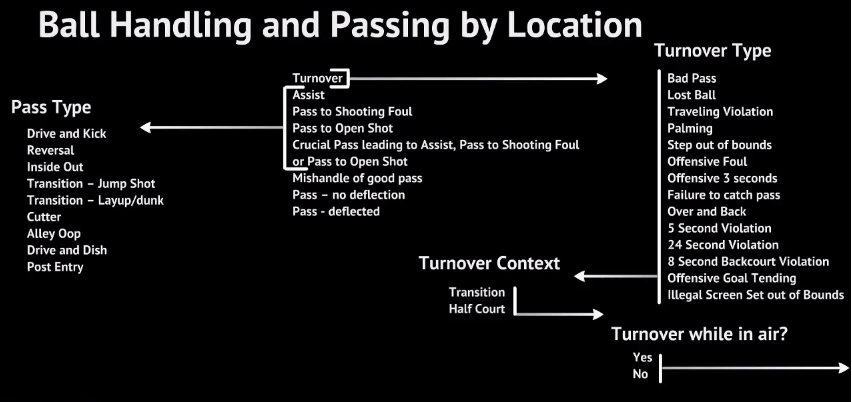 Traditional assist and turnover stats have a context problem; we're simply not sure how much a player's surrounding players and situations affect turnover totals. Vantage's data naturally tracks standard assists, but adds in hockey assists, passes that led to a shooting foul, and passes that led to missed open shots, in order to get a better idea of passing skill. Different types of turnovers are also tracked, in particular, we'll be able to find out whether a player's turnovers are of the dead-ball variety (for example, offensive fouls, 3 second violations, etc.), or more damaging live-ball turnovers which usually lead to fast breaks.

It's not just the players with the ball that impact an offense. Vantage keeps track of the players setting screens for their teammates, both on and off the ball. They track how successful a screener was at slowing his opponent down, and whether and how the screener received the ball afterwards. Naturally, the outcome of the screen on the possession is kept track of as well. You can see an example of possible applications of this sort of data here at Vantage's latest blog post, highlighting some of the top screeners in the NBA.

The dataset also looks at how the player receiving the screen uses it. Off the ball, Vantage looks at whether or not the pick receiver was able to use the screen to get open and receive the ball. When handling the ball, Vantage tracks whether or not a player uses the screen given, and what the ultimate outcome of that screen was.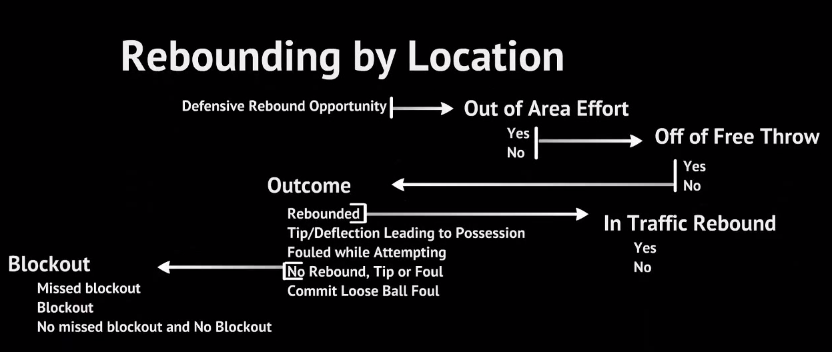 Vantage's dataset also looks at rebounding. We can look at whether or not players make an effort for their rebounds, or simply receive them with no other players around. We can also see which players are boxing out, and which players use their athleticism to track rebounds. The stats above are tracked for both the offensive and defensive sides of the ball.

All of this data comes with video as well, just as Synergy does, so if you wanted to watch, say, every time Kyle Korver uses an off-ball screen to shoot an open jumpshot, you could do that. This means that Vantage's information is not only a tool for stats nerds, but also for scouts who want to find ways to improve or exploit player tendencies.
Naturally, you might be wondering how all of this data is tracked. Well, Vantage has a full-time staff of analysts who watch the games and chart the data using their own proprietary software. The data is verified against the play-by-play record and other sources of information. In an independent audit of Vantage's data done this summer, the NBA verified Vantage's data as 99.6% accurate.
This is obviously incredibly exciting stuff: Vantage essentially promises the kind of stats NBA fans have wanted for years, but haven't been able to access until now. This promises to open up a whole new door for NBA fans and writers as they seek to better understand their favorite players, teams, and leagues.
Unfortunately, there are caveats. If you want access to all of the data above, you'll have to purchase the enterprise edition of Vantage's product in the Kickstarter, currently slated to go for about $1,000. That's a lot of money for most NBA fans to drop, and is largely targeted to medium-to-large media outlets*.
Luckily, Vantage is selling other products including their information. The first is an iPad app, a tweaked version of what many players use now to study their own games. The tool delivers situational video in an extremely user-friendly format, so that players can easily scout themselves and others on-the-go. Naturally, fans will enjoy the visual focus of the app as well.
At the entry level, Vantage will introduce an interesting concept to the NBA sphere, allowing fans to follow an individual player using Vantage's stats as they go through an 82-game NBA schedule. An example of this product, called ProScout, using Steph Curry is up at Vantage Sports' website. In ProScout, fans will be able to see a player's top 4 strengths and weaknesses, their performance against their most recent matchup, proposed keys against their opponent in the next game, and trends throughout the season. Here's an example: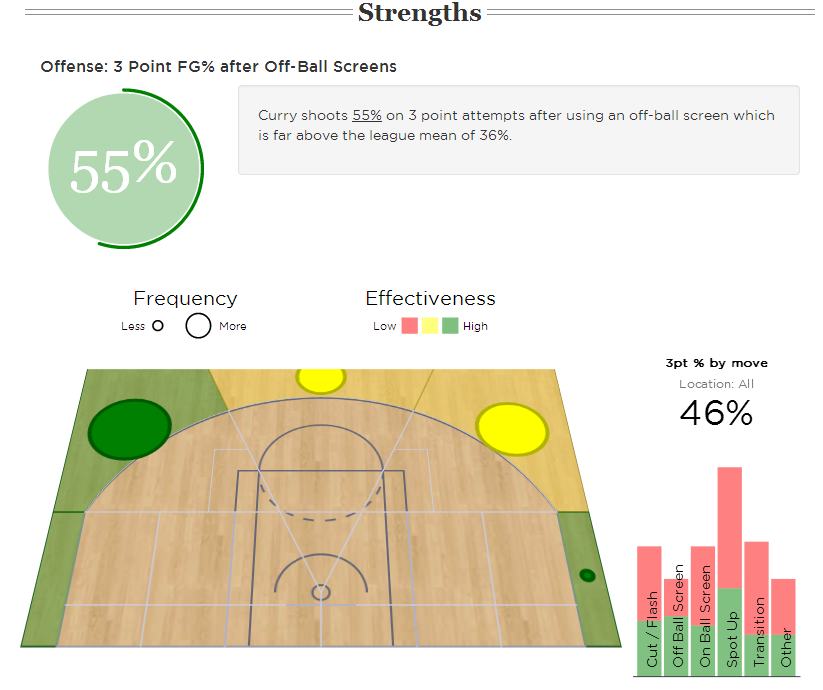 For each of these keys to a player's style or matchup, a short 20 to 50 second video is embedded, so fans can easily see examples of the actions analyzed above. Vantage plans to sell these on a player-by-player basis, for about a dollar per player per month. Fans will also be able to purchase cheaper packages in which they can choose multiple players to follow throughout the season. It's an interesting player-centric model; the NBA certainly has more player-specific fans than any other sport, but it's yet to be determined whether those fans will choose to drop a monthly amount to follow their player statistically throughout the season.
This explains the somewhat unusual choice to release Vantage's data in a Kickstarter campaign, rather than as a potentially failing standard product release. With a satisfied customer base of teams, players, and trainers, Vantage doesn't want to rock the boat unless they're guaranteed a profitable outcome. If the Kickstarter doesn't raise the amount of money to be worth the trouble, they can simply pull the plug on the consumer project, even if that's a significant bummer for fans and media alike.
Vantage's Kickstarter is currently in the approval process, slated to be released this week. As with most Kickstarter campaigns, the product itself won't be available until the target amount is reached and development is allowed to complete on the products. This means we're still some time away from being able to access this data, but this campaign is a major step forward in a pretty amazing future for basketball fans. Naturally, when the campaign is available, we'll link to it on Salt City Hoops.
Update: Vantage's KickStarter Campaign is now live.
*(Salt City Hoops is currently a small media outlet, but if you'd like to change that and sponsor us, email me at saltcityhoops@gmail.com for available advertising opportunities.)