Just as one legend from the Utah Jazz's glory days left the Wasatch Front, another announced his return to the organization.
Hall of Fame power forward Karl Malone is back in the fold. The NBA's all-time second-leading scorer announced on his new (and old) employer's radio station that he'll be spending time developing Utah's "stable" of talented young big men, starting this summer. This news comes days after Jeff Hornacek, whose first foray into coaching was a similar come-and-go skills coach gig that started in 2007, decided to leave for a head coaching job in Phoenix.
The move is a brilliant one for the Jazz, for all the obvious reasons and for a few less obvious ones.
Let's start with the obvious. Any amount of time Derrick Favors and Enes Kanter get to spend with Malone working on their games is a positive. It's unclear exactly how much time the Mailman will invest — heck, in the same breath as the initial announcement, he issued the caveat, "as schedules allow" — but it almost doesn't matter. Let's say it's 30 minutes before Malone decides he'd rather be fishing. That's a half hour of tutoring from a man who constantly and painstakingly refined his game to became one of the best NBA players ever.
Equally obvious is Malone's gravitas in teaching big men how to play, especially relative to other Jazz coaches. You may not need to be 6'9″ and 250 to understand how to prepare a power forward for his assignment going into a game, but let's be honest: Malone might have a few more tools and tricks close to the basket than, say, Sidney Lowe.
But the real reason this move is brilliant, and it borders on blasphemy for some fans, is that it allows Utah to kick the tires a bit on Coach Mailman. Nobody would even dare poke at his résumé where the game of basketball is concerned, but we don't know what that means in terms of his ability to coach.
Here's what we know about Malone's skills as a player: he came in as an unprecedented combination of power and speed and then developed into a Hall-of-Fame worthy dominating force. He is the league's second all-time leading scorer, third all-time Win Shares leader, a two-time MVP and 14-time All-Star.
Here's what we know about his coaching skills: not much.
He was obsessive about preparing for opponents (that's a positive for a prospective coaching candidate) and he was brash in addressing his teammates' deficiencies, often times calling them lazy, fat, or both (not so positive).
It's natural to assume that because someone was a top-tier player they'll be a top-tier coach. Some of the same things that can make someone excel as a player are still required when you exchange the sneakers for a neck-tie: particularly the mental approach to the game, preparation and an understanding of Xs and Os. But history asserts pretty loudly that there are plenty of skills that don't overlap.
In fact, I was curious to see how many of the top players in league history went on to be successful coaches. Of the top 25 players by career Win Shares, only five became head coaches, and usually with middling results. Only Larry Bird managed a winning percentage that was significantly above .500. The top players, historically, don't make great coaches – if they become coaches at all.
Chart 1: Success rate of all-time great players as coaches

(It's worth mentioning that even Russell's coaching record is padded by the three full seasons he acted as a player-coach. If we start the clock on Russell only after his playing days were over, his record is 179-207 or .464.)
We find a similar storyline when we perform the inverse operation. I took the 25 winningest coaches (by regular season wins) and worked backwards to find out what type of playing career preceded their time on the bench.
Chart 2: Playing careers of all-time great coaches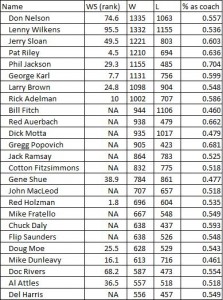 Eleven of the most successful coaches in basketball history never even played professionally (NBA, ABA or BAA). Of the 14 who did, Lenny Wilkens is the only one whose WS was even good enough to be in the top 100 all-time. Most of them – like contemporary giants Phil Jackson, Jerry Sloan and George Karl – were effort & energy players at best.
Obviously, this only looks at head coaching records and doesn't address the more important (but harder to quantify) question of how many past greats turned into great mentors/teachers for younger guys, which is really what the Jazz need from Malone to start. Still, there's a strong message in the fact that seven decades of basketball history have produced a list of top coaches and top players that are almost entirely mutually exclusive.
The message: coaching NBA basketball and playing NBA basketball are different skills, and it's entirely possible to be phenomenal at one skill set and mediocre at the other.
None of this means that Karl definitively does not have the skills to coach, only that we don't know for sure and that it's naive to assume he does simply on the basis of his playing career. But giving him a chance to make Utah's young core better is exactly the way to find out. The same arrangement put Hornacek on a career path that has led him to a head coaching role. We don't know where this path will take Malone, but I love that we get to find out.
If one of the hardest-working guys ever to play ball has demonstrated a desire to get his feet wet as a special skills coach, then he should get a shot. The career of Coach Mailman has just begun.