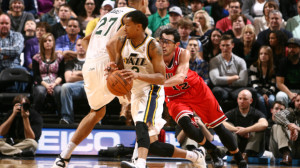 It is accountability time. Back in August 2013, I laid out some predictions for the 2013-14 Utah Jazz season. Some were bold, while some were the exact opposite. With four games remaining in the waning season, it's safe to take a look back and see how accurate or how off these prognostications were.
Gordon Hayward will lead the team in assists: This one was close. The honors go to Trey Burke, whose edged out his back court partner, 5.5 APG to 5.2 APG. If it helps any, Hayward currently has 379 dimes for the year, while Burke has 361.
Hayward will also lead the team in scoring: This fits into the less-than-bold category, but Hayward is indeed pacing the Jazz in scoring at a 16.0 PPG clip. That said, his efficiency is lacking, as the role of go-to scorer does not seem like an exact fit.
Alec Burks, whether he starts or comes off the bench, will finish second: The athletic combo guard is right behind Hayward with 14.0 PPG. Back in August, Enes Kanter and Derrick Favors may be think hard about this one, but I felt Burks ability to slash and get to the line, coupled with a gradually improving jumper, would position him to be a solid scoring threat.
Utah will be represented well at All-Star Weekend: Another safe bet, as Burke represented the franchise in the Rising Stars game, while winning the skills challenge. Jeremy Evans was denied the opportunity to regain his slam dunk crown.
Trey Burke will be the second Jazz player to win the Rookie of the Year award (Darrell Griffith being the first): This will be known in a few weeks. It's clearly a three-man race between Burke, Victor Oladipo and Michael Carter-Williams. Chances are it will go to MCW, but it will be close.
The Jazz will honor Jerry Sloan this year: Check. And the Jazz did an absolutely masterful job in honoring the one and only Coach Sloan. It was certainly a highlight of this season as it allowed the fans to look back to some glory days with fondness.
The Jazz will be a top three shot-blocking team: Way off. At a collective 4.4 BPG, Utah is just 2oth in the league. I was banking on Favors improving on his gaudy 1.7 BPG in 23.2 MPG mark the previous season. Despite increased playing time, he dipped to 1.5 BPG. This prediction was also based on some solid playing time for Brandon Rush (who was solid his last full season) and Rudy Gobert (0.9 in limited action).
Favors will earn some All-Defensive team mentions, but won't make it this season: This one could be in jeopardy. While he has had strong individual efforts, being the anchor of one of the NBA's worst defenses won't garner many votes, if any.
A lot of teams will be beating themselves over not drafting or signing Ian Clark: Probably a negative at this point. Clark is starting to get a few minutes here and there, but it's highly unlikely his performance is causing opposing GMs to lose sleep. That said, he could be a very solid find. Clark has a good stroke and gives a lot of effort when on the court.
Dennis Lindsey will orchestrate at least one notable mid-season trade: Sure there were rumors (Richard Jefferson for Andrew Bynum; Marvin Williams for a first-round pick and the implausible Gordon Hayward to Boston rumors), but it was a quiet deadline. This year was less disappointing than the previous one, as the bevy of expiring contracts figured to be potential trade bait.
Despite the growing pains, this will be an exciting team for Jazz fans to rally around: This is a purely subjective prediction. It has absolutely been a season of struggle, ups and downs, highlights and low-lights (great piece the other day by Clint Johnson about this sordid season). There have been some positives, such as Burke's recent game-winning 3-pointer. For me, it has been exciting, as we caught glimpses of the future.
And lastly, here were my quick hits.
To help with the whole Burke and Burks thing, Craig Bolerjack and Matt Harpring will be electrically shocked every time they use the wrong name: Clearly did not happen. Imagine the fun if the Jazz draft Aaron Gordon and Tyler Ennis…Burke and Burks, Enes and Ennis, Gordon and Gordon.
Favors will average a double-double. Kanter will not. But watch out the following year, world: Favors leads the team with 8.7 RPG, but many were predicting a few more boards per outing. Kanter has turned it on of late and is averaging that double-double the past six weeks.
Gobert will win the rookie dance-off, performing the Snake. The video will go viral that night: Oh, Rudy…
Biedrins will show he can still be a serviceable back-up big man: I will now cower in the corner, full of shame and embarrassment. Biedrins did earn $3.0M per point scored, so there is that.
Hayward will enlighten us with another full slate of Fresh Market ads that will dazzle and entertain. There will be immense rejoicing in the land: Yes, indeed.
Jeremy Evans will prove to be more than a highlight dunker. With an improved jump shot, Evans will show he belongs in the league: This has been one of the key developments of the season. At 5.9 PPG and 4.6 RPG, Evans definitely showed that he is a very viable rotation player. He started the year on a torrid pace, tailed off in the middle, but is coming back around. Utah has him locked in for another season at a mere $1.7M–a pittance compared to his productivity and his electric dunks.
Tyrone Corbin will finish the season as the head coach: And he will. But we will know soon if he is the head coach moving forward, as Laura Thompson highlighted.
Gobert's wingspan and/or standing reach will be mentioned 7,653 times, most of them by the Jazz broadcasters: We got one right!
For the third straight season, Utah fanatics will watch the Golden State situation with eagerness. An injury will curtail the Warriors' season a bit, but not enough to bring the Jazz a second lottery pick. Late teens would be my guess: This is one that many wish was not accurate. While the Warriors flirted with that elusive ninth place spot in the Western Conference, they seem secure in their postseason positioning and the Jazz will mostly likely be left with the #23 pick. Sadness.
Hayward, Favors, Kanter, and Burks will all receive Most Improved Player votes, but none will win it: Burks will probably get the most attention out of this quartet.
Kevin O'Connor will sign an extension, but will continue to take a gradually smaller role: He still has an influence on the team, but that seems to be dissipating as Lindsey is clearly at the helm.
We will see a sharp increase in Jazz fan Twitter etiquette: Twitter definitely can enhance one's fan experience and it has for me. That said, there is still a long ways to go here. One day, all of us should just Kumbaya-it out.
Not too great, but not too shabby. How did other Jazz fans fare with their personal crystal balling?Pretty soon it will be time to make some more predictions for what will inevitably be a very eventful offseason for the Utah Jazz.