In 2016, the Utah Jazz are undefeated and second year player Rodney Hood is the team's leading scorer, averaging 32 points per game.
Small sample size be damned.
The Memphis Grizzlies moseyed into town on the second night of the new year and were defeated by the continuously shorthanded Jazz who gutted out the 92-87 win in overtime, despite missing their entire starting front court — the injured Rudy Gobert (MCL strain) and Derrick Favors (back spasms), in addition to their volume scoring sixth man, Alec Burks (fibula fracture).
Hood scored a career high 32 points — nearly 20 more than his season average of 12.2 — 17 of which came during the 4th quarter and overtime.
Hood is Good
Rodney was great. Aside from having inherited all of the swagger of the now scooter-bound Burks, the NBA sophomore maintained composure he hadn't yet shown down the stretch of a close ball game that had 24 lead changes and 8 ties. My favorite play of Rodney's came in overtime, where he maintained composure on a tough possession and got fouled in the paint with clock winding down. A lesser player would have panicked in that situation and given the ball up, but he kept with it and was fouled. Even though he split the free throws, it was valuable experience for Hot Rod Hoodie, who has played just his 81st NBA game Saturday night.
Quin played the hot hand tonight, especially with Gordon being relatively shut down on offense (though he still had 14 points) while guarded by Tony Allen. G-Time shot 50%, but only got off 10 total shots in his 42 minutes of play.
Rodney played all 12 minutes of the 4th and all five minutes of OT. Though Coach Q had few other viable options for wing play down the stretch, it was good to see Rodney bear down and kill those crunch time minutes.
Snyder mentioned that some of what made tonight special was the big shot Rodney missed against Golden State when they visited the Jazz earlier in the season. In his post game interview, Quin said, "To have him have the opportunity to close the game like tonight was terrific." And it was.
Tibor! Tibor! Tibor!
When it became evident that going small against the Memphis Marc Gasol/ZBo combo was no longer an option, it turned into Tibor time in just the first quarter when the big man checked in with only 15 minutes of NBA experience under his very high belt. Seriously. Did you guys notice how high his shorts ride? It's distracting.
Anywho, Pleiss looked less like a legitimate 4th big during his stint, especially during his 1st quarter minutes. Overall, Pleiss played 17 minutes, scored 6 points on 3/4 shooting, had 6 boards, 1 GREAT assist, 5 fouls (we gotta work on that, buddy) and had the second highest +/- on the team with +11. We even saw a whisper of his mythical outside shooting.
Also: Did we know that TP's nickname is "The Octopus"? What's Octopus in German? ***quick Google search*** It's Krake. That's awesome, and sounds even cooler.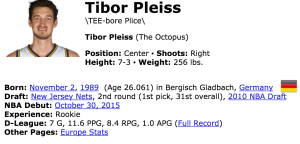 He also had this amazing screen on Tony Allen that led to a wide open Rodney corner 3:
And this bizarre offensive foul where Mario Chalmers ended up ricocheting off of his back. Ooookay, Rio.

In post game, Tibor laughed about picking up five fouls, jokingly saying, "I think the refs made some mistakes."
He quickly corrected himself, to avoid getting fined, saying "I played, sometimes, maybe a little bit too strong," specifically referencing some of his fouls on moving screens.
When asked about being ready, Tibor gave a lot of credit to his time in the D-League as a member of the Idaho Stampede, particularly that it helped him learn the Jazz's system and allowed him to practice NBA defensive rules.
Coach gave the German rookie a ton of credit for his confidence.
"I loved it that he turned and shot the ball," Quin said. "And then he shot another one. It made me smile."
Us too, coach.
"There was a courage about how he played that was great," he added.
"I was really grateful for that opportunity," Pleiss said in postgame, making it the first time anyone has expressed gratitude for having to spend time in Boise.
Go bigs or go home/Rays of sunshine
Quin opted to go big most of the night, using a traditional center for just over 49 minutes split between the German and Jeff Withey, who also did plenty of good things.
Here's the thing, y'all — when Rudy went down, so many things felt irreparably ruined. December was supposed to be the Jazz's month to get an edge, and we lost the Stifle Tower, our rim protector and defensive anchor. Enter much weeping and wailing and gnashing of teeth.
If you would've told me that even with all our injuries, we'd be sitting at 7th in the west and just be two games under .500, I'd be thrilled.
If you would've told me that in the meantime, we'd be giving meaningful minutes™ to rookie Trey Lyles and seeing increased production from the end of our bench — all of which will be incredibly valuable as the season progresses — I'd be ecstatic.
If you would've told me that a byproduct of all the injuries is the Jazz actively looking to shoot the 3, I'd be over the moon.
If you would've told me that we'd win tonight's game in OT without getting Derrick back and the grit 'n' grind Grizz only short one Matt Barnes due to Derek Fisher shenanigans, I would've told you that you partied too hard this New Year's Eve.
And because I am an eternal optimist:
MOAR GOOD THINGS!
As tweeted by David Locke:
Quin summarized it all perfectly in postgame, remarking that relying on the excuse that you're shorthanded "does a disservice to the guys that play."
"We played with passion," Coach Snyder said. "And, you know, whether it's Book or Jeff Withey, or Tibor, Rodney, Gordon. You go down the list and I don't think there was one guy that didn't give every part of himself to the game. It's hard to do that all the time, but we sure did it tonight, and I'm glad the result, you know, ended up reflecting that."
Coach gave a lot of credit to Trevor Booker, who came up with two really important defensive rebounds in overtime and made 3/4 free throws in the clutch.
"Book has been unbelievable in Fav and Rudy's absence, just his competitive spirit."
Jazz have also started to figure out 1st quarters and have averaged 25.6 points in the first 12 minutes of games over their last eight, despite scoring 13 points twice during that span. If we throw out the outliers (13 and 37) they're averaging 31 points to start games. Neat.
We got another installment of #CeLylebration tonight after a 3-pointer. Shout out to Mike Crane for co-inventing the term.
There was also a great moment in postgame where Rudy threw his towel at Tibor during his interview. Rudy forever, guys. GET WELL SOON!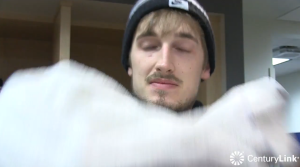 Houston is up next. They were dispatched handily Saturday by the San Antonio Spurs, and are currently one spot behind the Jazz in the playoff race. Should be a good one!