Welcome to your 11th weekly recap of all things Jazz. Seven bits of wisdom and fun to wrap up seven days' worth of Utah hoops.

If you ran a basketball team that fielded a starting lineup of Rudy Gobert, Derrick Favors, Rodney Hood, Alec Burks and Dante Exum, you could do OK. I wonder how often an NBA team is missing an entire lineup's worth of players. And in this case, it's a lineup that could probably kick the crap out of the five starters you could put together from the remaining crew.
Gordon Hawyard is really good. Anybody who reads me frequently knows I believe in G-Time a lot and think most criticisms of him are sorely misguided. But in this exercise, he'd be joined by Jeff Withey, Trey Lyles, Chris Johnson and Raul Neto in taking on Team M*A*S*H. How would that look?
So yeah, the Jazz would love to get healthy.
But there's one complicated issue Quin Snyder will have to sort through as his team gets healthier, and it involves a lottery talent who suddenly looks like an NBA player.
To call Lyles' rookie season a slow start is to put it kindly. For a long time, Lyles appeared to have little idea where he needed to be, let alone confidence in his basketball decisions or rhythm to his actions. He shot the ball, but you could tell that his mind was still talking his body into the idea that he was allowed to shoot. The result: 36% shooting and 3.0 points per game in his first 29 outings.
But right around the start of 2016, Favors' injury opened the door for Lyles to play more, and he's suddenly looking like a smart basketball player with serious tools. He's suddenly average 8 points and 6 boards on 52% shooting, including 56% on a newly discovered three-point shot. More importantly, he's just starting to get the game. He's making passes, deflections and defensive decisions that you can only make if you're reading multiple factors and smartly thinking ahead.
Lyles has showed enough of the skills and IQ that led to his lottery selection that you have to think he'll remain a part of the rotation even after Favors gets healthy. What complicates the matter is that Snyder is a huge believer in Trevor Booker, and playing the two together as backup bigs presents some pretty huge challenges.
The two have a net rating of -26.9 as a tandem, the worst net rating by far of any Jazz playing pair that has logged at least 30 minutes together.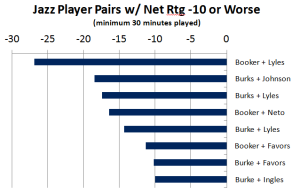 So the Jazz seemingly have two options. They can bench Booker, who is well-liked by players and coaches, and give his minutes to the effective Withey. Or they can decide that Booker is too important in terms of identity and hustle and continue to play those guys together as a bench unit despite pretty bad historical results. It will be interesting to see how Snyder manages that, because playing all five just isn't a sustainable option.
Although it's safe to say that having a healthy stable to choose from is a problem the coach longs for right now.
22
That's the average number of games missed by the 11 players with in-season grade II MCL sprains in the database of the folks that track such things over at the In Street Clothes blog. Had Gobert missed the average number of games, he would be returning to action tonight against Sacramento. That makes his January 7 return against Houston fairly impressive — he got back a week earlier than the average would indicate, and he missed just 18 games.
This is a simple play in terms of the action that results in the score (it's just a skip pass off a pretty basic pick & roll read). But I like it because it shows why there's an advantage to putting pressure on the defense by transitioning quickly, even on plays that don't directly result in a fast break attempt.
The Heat break up the transition opportunity by getting in front of Johnson's loose handle, but their defense is kind of a mess at this point. Dwyane Wade is left checking Neto and, more importantly, Goran Dragic has Lyles.
What the Jazz do next is really smart. Lyles take Dragic to the far post for a little pindown screen action on Deng, but at the same time, they run a pick & roll on the strong side. Miami usually has the weakside corner defender help on P&R, so now Dragic has to decide between helping slow the Gobert roll or switching onto Hayward as Lyles screens his guy.
It all happens because the Jazz hurried up the floor and got into their set while Miami's defense was still all discombobulated, and it let to three of Hayward's 34.
Hayward has really taken over for the banged-up Jazz. Since December 1, when the non-Exum injury concerns really started, Gordon is averaging 20-5-4. So it's no surprise that he's taking over the Game Ball ranking.
Jazz 98, Heat 83 – Hayward
G-Time has the second-highest point total by a Jazz player this season, which included a third quarter that he absolutely took over. He scored Utah's final 13 points of the quarter, 18 in all for that frame, on the way to a 34-point night with 64% shooting. Also considered: this was Hayward all the way, though my guy Laird is right that Gobert's impact on that game was huge.
Jazz 86, Lakers 74 – Hayward
I was actually leaning toward Hood all game, and then Hayward took over late in his 400th career game, including three tough buckets down the stretch that quieted the crowd and sealed the win. Overall, it was a 25-point night for Hayward, his 39th career game of 25 or more.

We already did the stat of the week, but here's another number for you to chew on: .416 is the average winning percentage of Utah's opponents leading up to the All-Star break. They only face two winning teams during that entire stretch (Detroit, Chicago, Dallas) and two of those are at home.
All of that portends a midseason surge by the Jazz, as it's not hard to go game-by-game and piece together a 13-5 or even 14-4 stretch. But .500ish teams seldom turn into .700ish teams overnight, so excuse me for
The next seven nights are a perfect example of this concept. In isolation, all four games are winnable, but is it realistic to plan on the Jazz running the table given their inconsistency over close to half the season?
Kings. Cuz & crew are looking better lately, at 8-8 starting with their December 8 victory over Utah.
Lakers. When a .200 team comes into your gym, you pretty much need to win that game.
@ Hornets. Charlotte is in freefall, having lost 8 of 9

. 

Most of those were to good teams, though, and they're still 14-8 at home.
@ Knicks. NY is no joke this year: they're 1.5 games out of a playoff spot and boast a winning home record. This also means I will have seen the Jazz up close again by the time of our next SC71
"If he's making a statement, it's clearly not about where we are right now. I don't understand why he would say that. I don't."

Snyder, as told to the SL Tribune, regarding Raja Bell's weirdly timed dig at the Jazz
Here's the thing people conveniently forget about Bell now that he's made the persona non grata list for many Jazz fans. he established himself during his 2003-2005 stint with the Jazz as a locker room leader and a pro's pro. I know. I was just beginning to cover the Jazz at the time, and Raja was a positive influence on that team and great to work with: always willing to speak on behalf of his young team after a tough loss, and always very honest and thorough in his answers.
So it was always puzzling how quickly the relationship went south in his later Jazz assignment, but I think it comes down to the same thing: Bell was honest. Maybe too honest for his own good. As I understood it, he didn't feel like the Jazz coaching staff was doing enough to communicate with players or develop young talent. And he just couldn't help himself but make that point in ways that were… um… honest. In retrospect, he wasn't really wrong. The Jazz moved on to a new coach, citing as motivation for the change the same cultural elements that Bell had underscored, perhaps less politically.
But Snyder is right – that's not the Jazz's reality today, so why look for an opportunity to squeeze in a weird dig about something you don't know much about?
In honor of Rudy's return to the lineup, I mined play-by-play data to compile Rudy's "block list" — every guy he has ever swatted in three NBA season.
So far, 187 guys have been turned away by The Stifle Tower2, including 67 repeat customers. That means that over a third of the league has suffered the wrath. For the other 250 or so players, it's just a matter of time.
All of this begs for some trivia. See how many of these you can guess without looking.
Who's the player Rudy has blocked the most, with five total rejections?
Who was the first player Rudy ever blocked?
What team has been on the receiving end of the most Rudy blocks in his career?
What % of the All-NBA selections and NBA All-Stars from the last three seasons has Rudy blocked at some point in his career?
How many (and which) current Jazz players are on Rudy's block list from before they joined the Jazz?
Update: Answers to the Rudy trivia are below:
Russell Westbrook. Interesting side note: all five blocks came in the 2014-15 season.

James Harden, whose 4-footer was blocked on November 2, 2013.

Minnesota Timberwolves, with 25 total blocks (Portland is close behind with 20).

First of all, this was poorly worded. When I said "last three seasons," I meant guys who were All-Stars or All-NBA during Rudy's careers… which of course means just 2013-14 and 2014-15, since this year's honors haven't been given out yet. Now with that cleared up… There are 36 guys who have been All-Stars since Rudy came into the league. He has gotten 24 of them (67%). Of the 24 guys to make an All-NBA team in those seasons, Rudy has blocked 16 of them — also 67%3. 

The only current teammate to fall victim to Rudy in an NBA game was Jeff Withey, who was blocked once last February as a Pelican.
Since the post originally went up, he has added Marvin Williams and Cody Zeller to his list. Everybody he denied in his 5-block outing vs. the Lakers was already on his list, though Lou Williams and Roy Hibbert both joined the 3-block club that evening.
—
SC7 archives: 1 / 2 / 3 / 4 / 5 / 6 / 7 / 8 / 9 / 10