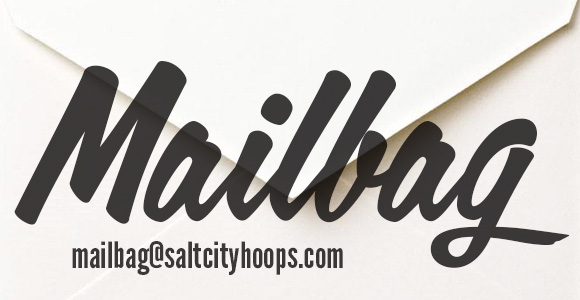 It feels like I only go backwards baby,
Every part of me says "go ahead".
But I got my hopes up again, oh no, not again.
Feels like we only go backwards, darling.
-Tame Impala
Well, that was… uninteresting. Initial reactions to Utah's lack of movement through the deadline were pretty dismal, even attracting the brief attention of national NBA writers who suddenly have no reason to pay any attention to the Jazz for the remainder of the season, but I think Matt Moore summarized the media's position when he sent out this tweet:
As is often the case, Jazz Nation reacted much more harshly, creating a sort of bloodthirsty, self-loathing vibe for our first mailbag run. Let's get to it!
"I am totally fine with the Jazz not making a move. The only reason why I am confused/disgruntled/frustrated is the fact that we will lose Millsap in free agency unless the Jazz front office unload their pockets, including the lint. If there was a chance, no matter how small, to land Eric Bledsoe in any type of deal, why wouldn't the Jazz jump on that train like James Bond on a Heineken commercial? One word that comes to my mind – mediocrity."
–Dexter from Idaho
"I have no problem with the Jazz not making a move. I believe the Jazz will get better value and have more control with cap space in the next two off seasons than anything they would have pulled off today. I have had a problem the entire season with the lack of playing time for Favors, Burks and Kanter. I don't believe that Favors and Kanter haven't earned more playing time when I see that arguably one of the worst players in the rotation (Marvin Williams) remains in the starting lineup.
Are the Jazz doing things today that will make them a contender vs. OKC and LAC in the next 3 years? I hope so."
-Geoff B.
These were my two favorites from among the traumatized contingent of the emails, maybe because they both started — almost identically — with such good intentions before succumbing to the awful reality of the situation. I don't have much to offer other than what has already been said — the Jazz probably didn't have any great offers in hand, I doubt that Eric Bledsoe was really on the table, etc. But let's just run through a best-case-but-somewhat-realistic scenario and see how this could work out over the next year or so:
The Jazz keep playing at their current pace and end up with the 7th seed and Golden State falls apart and slips out of the playoffs in the last week of the season, leaving Utah with the 14th and 17th pick. Alex Poythress drops because UK probably isn't going to make the tournament and Utah ends up with Poythress and Trey Burke, and whomever they grab in the second round. At this point, their roster is constituted of Favors, Hayward, Kanter, Burks, Evans, and the three rookies — eight players in total. Marvin is going to pick up his option (because even in the best-case scenario he would be crazy not to) and the Jazz will probably pick up Kevin Murphy's option. That makes ten. Only four spots are left.
Let's say the Jazz re-sign Millsap and then don't have enough cap space for Big Al, who is reeled in by some of Atlanta's money that they couldn't spend on Chris Paul or Dwight Howard. Eleven. The Jazz then re-sign DeMarre Carroll for cheap because no one else seems to realize that he's actually pretty good, re-sign Mo Williams for a mid-level contract because KOC loves him, and suddenly only two roster spots are left and the Jazz will likely use one of them to sign another backup point guard (maybe Watson or Tinsley) and leave the other open.
At that point, the Jazz will only have more assets than they do now. Expiring contracts aren't as useful to the Jazz with the new CBA because they don't want to take on a lot of salary and pay the tax for it. Next season will start with six young first-rounders on the squad, all still on their rookie contracts. If the Clippers feel like moving Bledsoe then, and the Jazz don't feel like Burke (or whoever we draft) is the guy they want running the show, the Jazz will only be more attractive to trade with.
I wanted a trade as much as anyone and I think the Jazz are really boring this season in every way possible, but I don't think they're resigned to a future of only middling competitiveness. These guys could still be really good. If the Jazz are still this stagnant next year at this time, though, we have a serious problem.
Or… maybe we should just panic:
—
"What options does a team have with a player under contract like Bell? Why didn't the Jazz trade him for a ham sandwich and a snack-size bag of Cheetos?"
-Jon P.
Ham sandwiches don't come cheap these days, Jon. First, you should consider that there are several really solid sandwich places near the ESA and so the bar for ham sandwiches is kind of high — and then you want Cheetos, too??? This is quickly getting out of hand. This afternoon, after yelling at/with Evan in a parking lot for a while about the sorry state of the Jazz, I decided to go against my better (and any) judgment and take a flier on one of those vending machine sandwiches and right when I rolled the dice to see what a vending machine sandwich could do for me, it got stuck on the way out of the coil thing and all of my efforts to dislodge it were insufficient, leaving me out a sandwich and $2.75. I think that at this trade deadline — stay with me here — the Lakers were me, the gross tuna sandwich was Raja Bell, and Evan was, like, Dwight Howard's agent or something.
My point is that Raja Bell has been pretty bad for quite some time now, and he's only older and, presumably, more out of shape. I'm pretty sure takers weren't lining up, and the Lakers didn't really have any spare ham sandwiches to toss our way. They are WAY over the cap and the only players whose salaries match Bell's closely enough for a trade to work have multiyear deals. I'm sure they offered Chris Duhon for Bell and KOC was like, "Um… What?"
Now the team's only choices are whether to waive him or not waive him. Waiving him makes way more sense because he gets the same pay either way and then at least his dismissal would free up a roster spot if injuries thin any position out too much (see Williams, Mo: Watson, Earl; Tinsley, Jamaal). The only reason I can think of to not waive him is out of spite, which while being hilarious is probably not a great guideline to follow in running an NBA team.
—
"Are the Jazz better off not resigning Mo Williams in the off-season? I know he is a better point guard than the other PGs that are on the team but does he really make the Jazz better? I don't remember the statistic, but ever since he got injured, the Jazz have been playing better ball. I think the Jazz are better off with a pass-first type of PG rather than a combo guard."
-JuanManuel P.
First of all, the Jazz are re-signing Mo this offseason. I guarantee it. I would be completely shocked if it didn't happen. Kevin O'Connor has a major man-crush on him — when Williams returned last summer, everyone talked about the next contract like it was already signed, and he is just a "Jazz guy." (I'm not really sure what it means to be a "Jazz guy" anymore, but still.) Really, it's hard to fault O'Connor for liking him. He was really fun to watch as a rookie, he progressed quickly, and his character and work ethic checked out. Then he broke all of our hearts and signed a big contract with the Bucks and suddenly it was over before it really began. Of course O'Connor wanted him back.
The argument that the Jazz are better without Mo is really flawed. While the win-loss record by itself makes you wonder–the Jazz are 12-13 when he plays and 19-11 when he doesn't–you have to look at the strength of schedule. Utah's slate was vicious through December and suddenly became really easy for the past six weeks or so. While the Jazz have actually been looking better than ever the last handful of games, that isn't about Mo so much as the team starting to mesh better in large part because of a tighter rotation (read: BECAUSE ALEC BURKS IS AMAZING).
—
"I began noticing last season that during EVERY Jazz game, both Jefferson and Millsap have an episode (at different times) during the game where, following high-body/head contact, each will react as if an eye had been poked out. Not sure if anyone else has noticed this, but it happens during every single game–it's the only thing I can count on in each game. Obviously, if each were really having their eyes poked that much, they would consider goggles, but my gut tells me there is a pretty good amount of embellishment going on."
-Paul N., Millcreek Township
YES. And we wonder why Millsap never gets any calls! Can you imagine any flop less effective than the Phantom Eye-Gouge? It takes a full second after the play to execute and really, how often does anyone get poked in the eye playing basketball? I've played a lot of games in my life, and though they are generally much less physical than the NBA, I'm pretty sure I've been poked in the eye maybe twice, ever. There has to be a better way. It's the NBA equivalent of first-graders saying "Teacher, he pinched me!" No one cares, kid. Get back out there and play.
So, what can we count on during games? Well, it used to be the Mailman… but now we can only count on one of the starting post players to clutch their eye in fake pain at least once a game. (*deep breath, collecting myself*).
—
Thanks for all the questions! We're excited about the mailbag and hope to hear more of your thoughts and questions soon. Remember to send your hopes and fears to mailbag@saltcityhoops.com. Let's do this again soon.
You can also follow me on twitter, if you want: @ruddsky