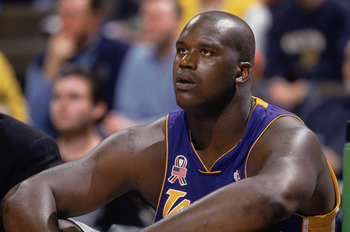 In June of 2011, at age 39, Shaquille O'Neal announced his retirement from the National Basketball Association. It's possible a few basketball experts were already aware of the negative impact Shaq's decision would have on the future of the NBA, but it's safe to assume most were probably more optimistic than they'd like to admit. After the retirement became official, the basketball world attempted to dull the pain by talking about the rise of Dwight Howard, the consistent numbers of Brook Lopez, and the promise of Andrew Bynum, but little did they know there would be no replacing the man called Shaq. For the NBA, the retirement of Shaquille O'Neal didn't simply mean the end of a colorful career characterized by showmanship, controversy, winning, and utter domination, but it also signaled the end of a remarkable era of big men. Whether you realize it or not, the day Shaq retired is the day the world mourned the death of the true NBA center.
The center position has changed drastically in the years following Shaq's retirement. Basketball analysts often debate the cause of the gradual change in post play style, but many believe it's a direct result of European influence. In the past, European pros learned to shoot, handle, and move without the ball at an early age while their stateside counterparts watched film of Hakeem Olajuwon and Kareem. Now it seems U.S. and European development coaches alike put a strong emphasis on facing the basket while engaging a low post defender to initiate an aggressive attack mode and open up offensive options. It's true this course of action can often lead to distinct advantages, namely forcing defenders to leave the painted area and providing the offense with another strong ball handler on the floor, but is this style of play better than the traditional post game that made players like Shaq, Abdul-Jabbar, Olajuwon, Robinson, and Ewing all-time greats?
We've seen greatness on the block a few times over the last decade or so, but if you stopped to blink once during the short window you probably missed the magic. We saw a quick glimpse of special post play from Yao Ming before his career ended, but that's all it was—a glimpse. Yao brought a perfect mix of mid-range shooting and strong post play to the table, but a severe foot injury finally put an end to his short-lived career. Yao was good. The greatest coaches in the league often praised him as the future star center of the league, but injury prevented those expectations from ever being fulfilled.  I'm not suggesting Yao was at the same skill level as Shaq when he left the game, but we'll never really know what could have been. During those days we also witnessed the aging version of Arvydas Sabonis, the bad attitude and poor work ethic of Andrew Bynum, and the super hype of Roy Hibbert and Brook Lopez, though they're probably the best in the game right now.
Then there's Dwight Howard.
I love to talk with people about Dwight Howard, because I love seeing their faces go red when I speak my mind. I'll just put it out there—I'm not a Dwight Howard fan. I respect his rebounding ability and his defensive mind, but those two positives can't completely correct a less than impressive offensive game. The man can't shoot and the man most definitely can't score, unless of course he rebounds one off the back iron and puts it in for a garbage bucket. Dwight would sooner dribble the ball off his foot than complete a smooth drop step move from Shaq's bag of tricks. I'm not sure if it's a lack of willingness to develop his offense or if it's a lack of ability, but either way Dwight should never be compared to Shaquille O'Neal, or any of the greatest centers of all-time for that matter.  Other than the glimmer of hope we witnessed with Yao, Dwight, Andrew Bynum, and a few good years from Al Jefferson, there hasn't been much to celebrate over the last few years.
No matter which way you slice it, Shaq is clearly a different breed than the NBA centers of today. If I forced you to name a few of the best centers in the game today, how would you fare? Could you even name five? How about three? There is no doubt the list has grown quite short over the years. In a league that used to be dominated by the center position, we're now at a place where Brook Lopez and Roy Hibbert are the best big men in the game, and a center isn't even recognized as an official position on the all-star ballot. Why you ask? Because the league doesn't think there are enough talented players to vote for. When I conduct a quick scan of next season's team rosters, I see more of the same. I see defenders that can control the paint on defense, like Anthony Davis, Tyson Chandler, Joakim Noah, and even our own Derrick Favors, but nothing suggests a player with a complete offensive and defensive game.
Here are a few of Shaq's notable career achievements just so we can remember what we're missing.
1993 NBA Rookie of the Year
15-time NBA All-Star
His 28,596 career points currently stand fifth all-time
Scored more than 20 PPG and pulled down more than 10 RPG for 13 seasons (most in NBA history)
NBA MVP award winner in 2000
3-time NBA Finals MVP
5,250 post-season points scored (4th all-time)
Named one of the 50 greatest players of all-time
Maybe the best of the center position is behind us. Only time will tell.