Over the course of the summer, speculation began to be whispered around Salt Lake City that a controversy could begin emerging in Utah's frontcourt before long once the season got started. If Enes Kanter was unable to improve upon some of his notable flaws from last season in a new, friendlier system, some opined that his starting job could once again quickly be in jeopardy, just as it was early last season before he was eventually relegated to the bench. To some, given the performance of guys down the frontcourt depth chart, this was more a matter of "when" than "if."
Of course, what most of these folks likely weren't expecting was that rather than summer sensation Rudy Gobert threatening Kanter's minutes, it would be newcomer Trevor Booker. But lo and behold, that's exactly what's happened. Whether or not Kanter is truly at risk of losing his starting job is still a quite subjective question, to be sure, but Booker has performed so well to this point that if a controversy were to arise, it would surely be the former Wizards forward being discussed as Kanter's replacement.
It's early yet, and sample size is still a concern, but the numbers bear out a fairly convincing case in Booker's favor. For starters, the broader metrics paint Booker as not only a deserving starter, but as Utah's most impactful player1 in terms of team performance with him on and off the court. The team has performed at a net plus-8.9 points per-100-possessions clip during his 144 minutes to date, per NBA.com, a figure that would rank fifth in the league to this point in the young season and would have led the NBA last year. This is easily the highest number of any Jazz rotation player, and is second overall only to Jeremy Evans…who has played four minutes.
When Booker sits, however, the Jazz have cratered. Their net minus-11.1 rating without him is the worst discrepancy on the team, and also worse than the miserable Sixers posted for the year last season. Again, these remain small-ish samples, but the way the group has struggled in multiple areas makes them difficult to ignore. They've had less meaningful ball movement, more turnovers, and have gone from an elite rebounding team with him on the court to a subpar one when he's on the bench2. They've also taken slightly more fouls on a per-minute basis while drawing nearly 25 percent fewer of their own.
Booker's mobility plays a huge role on both ends of the floor. He's the only rotation big to whom Quin Snyder has given consistent license to leap out and hedge, or sometimes even fully trap, ball-handlers in the pick-and-roll. There's no such thing as a perfect Dirk defender, and Booker lacks the height and length to consistently check a unique talent like Nowitzki, but watch him sell out repeatedly through multiple picks, hounding the big German into a contested shot:
Nowitzki's shooting prowess makes him one of the toughest roll-man covers in the league, and Booker played this perfectly. With a growing number of these sorts of players in prominent roles around the NBA3, this sort of ability is of paramount importance, even if Booker will never be able to fully lock down these sorts of guys in other areas. Watching the team's two games against Dallas, particularly the way Kanter was repeatedly unable to recover to Dirk in time to prevent mayhem on similar sets, threw this sort of issue into sharp focus early on.
Furthermore, Booker is almost certainly the only Jazz big capable of this sort of pseudo-zone double with a timely recovery to force a bad shot:
And of course, a power forward with both the willingness and ability to exploit a momentary lapse in defensive rotation and put the ball on the floor from the perimeter is a big positive, particularly in a motion system. Jazz fans surely haven't forgotten this one by now:
To be clear, and to spare my Twitter mentions the agony: I'm not advocating for a change to the starting lineup, at least not yet. A number of variables go into the calculus here, from the small sample to unavoidable team context that comes with the sort of on/off court numbers cited above. Perhaps the most relevant, though, is the same factor that caused such divisiveness over Kanter's removal, and subsequent inability to see court time with Derrick Favors, last year: putting the best possible basketball team on the floor at all times is simply not the only priority for the Jazz this season. Kanter hits restricted free agency after this year, and Jazz fans are only too aware of how dicey a process this is after last summer; determining his true value, and doing so over a robust enough sample in a system that has changed drastically from his previous years in the league, is vital despite the potential effect on on-court performance.
But with all of this said, the evidence is beginning to mount, to the point where even all of the above paragraph might become moot. The Jazz are still hovering near .500 despite a murderous opening schedule, and as long as this remains the case, it will be increasingly difficult for Snyder to justify giving more playing time4, particularly against opposing starters, to a player who has simply been inferior thus far.
And while on/off numbers do contain some amount of noise, there are others that don't, at least not to nearly the same degree. Utah's two most-used lineups so far both contain four of the same names – Trey Burke, Alec Burks, Gordon Hayward, and Derrick Favors. One lineup, the starters, has Kanter at the second big position. The other has Booker. Check out how the two have compared thus far: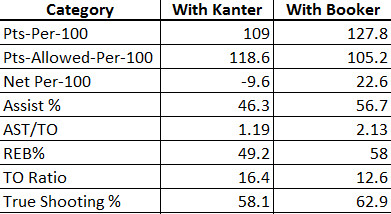 Small sample or not, these results are somewhat astonishing. The same four-man group has been borderline unplayable with Kanter while putting up ridiculous (and of course, unsustainable) figures with Booker. If this trend continues into periods where the amount of data becomes robust enough to pass real judgments, it will likely be the single most damning factor working against Kanter's case to remain a starter.
Whether or not this ever happens, the Jazz have to be thrilled with an excellent free-agent signing at a good price. Booker brings fire and energy to a team that will be in need of it from time to time over an 82-game schedule given their frenetic style, and has the sort of grit and attitude that has instantly endeared him to the fanbase. He's announced himself loudly, and should he keep up this pace, expect to see a lot more of him going forward.