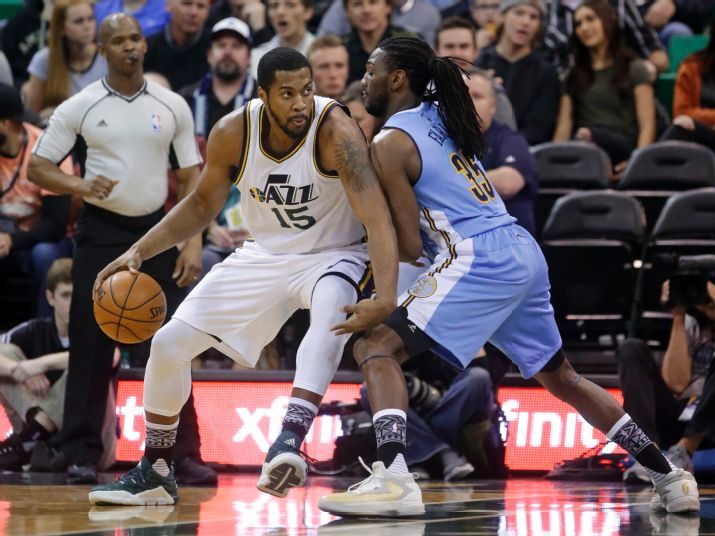 The Utah Jazz used a balanced scoring effort and some gritty defense to escape with another close win and extend their win streak to four in a row after a battle against the Denver Nuggets.
Despite Danilo Gallinari's 24-point effort, 12 of which came on 14 trips to the free throw line, Gordon Hayward and Derrick Favors 16 points a piece were enough to put the Jazz over the top of Mike Malone's Nuggs with a final score of 85 to 81.
Jazz didn't play particularly well
Anyone who watched tonight's game would agree that this wasn't the Jazz's greatest showing collectively. The Jazz shot 22.7% from long distance, turned the ball over 14 times, had zero fast break points to Denver's 11, and sent their Rocky Mountain squad to the line 33 times, something coach Malone said was a part of their game strategy in pregame interviews.
"If you can get to the foul line 30 times a night as a team, that allows you to set your defense and get back in. That's important for us because we've been such a poor transition defense teams at times."
Coach Q was quick to say that the win wasn't pretty, but he wasn't complaining.
"I thought we played with a lot of grit tonight. I don't think we played very well. A lot of that had to do with Denver and how aggressive they were and how well they defended."
Gordon, who scooped up just two rebounds, but had a team-high five assists, echoed that sentiment.
"We will take it," he said in postgame. "A win is a win. We didn't shoot the ball as well as we would have hoped. I don't think you are going to be on every night, but defensively we were good and that is what you have to count on."
And that's the reality of the game, sometimes. The game doesn't have to be pretty, but being able to mark down a 'W' is invaluable to a scrappy Jazz squad trying to make the playoffs.
Jazz win despite Gordon and Favors losing parts of their game
Though Gordon and Favors were co-leading scorers, a key piece of each of their game has been lost. Insert milk carton joke here.
Gordon's been less than stellar from 3-point range since the beginning of the year and went 0/4 from there tonight, and Derrick Favors' once buttery midrange game has turned clunky.
With the exception of a pretty jumper late in the game to solidify a lead they'd never relinquish, putting the team up 81-77 on an 11 foot jumper, Favor's shot was either clanking off the front rim or going long.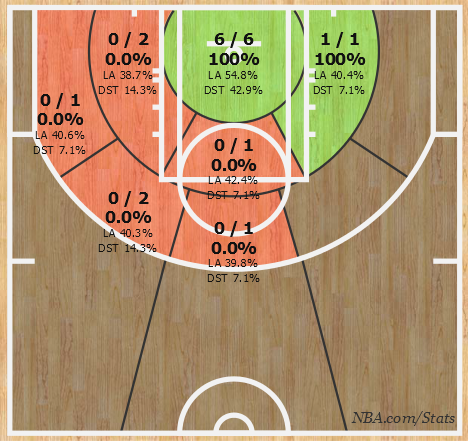 For a guy who arguably had the prettiest game on the team before going out for 17 games with a back injury (probably neck-and-neck with the slick stylings of Rodney Hood), the Jazz could use a bit of that in their offensive repertoire.
Much like Hayward is quick to round out his game with added assists and rebounds, D-Fav (I know, we still need a better nickname for him. Come at me, bro) had a ridiculous six blocks on the night, two of which came on the same possession. Silliness.
Hayward's shooting 36.4% from Steph Curryville for the year, but that number dipped to 33% in the month of January, oddly an sad 27.9% at home games. Come home soon, G's 3-point shot. Your family misses you. We'll leave the light on.
Future Rising Star teammates matchup
The Raul Neto vs. Emmanuel Mudiay matchup even ended up being sort of fun. After having a career high 14 points in Monday's game vs. Chicago, the wolfie Brazillian had 3 points and 3 assists in an 8:48 first quarter stint.
Mudiay came out hot, scoring 7 points on 3 of 3 shooting and tallying 2 rebounds while playing almost the entire first quarter. In the end, Mudiay's fire burned up and he ended with just one more basket on 7 more shot attempts while Raul made it to double digits with 10/4/4.
DUNKS!
Trevor Booker was pretty much the only Jazz player to come out with energy in the first half and had some mammoth dunks to show for it. The equally lethargic crowd came out of their seats when Captain Crunch threw down the hammer.
Trevor has a high fun index when things are going the Clemson Tiger's way.
Because Rudy does at least one thing a game that leaves us scratching our heads, he drove to the basket in about two massive steps and finished with a finger roll. The fact that I don't have a vine of said play is a travesty. Just close your eyes and imagine it, I guess.
This game was full of yakety sax moments, this one maybe being the yakety saxiest:
Kenneth Faried, I know you're an energy guy, but y u flail so much?
The Jazz play the Bucks next, a team that's sitting at 20 and 31 record in the East and hasn't averaged more than 100 points a game since October. Another defensive battle is going down at the Viv on Friday!