If October 4 seems like too long to wait to watch some of your favorite Jazz players in action, don't worry. FIBA is there for you.
Just like last year, several Utah Jazz players have summer basketball plans with their national teams. There's no World Cup to bring the global basketball community together in one place, but there are several regional tournaments ahead of next year's Olympics in Brazil. That means that some of the Jazz guys with international ties are lacing up right this moment.
All times listed have been converted to Utah (MDT) times.
Aussie, Aussie, Aussie! Oi, oi, oi!
Australia's qualifier isn't exactly a gauntlet of arduous competition. FIBA Oceania amounts to two teams and two games: a home-and-home set between Australia and New Zealand. The winner earns Oceania's lone spot in the 2016 Olympics, while the loser would have to fight their way in at next July's 12-team wildcard tourney. But the Boomers also arranged a four-game tour of tune-up games in Eastern Europe.
Jazz player watch
Updated 8/5 – Dante Exum suffered a left knee injury in the Boomers' August 4 friendly against Slovenia. The extent of the injury and recovery timeframe will be made known in the coming days, but since Exum returned to Utah following the injury, it appears as though he's done with Team Australia this year after averaging 3.3 points and 1.0 assists in three exhibitions.
Meanwhile, Joe Ingles won't participate with the Boomers' summer program this year for rest and because of his upcoming wedding to Aussie netballer Renae Hallinan. Jazz summer leaguer Brock Motum has played two games for Australia, but is off Utah's radar now after signing a multi-year deal with a Lithuanian club.
Exhibition games
FIBA Oceania
8/15 & 8/16 vs. New Zealand-

AUS, now with no Jazz ties, sealed up their Rio 2016 spot with two wins, 71-59 and 89-79.
Allez les Bleus
The French hoop federation has scheduled quite an extensive tour around the continent as it tunes up for this year's EuroBasket. There are two automatic Olympic berths at stake in the highly competitive EuroBasket, although France has the advantage of hosting the bracket phase. If they fail to take silver or gold, they could still qualify for Rio de Janeiro — four additional European teams will take part in next year's Olympic qualifier, a 12-team tourney where three wildcard spots are up for grabs.
Jazz player watch
Rudy Gobert should have a major role as France tries to lock up a 2016 berth. At last year's FIBA World Cup, the French coaches discovered that Gobert was like Gasol kryptonite, which came in handy against the Spanish brothers. Then he went on to have a breakout year in the NBA. And France's other options at center include the Pelicans' Alexis Ajinça, Denver's Jeffrey Lauvergne and the ACB's Kim Tillie. So yeah, Rudy should get some minutes.
Exhibition games
Commenter Audiris was kind enough to point out that the French federation is posting games to its DailyMotion channel. Thanks, Audiris!
Sat. 8/1 vs. Finland – Rudy: 10 pts. (4/5), 11 reb & 1 blk in 18 min of a 67-76 loss4.
Fri. 8/7 vs. Serbia –

Rudy: 10 pts (5/7), 6 reb & 3 blks in 25 min of a 78-65 win

Sun. 8/9 vs. Russia –

Rudy: 9 pts (2/2), 5 reb & 2 blks in 16 min of a 93-55 win

Wed. 8/12 vs. Serbia –

Rudy: 6 pts (2/2), 7 reb & 1 blk in 20 min of a 63-73 loss

Fri. 8/14 vs. Ukraine, 12:30 p.m. –

Rudy DNP, "allowed to rest" per FFBB website.

Sun. 8/16 vs. Ukraine, 11:30 a.m. –

Rudy: 14 pts (6/10), 8 reb & a blk in 15 min of a 95-63 win.

Fri. 8/21 vs. Georgia, 12:00 p.m. –

Rudy: 12 (6/10) & 6 in 13 min of a 95-53 win.

Sat. 8/22 vs. Belgium, 10:30 a.m. –

Rudy: 6 (2/6) & 8 w/ 1 blk in 14 min of a 74-72 win.

Fri. 8/28 vs. Germany, 11:15 a.m. –

Rudy: 8 (3/5) & 7 w/ 2 blk in 21 min of a 76-52 win.

Sun 8/30 vs. Germany, 7:00 a.m. –

Rudy: 4 (1/5) & 6 w/ 1 blk in 27 min of a 68-63 win.
FIBA EuroBasket
Sat. 9/5 vs. Finland, 1:00 p.m. –

Rudy: 11 (4/4) & 5 with 2 blk in 20 min of a 97-87 win.

Sun. 9/6 vs. Bosnia-Herzegovina, 1:00 p.m.

Rudy: 5 (2/3) & 5 with 3 blk in 18 min of an 81-54 win.

Mon. 9/7 vs. Poland, 1:00 p.m. –

Rudy: 8 (4/6) & 7 with 3 blk in 25 min of a 69-66 win.

Wed. 9/9 vs. Russia, 1:00 p.m. –

Rudy: 12 & 10 (3/6) with 1 blk and a tournament-high 4 steals in 23 min of a 74-67 win that clinches France's spot in the bracket phase.

Thu. 9/10 vs. Israel, 1:00 p.m.

Rudy: 15 & 10 (6/10) in 19 min of an 86-61 win.
Bracket phase: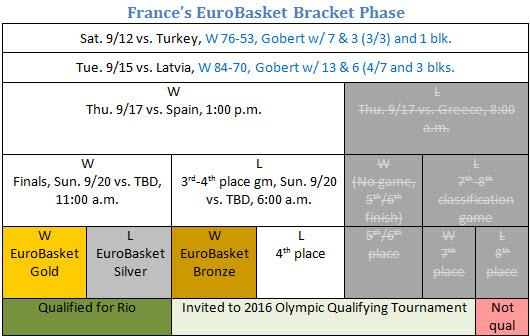 Sprechen sie Jazz?
Staying in Europe for a moment, Germany will be fighting for one of those same two berths (or four qualifying tourney spots) available at EuroBasket. Germany is actually hosting a portion of the group play, and also has a run-up of friendlies as they get prepared to fight their way into Rio. Dirk Nowitzki plans to play with the Germans, per SI.
Jazz player Watch
Recent Jazz signee Tibor Pleiss, whose rights Utah acquired in last February's Enes Kanter trade, is currently with the German squad as they prepare for EuroBasket. The Germans have a 16-man roster practicing and traveling with the team during the next phase of their tune-up process, but signs are good that Pleiss will be in the final group that helps Nowitzki take a stab at conquering Europe.
Pleiss won't be the Jazz's lone representation on Team Germany, either. Assistant coach Alex Jensen is also on the EuroBasket staff of Chris Fleming. Jensen is a veteran of the international game as well as a former D-League coach of the year. As the D-News' Jody Genessy chronicled in July, Jensen already made his way across the pond last month to start preparing for the European tournament.
Exhibition games:
A Pleiss-less German team already won an exhibition tournament in Italy last weekend. The rest of their friendly schedule is as follows:
Fri. 8/7 vs. Czech Republic –

Pleiss with 2 pts (1/4) and 12 rebounds in 18 minutes of a 68-61 win

5
Fri. 8/14 vs. Croatia –

Pleiss with 7 & 7 (3/9 FGs) in 17 mins of a 72-74 OT loss

Sun. 8/16 vs. Croatia, 7:00 a.m. –

Pleiss had 4 & 3 (1/1 FG) in 15 minutes of a 63-80 loss.

Fri. 8/21 vs. Latvia, 11:00 a.m. –

Pleiss with 21 & 7 (9/10) in 17 minutes of an 85-80 win.

Sat. 8/22 vs. Poland, 7:45 a.m. –

Pleiss with 16 & 6 (8/12) in 26 min of an 82-69 win.

Sun. 8/23 vs. Turkey, 7:00 a.m. –

Pleiss with 14 & 3 (7/7) in 25 min of a 68-66 win.

Fri. 8/28 vs. France, 11:15 a.m. –

Pleiss with 6 & 11 (3/8) in 22 min of a 52-76 loss.

Sun. 8/30 vs. France, 7:00 a.m. –

Pleiss with 8 & 7 (3/7) in 24 min of a 63-68 loss.
FIBA EuroBasket
Sat. 9/5 vs. Iceland, 7:00 a.m.

Pleiss with 4 & 5 (2/4) in 14 min of a 71-65 win.

Sun. 9/6 vs. Serbia, 7:00 a.m.

Pleiss with 15 & 7 (5/6) in 23 min of a 66-68 loss.

Mon. 9/8 vs. Turkey, 9:45 a.m.

Pleiss with 7 & 4 (3/5) in 14 min of a 75-80 loss.

Wed. 9/9 vs. Italy, 9:45 a.m.

Pleiss with 10 & 5 (3/6) in 19 min of an 82-89 OT loss.

Thu. 9/10 vs. Spain, 9:45 a.m.

Pleiss with 10 & 10 (4/9) in 29 min of a 76-77 loss.

Germany did not qualify for the bracket phase.
O Canada

Canada decided to prioritize their FIBA Americas roster over the Pan Am games, so they took a much less established group to Toronto where they finished 4-1. But head coach Jay Triano is hoping to load up before Mexico City, where he and his team will be chasing one of the same two automatic Oly berths as we mentioned in Brazil's case. That could mean Andrew Wiggins, Kelly Olynyk and others may be in play for Triano's entrant into FIBA Americas.
Jazz player watch
Triano already admitted to SportsNet that his squad "could be a very different team later in the summer than at the Pan American Games." It's unclear if that means 2015 Jazz draftees Trey Lyles and Olivier Hanlan will make the roster for Mexico City. A lot remains up in the air for the Canadians, including the fate of free agent Tristan Thompson, but even then, Lyles would probably have to wrest minutes away from Andrew Nicholson, Olynyk and Anthony Bennett. Given all of that, I'm hearing that Lyles is another guy who, like Neto, may opt to focus instead on preparing in earnest for his first NBA season.
Updated: Trey Lyles is officially out of the mix for FIBA Americas. The Canadian NT announced its training camp roster leading up to Mexico City, and as I suspected, Lyles wasn't on it. Hanlan made the roster for the Tuto Marchand exhibition tournament.
Exhibition Games
Sun. 8/23 vs. Argentina, 2:30 p.m. –

Hanlan w/ 7 pts (3/3) and 2 steals in 12 minutes of an 85-80 win.

Mon. 8/24 vs. Brazil, 3:45 p.m. –

Hanlan did not play.

Tue. 8/25 vs. D.R., 3:45 p.m. –

Hanlan played 4 minutes and had zero counting stats.

Wed. 8/26 vs. P.R., 6:00 p.m. –

Hanlan did not play.
Update – Olivier Hanlan was part of final cuts after the exhibition slate.
Força Brasil
Brazil will be taking part in the FIBA Americas Championship in Mexico City starting at the end of August. Two of the 10 teams competing in the tournament will earn automatic Olympic berths, and another three will earn a spot in next year's last-chance qualifying tournament, a 12-team competition for the final three spots. Brazil already had a tune-up phase of sorts when it went 5-0 at the Pan Am games to score a gold medal, although most of Brazil's big hitters sat out of that event.
Jazz player watch
Raul Neto has made it clear that his top priority is preparing for the NBA season. He told the Brazil's federation website, "It is always a desire to defend my Brazilian team, but I also have other dreams. It depends on a lot." As such, it remains to be seen what role he'll play in Mexico City, if he'll be there at all. Brazil will be among the favorites at FIBA Americas either way, and can earn one of those two Oly berths even without Neto6, so it wouldn't be a total surprise if he spends more time getting ready for Jazz training camp.
Update: Neto is passing on playing with Brazil this summer, as expected. Also, FIBA made it official — Brazil gets an Oly spot no matter what, making this year's tourney virtually meaningless anyway.
Other National Teams With Potential Jazz Action
Team USA
Team Red, White and Blue is excused from FIBA Americas as they've already locked up their 2016 Olympic spot by winning last summer's World Cup. But USA Basketball isn't taking the summer off completely. They're convening a USA Basketball minicamp in Las Vegas to keep the pipeline active ahead of next year's Games, and Marc Stein reports that anybody hoping for a roster spot in Brazil is required to pop into Sin City, even if they're injured.
As such, a star-studded cast will convene there for the August 11-13 camp, including the Jazz's own Gordon Hayward. An 8/13 intrasquad scrimmage will likely be the best chance to see Hayward and his compatriots play, although some of the practices have also been televised. Update – Hawyard did not play in the scrimmage, ostensibly as a precaution as he works to rehab a heel injury.
Update – It turns out Trey Burke is not on the expanded minicamp list after all. According to this exchange between Jody Genessy and Marc Stein, there was an "audible called" and USAB decided to invite Michael Carter-Williams instead.
Trey to the Rescue
It's not FIBA ball, but on the topic of summer hoops, it's worth mentioning that Burke was involved in an NBA exhibition in Africa on August 1. Burke finished with 11-7-5 and two steals, and helped spark Team World's fourth quarter comeback en route to a 101-97 win.
Ante Who?
Croatia's entrant into EuroBasket is likely to include Ante Tomic, who just re-upped with Barcelona despite the Jazz's interest in activating his NBA rights. Normally I like to keep track of Tomic in international play, but his latest deal in Spain makes him less of a priority on my watch list. The 28-year-old has at least another three years overseas, and the history of international rookies jumping to the NBA in their 30s isn't terribly encouraging.
That said, tune in if you'd like. Croatia will be engaged in group play from 9/5 through 9/10 with games against Slovenia, Greece, Macedonia, Netherlands and Georgia.
Coach Kokoskov
Newly hired Jazz assistant Igor Kokoskov is Serbian and spent many years playing and coaching in the Yugloslavian/Serbian program, but has now been the head coach for the Republic of Georgia's senior men's team since 2008. His Georgian squad will face Netherlands, Slovenia, Greece, Macedonio and Croatia in group play.