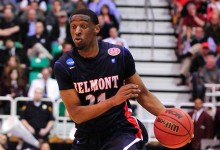 September 4th, 2013 | by
David J Smith
Ian Clark had a great college career at Belmont University: his senior year, he averaged 18.2 PPG, 3.3 RPG, and 2.4 APG. More incredibly, he also had a True Shooting Percentage of 68.8% and an eFG% of 67.0%. Clark was the Ohio... April 24th, 2012 | by
Spencer Hall
Today at shootaround before tonight's epic Jazz matchup with the Phoenix Suns, I had a conversation with KSL sports anchor Jeremiah Jenson. At some point, Jeremiah casually mentioned that he'd recently found a video...