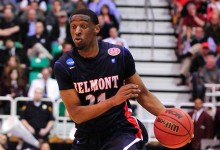 September 4th, 2013 | by
David J Smith
Ian Clark had a great college career at Belmont University: his senior year, he averaged 18.2 PPG, 3.3 RPG, and 2.4 APG. More incredibly, he also had a True Shooting Percentage of 68.8% and an eFG% of 67.0%. Clark was the Ohio... September 1st, 2012 | by
Spencer Hall
Now is as good a time as any to check out this bizarre vignette found in the KSL archives as part of our Retro Jazz project with KSL's Jeremiah Jensen, featuring Frank Layden and Thurl Bailey re-enacting scenes from Indiana...