 October 16th, 2013 | by
David J Smith
We often hear, when the Jazz win, that the team won by playing "Utah Jazz basketball." For me, that has always connoted heart, hustle, tough defense, smart offense, and above all, teamwork. When you think about the...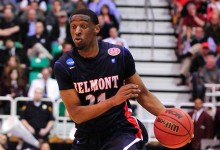 September 4th, 2013 | by
David J Smith
Ian Clark had a great college career at Belmont University: his senior year, he averaged 18.2 PPG, 3.3 RPG, and 2.4 APG. More incredibly, he also had a True Shooting Percentage of 68.8% and an eFG% of 67.0%. Clark was the Ohio...