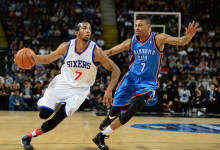 June 10th, 2014 | by
David J Smith
The Utah Jazz announced that they will host a mini-camp for free agent players this week, June 10-12. If you remember, the team did the same thing last season; it seems like it's something that's going to be a... September 18th, 2013 | by
David J Smith
A few weeks ago, we discussed whether or not the Utah Jazz roster was complete. Given reports floating around, it appears that Utah may look toward training camp to make any additions to the squad. In another nice move (to close...