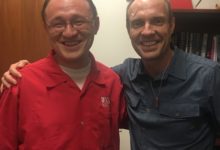 December 7th, 2016 | by
David J Smith
NBA fans all know Chad Ford, the long-time ESPN writer who is an NBA Draft guru. Few do it better than Ford, whose analysis has been a constant for years. His ESPN work only entails one aspect of his incredibly busy, fascinating...
October 20th, 2010 | by
Jefferson
In the final days leading up to regular season action, SCH will be posting divisional previews of the top teams in all six NBA divisions. Come back early and often for updates. Key Matchups The Jazz get an early dose of the...