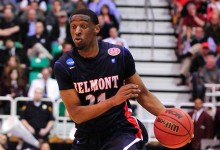 September 4th, 2013 | by
David J Smith
Ian Clark had a great college career at Belmont University: his senior year, he averaged 18.2 PPG, 3.3 RPG, and 2.4 APG. More incredibly, he also had a True Shooting Percentage of 68.8% and an eFG% of 67.0%. Clark was the Ohio... July 20th, 2012 | by
Spencer Hall
Editor's Note: Retro Jazz is a project with KSL Sports to post classic Jazz footage from their archives. Special thanks to KSL's Jeremiah Jensen for his great work finding, editing, and sharing these clips. The 1985...