April 10th, 2014 | by
David J Smith
It is accountability time. Back in August 2013, I laid out some predictions for the 2013-14 Utah Jazz season. Some were bold, while some were the exact opposite. With four games remaining in the waning season, it's safe to...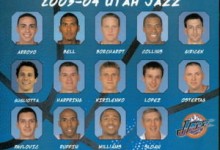 June 11th, 2013 | by
Denim Millward
"I think I'm finished." With four simple words, John Stockton casually and unceremoniously closed the curtain on an historic NBA career.  In true Stockton style, calling no attention to himself, he made the announcement at...