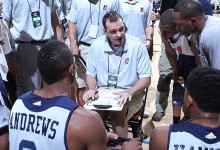 April 24th, 2014 | by
David J Smith
Since the news came down on Monday that the Utah Jazz were not going to extend Tyrone Corbin, the landscape for the franchise looks vastly different. It is an unprecedented time for the Jazz, as they have not conducted an...
December 3rd, 2012 | by
Spencer Hall
AP Photo/Jack Dempsey — by Tim Cannon, special to Salt City Hoops The life lessons I remember the most from Coach Majerus were the ones he had the most difficulty following. During my one year as a walk-on in his program...