While the Suns–and now also the Heat–have the unique distinction of being teams with a set of brothers on the roster (the Morris twins and the Dragic brothers, respectively), the Utah Jazz have the unique distinction of having different kind of brothers on the team: Australian rookies Dante Exum and Joe Ingles.
They may not be related by blood, but like brothers, they tease and prod. Being from the Land Down Under, they share a culture along with a charming accent. The delightful laid-back Australian stereotype seems to fit both gentlemen, showing grit and toughness on the court, while possessing charm and ease off it. Each plays an unselfish, pass-first game that fits in perfectly with Quin Snyder's offensive system. They played for—and were roommates on—the Australian national team, which led to one of my favorite social media moments: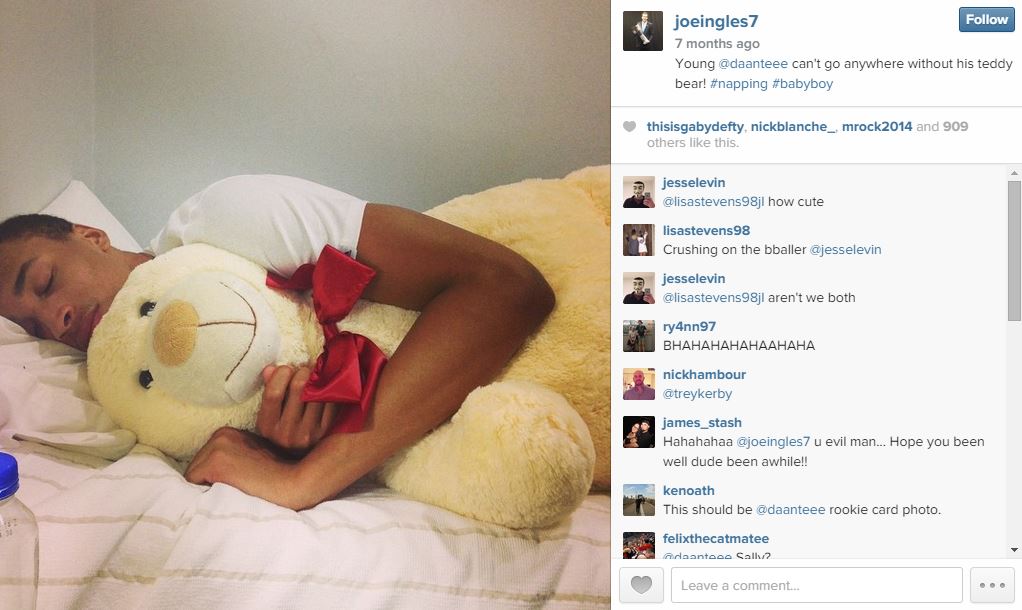 Anytime you get guys with personalities like these and combine it with social media, as a fan, you're in for a treat. More on that later.
The Path
So how did the two end up on the Jazz?
The affable, 27-year-old Ingles followed a circuitous path to the NBA. 1 As an 18-year-old, he signed a multi-year deal with the South Dragons, a new team in the Australian National Basketball League. He went on to win Rookie of the Year honors and played for the South Dragons for three years. This was presumably the time when Dante first became a fan of Ingles. In fact, Dante told Jody Genessey of the Desert News, "He was my favorite player growing up. Things have changed. I've gotten to know him." 2
After a stint with the Golden State Warriors' summer league team, Ingles played with CB Granada in Spain for a year. After another stint with the Warriors' summer league the following year, he spent three more years playing in Spain for FC Barcelona, starting in 16 games in 2012-2013, averaging 20 minutes a game and scoring 6 points a game.
Ingles then signed with and played for Maccabi Tel Aviv, averaging nearly 23 minutes a game and 6.4 points per game, helping the team to win the Euroleague championship. He then spent a preseason with the Los Angeles Clippers, until Doc Rivers was forced to waive Ingles at the end of the preseason, hoping the transaction would go under the radar and the Clippers would be able to pick him up after clearing waivers. Luckily for the Jazz, a sharp GM—as well as a coach who'd seen Ingles play for Barcelona—didn't miss the news and picked Ingles up off waivers.
Exum's route to the NBA has been a bit more celebrated (as any top-5 pick's path would be) while remaining somewhat of a mystery. After having his own Michael Jordan story—being cut from an under-16 club team in Melbourne—he played high school basketball, attended a UCLA camp, and trained at the Australian Institute of Sport. After Dante led Australia in scoring at the U17 World Championships, Rich Sheubrooks—a global scout for Nike and a scout for the Utah Jazz—extended an invitation to the following year's Nike Hoop Summit.
That was the game that changed Exum's trajectory. While the initial plan was to attend college in the US3, after a 16-point performance at the Hoop Summit, facing off against vaunted names like Andrew Wiggins and Jabari Parker, Dante was told that DraftExpress projected him to go fifth in the 2014 NBA draft. With that information, the family discussed and made the decision that Exum would declare for the NBA draft.
What followed hadn't been seen from a high schooler since LeBron James came of high school: a shoe contract (Adidas), a sports-drink contract (Red Bull), and commercials (the highly entertaining Foot Locker series). Yet with all the exposure and excitement surrounding Dante, there was still an element of mystery: because he'd played high school in Australia, there wasn't a lot of tape for scouts and executives to pore over. And because he hadn't played any college, his game hadn't been picked apart by analysts and draft junkies like the others in the 2014 class. So his rising stock was based on his tantalizing speed and potential, combined with his size and length as a point guard. He trained at a facility in Anaheim, California4 for six months, and met with teams one on one.
When draft night finally came, Andrew Wiggins and Jabari Parker were picked first. But when Philadelphia selected Joel Embiid third, even as recent medical reports came out saying he likely wouldn't play his first year, we knew this draft would provide more than a few surprises. Orlando then selected Aaron Gordon—in a move that shocked this author—leaving Exum available for the Jazz.5
After almost a year of buildup, of not knowing where he'd end up, both in lottery number, and in city, Dante finally knew where his new home would be: Salt Lake City. And Jazz fans were thrilled.
Fast forward a bit. Both Aussies are on the Jazz, though through very different paths. Joe Ingles came to Utah through more of the Arvydas Sabonis route: an older rookie, an excellent passer, having success and winning championships internationally before making it to the NBA. Dante Exum came the way of Dirk Nowitzki or Andre Kirilenko: scrawny, young, with some international experience under the belt, and oozing with potential and some tantalizing skills that aren't easy taught or learned, in addition to height and length unique at the point guard position.
Now that they're together, Exum followed up his earlier quote from the Deseret News article with this: "I still kind of look up to him," Exum said of Ingles. "He's kind of been that guy who's helped me through the Australian national team. It's good to have him here."
The Play
While neither Aussie has set scoring records for the Jazz this season, they've been shooting well enough from 3 to keep things interesting–32.1% for Dante and 32.7% for Ingles–and to provide a glimmer of hope for the future. With some improvement in that area, they could really keep defenses honest next year if those numbers could get closer to the 36-37% range. Neither player has been shooting a particularly high percentage, and thus have kept their FGA per game in a reasonable range: 7-8 per 36 minutes. They'll need to increase their FG% and FGA next season in order to provide the spacing Snyder's system requires to run smoothly.
Luckily, Exum and Ingles are excellent and willing passers. On a team where Favors and Hayward should be attempting the bulk of the shots6, it's a refreshing show of selflessness to see players so often looking to set up teammates.
"I think he's easy to play with," Snyder said of Ingles. "He's got a real skill. I think he's an excellent passer. Sometimes a player like that can make the game easier for his teammates."
Ingles and Exum are third and fourth on the team in assists-per-36 minutes, respectively, at 4.1 and 3.9, after Trey Burke (5.2) and Gordon Hayward (4.4). In January, Ingles averaged 4.1 assists per game, while averaging 27.1 minutes per game. Dante's high-assist month was February, when he averaged 2.9 assists in 23.2 minutes per game. Though the numbers might not be eye-popping for Dante, with increased time and comfort in the role and with the team's sets, look for those per-36 assist numbers to increase.
When asked about the chemistry between Ingles and Exum on the floor, Snyder responded:
"I think there are traces of it. I think Joe is a guy, that because of the way he plays, is a connector by nature and it spills over with Dante as well. There's something to be said for a comfort level. I would think that whatever impact that had, it would have had more impact early than it has now, I think our guys are all getting more comfortable with one another. But there's no question that when we first decided to start Dante, Joe's presence in the lineup was a positive."7
Some of the numbers show this chemistry: When the Aussies are on the floor together, Exum's TS% is 52.9% (46.4% on the year) and Ingles is at 57.6% (51.1% on the year), so they help to make each other better.
I attended the Lakers/Jazz game in Los Angeles last week and, to my eye, Dante especially looked more comfortable on the court than the last time the Jazz played in L.A. Some numbers support that Dante is improving overall as the season goes along, and others are showing he's in the middle of another slump. Both have seen their FG% and their 3PT% jump around a bit each month, but I imagine as both get more comfortable playing in the NBA–even Ingles, as an older rookie–that we'll see less fluctuation in the numbers and more linear improvement. But I saw glimpses of Dante's play last week in person that gave me hope for the future.
One additional note: the Jazz are 10-9 when both Ingles and Exum are in the starting lineup, which is pretty significant when the team is 31-39 on the year.
The Fun
The Australian Connection is making this team pretty entertaining. We've had some players with big personalities before–Enes Kanter and Kyrylo Fesenko come to mind–where the usual NBA cliches8 are few and far between. Considering the amount of time players spend together, between practices, games, road trips, and the like, it's refreshing when players can let their personalities shine through and when they enjoy being around each other.
The two recently did a joint interview, and thanks to Moni's transcription, there are some great insights into both the Jazz's recent play and the fun that these two have. When asked, "What has clicked for the Utah Jazz since the All-Star break?" this was the exchange:
Dante Exum: Joe, you can take this one.

Joe Ingles: (laughing) You're such a loser.
After which Ingles gave a more serious answer:
Joe Ingles: I don't think anything special. I mean, we haven't done anything different or anything like that. I think it's more of just the group getting to know each other and playing more, having more time together, having more time with the coach and new system. And obviously there's a few new pieces from last year's team, including the coach, so things just take time, and I think we've got better over the season slowly.
Whether it's Joe telling the interviewer that the Jazz team is young–"Gordon's only 24 years old and Derrick Favors [is] 23 and obviously Dante is 12."–or jokingly interjecting that Dante loves being the center of attention, my favorite ribbing between the two is when the topic of Exum's GQ series is brought up and Joe is asked about Dante's style:
Ingles: Yeah, so, the first three were good. Good, cool shoes. Whatever he had, some cool whatever. Then he posted a picture yesterday or the day before of him in a white T-shirt in his apartment, and him being 19 and not realizing what he's got. He's got his Xbox turned on in the background. He's got a whole mess of stuff in the background, and he's holding these two silly ties that you can't really see anyway because of all the background color.

And so, one, two, three were very good. Four was terrible. But I mean, he's definitely picked it up. I remember when he first came to the Boomers and all he used to wear was, like, Nike and Adidas gear. And now he comes to games in his suave little jackets and jeans, and skinny jeans, and button-up shirts. And so, he's definitely picked his style up a little bit.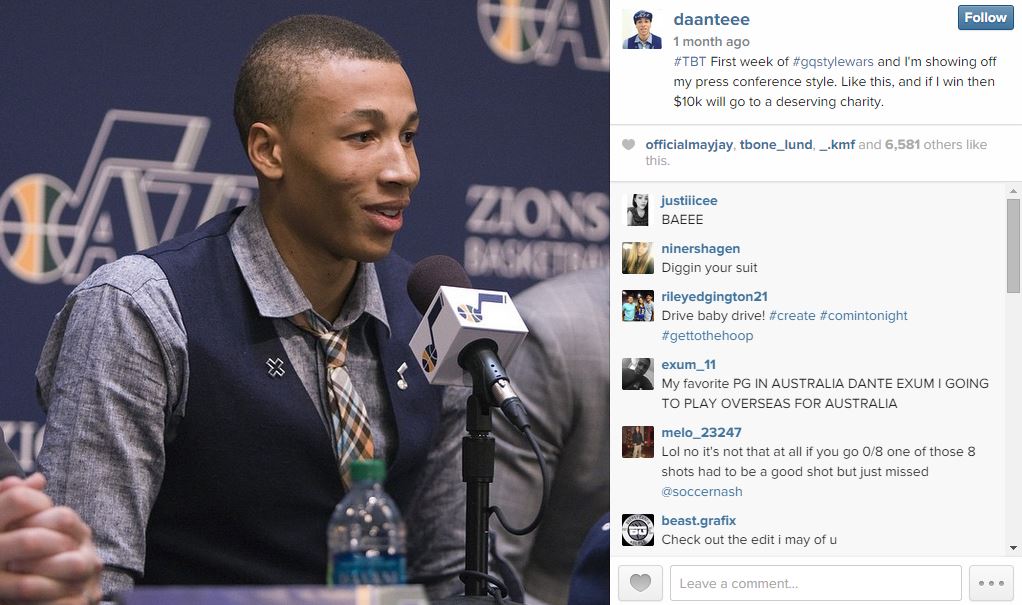 "He's just one of those guys. He's a sunshine guy. Some guys bring sunshine to the room when they walk in."
The ribbing between Exum and Ingles doesn't end there. In fact, no one on the team is immune from Ingles and his teasing—not even Gordon Hayward. One fun anecdote that Jazz fans everywhere seemed to relish was Ingles discussing Hayward's haircut and styling regimen on the DJ and PK radio show in Utah. Have any other basketball players gone on for a couple paragraphs about a teammate's hair gel and combing system? It's fantastic.
"So, I've never seen a man use a hairdryer before, and I knocked on the door to try and see a man use a hairdryer. So, he was in there. I don't know what he was doing. I did see the day before that he had like seven different hair products and a little comb. And, obviously, now with the hairdryer, it's pretty obvious how much he likes his hair. And I think if you watch him during the game, it doesn't move. I don't know how it's possible, but it actually doesn't move."
Luckily for Jazz fans, we have two guys who enjoy each other, enjoy their teammates, and work hard on and off the court. Hopefully we'll be able to watch the Australian Connection for years to come.
ESPN Australia's Paul Wissam helped with this article.