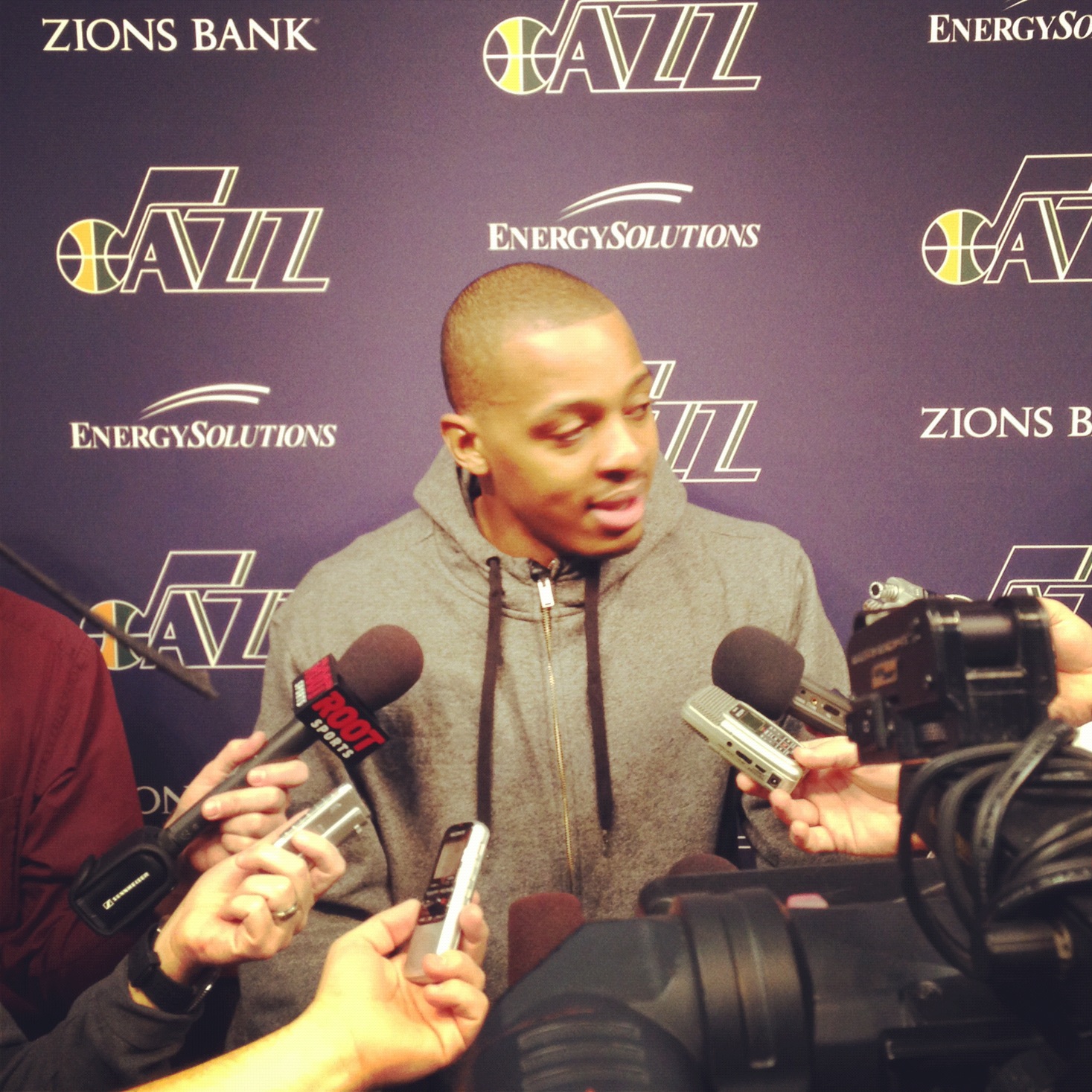 by Sam Strong, special to Salt City Hoops
Don't look now, but the Jazz are on a two-game winning streak after throttling the Raptors at Energy Solutions Arena on Friday, 131-99.
While the Jazz continue to hover around .500 – currently the sixth-best record in the Western Conference – the front office's offseason moves are hard to ignore. An NBA scout said earlier this season that Utah made "the two best moves that nobody heard about" by stealing Mo Williams and Randy Foye away from the Clippers.
As a guy who watches more Clipper games than Jazz games, I've long been a fan of Foye's. He's the ultimate team guy who's willing to step in and drain his silky 3-point shot whenever it's needed. But in Los Angeles, that's all he was, a role player.
As I watched the Clippers destroy the Mavericks from the nosebleeds at Staples Center on Wednesday, I saw a team that no longer needed Foye. With Jamal Crawford leading Lob City in scoring and Chauncey Billups coming back to an already crowded backcourt, Foye was the most expendable player.
At ESA just 48 hours later, I saw a team that depended on Foye, who finished with 13 points on Friday.
"This is a better place for me," Foye said. "Last year, I was just a guy there. Mo and I used to share minutes there but here, I'm valuable. I helped the Clippers make history last year. I can't say anything negative about them because they helped me get to where I am now."
Coach Ty Corbin has started Foye in Utah's last 11 games, a stretch that has seen the Jazz go 7-4. Foye says he doesn't care whether he starts, adding that he's "team-first with everything."
Corbin had to agree.
"He'll do whatever you need him to if it means getting a win," he said. "He's a great team guy in the locker room. Guys enjoy being around him. He's a good person and he's easy to be around because he loved to compete and he's about the team, not the individual."
Foye is averaging his highest point total (11.4) since his time in Minnesota (2008-2009). Not coincidentally, the Jazz are shooting their best percentage from beyond the arc (36.4) since 2009-2010, when some guy named Korver stole the hearts of every female Jazz fan in Salt Lake City. With Foye, the Jazz jumped from the league's 27th best 3-point shooting team to the No. 9.
"He brings consistency," former and current teammate Mo Williams said. "He's just a solid basketball player, someone that every team needs."
By no means is Foye an all star and he's the first to admit he has his fair share of off nights – like Wednesday's narrow win over Orlando when Foye was just 1-for-6 from 3-point range. But let's not forget that his lone make on the night gave they Jazz a lead they would never relinquish.
Foye will also have nights like he did a week ago when he scored 20 points and handed out six assists in a loss to the Rockets. And who could forget when he hit three 3-pointers in less than two minutes on his way to scoring 17 points in a win over the Lakers earlier this season.
If you've followed the jazz for the past decade, you know about the two-guard paradox. Wing players are always complaining about minutes (paging Mr. Bell and Mr. Miles) but fans chirp back that they haven't had a reliable shooting guard since Jeff Hornacek.
You won't find Foye's number hanging in the rafters anytime soon. He's a short-term fix for now, but Jazz management might want to think about extending his contract, a one-year deal worth $2.5 million. He has added that long-range dimension that the Jazz have lacked in recent years by spreading the floor and not allowing opposing defenses to pack it in on the big men.
Typical of Foye, he's not complacent.
"I can continue to grow," he said. "I'm never satisfied until the last buzzer of the last game of the year."