Perhaps earlier than some had hoped for, the mettle and resiliency of Jazz fans everywhere is being tested. After a summer full of bandying from every direction1 about just how differently this Utah team would be perceived than those of the last few years, a season-long losing streak featuring a couple disappointing performances threatens to strain the resolve of a passionate fan base desperate to see a relevant team again.
It'll be easier to hold steady than last season, of course, when their first five-game losing streak came in…well, their first five games, amid an 0-8 start to the year. The Jazz had fewer bright spots across the board a year ago – less exciting draftees, less development from incumbent young pieces, and far less support for the coaching staff.
It's the issues that have carried over into this year causing the potential unrest, though. And at the very top of the list, unquestionably, is the team's continuing subpar defense. After last year's cellar-dwelling per-possession showing, things have somehow only gotten worse thus far – Utah isn't dead last, sitting 28th and well ahead of putrid Lakers and T-Wolves units, but their 112.5 defensive efficiency2 is actually more porous than the 13-14 iteration.
The chief culprit is about as simple as they come in this game: Utah remains woefully unprepared against pick-and-roll offense, by far the league's most common play type. It seems a sad irony that a Jazz franchise with Jerry Sloan's banner hanging from the rafters would be so clumsy defending a play he's largely responsible for popularizing around the NBA, but here we are.
(For this piece, we'll take a big assist from Synergy Sports and their detailed tracking of, among other things, specific play types and efficiency within them. A broad disclaimer: these sorts of numbers are best used as a rough sketch of on-court happenings. They're susceptible to occasionally miniscule sample sizes and the same sort of limited scope that so many of our other statistics are. And perhaps more importantly, particularly for the defensive figures we'll use as a backdrop herein, they have a wide margin of error; plays are tracked on the basis of their finished outcome, meaning a shot attempt, drawn foul, or turnover. This can cause some amount of noise, as plays may begin as a particular type of action but morph into another before the end of the set3. All of this context will be carefully considered.)
The more general figures first: Utah was 26th in the league last year defending P&R ball-handlers and 27th against roll men, speaking in terms of per-possession efficiency allowed. They were also 29th versus spot-up attempts, allowing over 41 percent shooting – as mentioned above, a number of these tries4 come from plays that originated as pick-and-rolls. They've improved a tad on the former so far on this young season (22nd and 19th versus handlers and roll-men, respectively), but have cratered to an even larger degree against spot-ups, allowing a gross 44.4 percent on nearly 300 attempts already.
Allowing the necessary error margins, this data lines up roughly with the eye test. Coach Quin Snyder's more conservative scheme versus high screen-and-rolls has helped in contrast to outgoing Ty Corbin's ever-changing system, one that both confused his young players and forced them into terrible spots. In particular, Corbin's partial reliance on high hedges from guys like Enes Kanter and Derrick Favors often left the Jazz at a numbers disadvantage plus drew a vital rebounder far away from the rim, and this sort of thing has been eschewed, outside roster members5 with skill sets more conducive to it. The young crew is forcing slightly more inefficient midrange looks, and conceding fewer easy buckets at the rim.
But by contrast, they're getting crushed by individual matchups and resulting poor help defense. I covered some of this last week, and it's not going anywhere. There are simply too many possessions that look something like this:
This is child's play for any competent NBA offense. Blame lies in different places on a play-by-play basis, from the ball-handling defender getting caught in a pick to the big defender mixing up his footwork, or even sometimes the helper getting over-zealous. But the results are piling up. Per NBASavant, the league average team allows 38.5 percent of their opponent 3-point attempts "Wide Open", or without a defender within six feet. The Jazz? They're allowing 47.2 percent of all opposing triples under such luxurious conditions.
Responsibility for the team's struggles versus such a common play type is like my Thanksgiving dinner last week6 – plenty to go around for everyone. But two names within the rotation pop out: Enes Kanter and Trey Burke.
Kanter has actually improved a great deal, and in part gets a bad rap from folks like myself. He's nowhere near the flailing mess he was a couple years back, has clearly worked on his body control and getting straight up in the air, and is ever so slowly picking up bits of nuance even as he remains far behind his peers here. He's often left out to dry by ineffective Jazz guards (more on this in a moment), and his confidence isn't being helped by repeatedly staring down 2-on-1 situations right in his grill. He's miles away from average still, but at least appears to be trying.
His biggest issue is actually with foot speed, something he'll never be able to change. Per Synergy, Kanter's real failings over the past two years have come in related pick-and-pop varieties, where he's allowing 44 percent between this year and last. His per-possession figure allowed placed him in just the 36th percentile league-wide last year, and though the sample isn't yet large enough for this season, watching him doesn't give one the idea that things are improving much. He's just not fast enough for NBA-level help-and-recover, and teams know it. Bigs with any sort of range lick their chops when they see him opposite them:
But again, separating Kanter's struggles (and those of all Utah bigs) versus pick-and-rolls from those of the team's collective backcourt is both tricky and ultimately painstaking. Watch the following play – who do you think is most responsible for this open 3 the Jazz allow?
If you said Trey Burke, well done. It'd be easy to pin this one on Alec Burks' over-helping, something he's absolutely guilty of frequently, but let's slow it down. Here's Burke taking a silly, circuitous route around Ibaka's pick, one where Trey basically screens himself: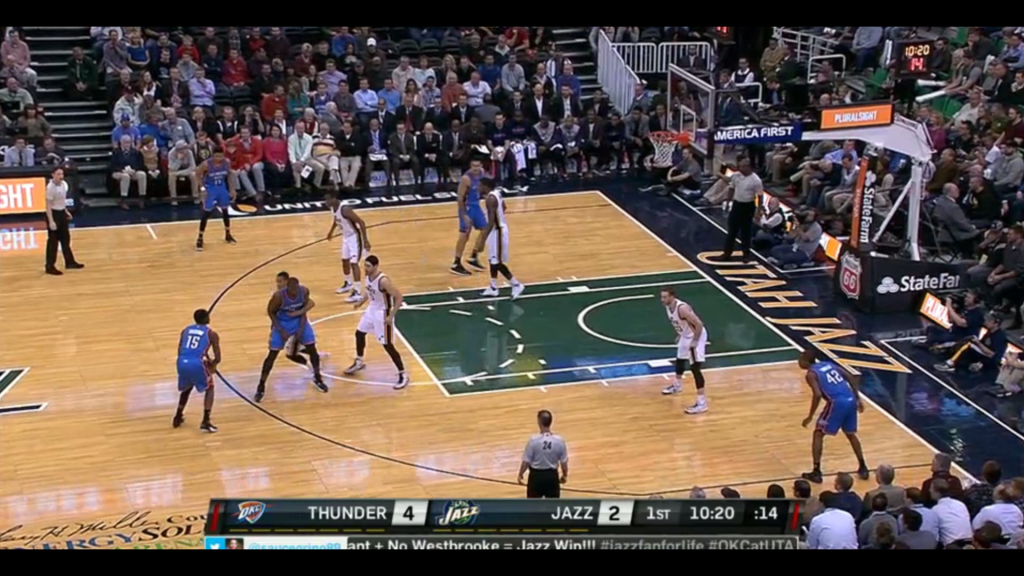 Here's the resulting 2-on-1, the type so often facing Kanter as described above: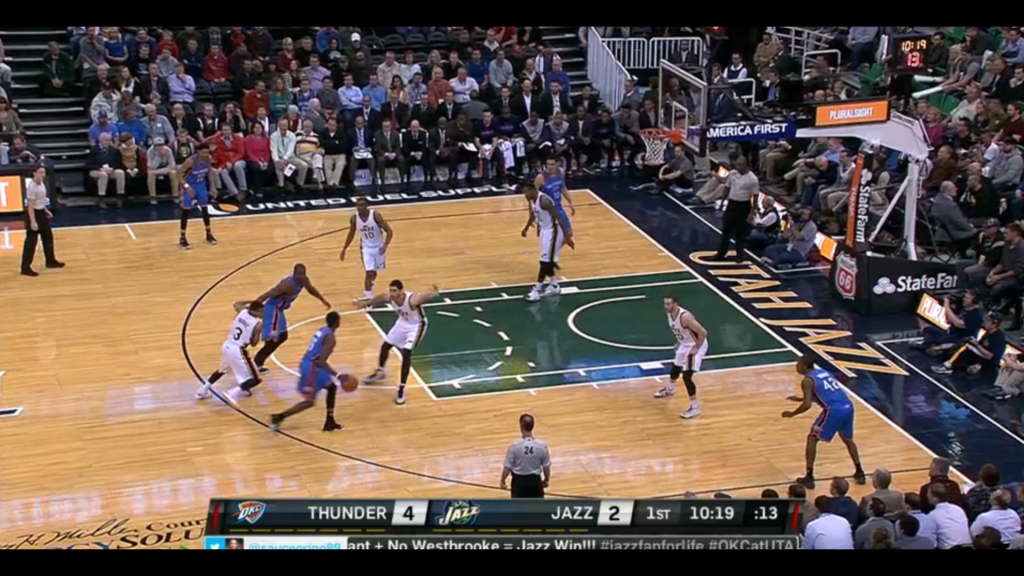 In fact, Burks had no choice but to help so far off his man once Trey fell so far behind the initial action. If Favors helps, it's a dunk at the rim. If Hayward helps, it's a short pass to a wide open 3. In an instant, the best-case scenario here became Burks helping and conceding a slightly less efficient open 3 – the trickle-down effect is quick and sharp, and these sorts of mistakes are everywhere.
Burke, as the worst consistent offender, gets a detailed look here, but really any member of Utah's perimeter unit could be spotlighted for their various failings either on or away from the ball.
And said failings can get very ugly, especially in Burke's case. The degree to which he dies against picks7 is simply alarming, and indicative of long-term concerns – both with his size and his commitment on this end of the court. Watch him literally stop running for no reason after encountering slight bumpiness (honestly, hardly even a nudge) on a side P&R set, yielding a wide open corner 3 to Chris Paul:
Synergy data backs up a negative eye test here, as well. Burke is running directly into the pick (as opposed to going above or below it) an unusually high percentage of the time, and his inability to recover with any urgency whatsoever has caused his per-possession efficiency allowed in these situations to skyrocket. Any on-ball defender is in some degree of trouble when running smack-dab into a screen, but the frequency with which it happens to Burke and leads to an advantageous situation for the opponent is killing the Jazz. The team's defensive rating while he's on the floor is worse than any other roster member (including non-rotation players), per NBA.com – they go from mere decimals better than the comical Lakers D with him on the court to a hypothetical tie with Portland and Washington for the league's fifth-stingiest unit when he sits.
This is a long road for the Jazz, both as a team and individually. Snyder deserves to be part of the conversation as well despite obvious difficulties separating his blame from the players', as his team has failed to produce the sort of results he was confident would appear under his regime thus far. Utah is still a long way away from the sort of single unit, on-a-string cohesiveness good NBA defenses exhibit, and their play versus the league's simplest and most frequently-run play is at the forefront of their issues. The team remains young and with plenty of room to improve, but as negative results keep pouring in, concerns are giving way to legitimate questions. Here's hoping they find some answers, and soon.