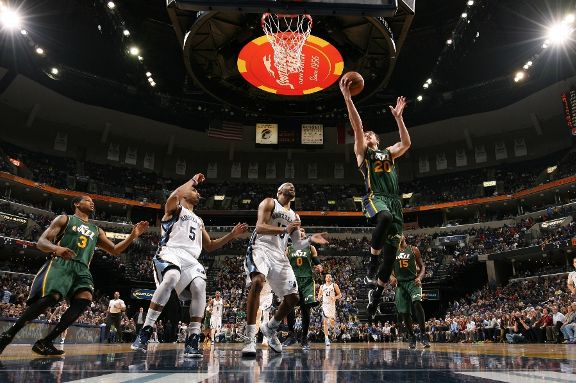 1. A Christmas miracle to end the road trip
Not sure many people saw this one coming. IT'S A CHRISTMAS MIRACLE! Props to the entire Jazz team for finishing off a long road trip in a strong way against one of the best teams in the league. Not only did they sneak out of Memphis with an unexpected win, but they finished 3-3 over the 6-game span. If you had told me that outcome before this annual road trip started, I would have gladly taken it. The Jazz have been playing solid basketball as of late.
Credit this win to intensity. You've got to believe Coach Snyder inspired these guys to give it their all before a 5-day break until after Christmas. You could see it in their faces. They didn't want to lose this one. The Jazz let Memphis go on an early run that could have opened the flood gates, but they tightened up the defense and battled back, even setting the pace for much of the second half. We definitely caught Memphis on the right night, without Zach Randolph or Tony Allen, and on the second night of a back-to-back, but a win is a win. The slower pace of this Grizzlies team might have also played to the Jazz's favor as well, so that their legs didn't wear down by the end.
2. Flashes of the future
There have undoubtedly been some rough patches so far this season, but this victory has to make Jazz fans excited for the future. Several players flashed glimpses of progress and potential tonight, giving us all hope that one day we can compete with the loaded Western Conference night in and night out. Let's start with Rudy Gobert. The man is a beast on the glass, finishing with a new career-high 16 rebounds, and his defensive presence was undeniable throughout his 29 (!) minutes on the floor. If this road trip has proven anything, it's that Coach Snyder is having a hard time keeping this guy off the floor. Another bright spot was Rodney Hood. His shot wasn't necessarily falling tonight, but what I liked most was how he found a way to contribute regardless. Tonight he showcased more dribble penetration than I've ever seen from him and seemed to be attacking the rim more. He even dished out four assists, showcasing his PG skills from his high school days. Since returning from injury at the end of November, he has steadily been earning his stripes as a solid role player on this team. Dante Exum also did a lot of good things tonight on the defensive end, as well as hitting a couple three pointers, before heading back to the locker room with a slight ankle injury. Enes Kanter is showing new life off the dribble. He's playing aggressive with more confidence on the offensive end than ever before. And Gordon Hayward did Gordon Hayward things for this team yet again. He has proven himself as the leader of this team with games like tonight, carrying the team with sheer will from time to time. His body language throughout the game said it all tonight, there was no way he was going to lose this one. The only visible difference was the lack of hair product tonight. I don't know if he needs another trim or if he simply forgot, but I like the new, stylish Hayward more than the old, floppy hair version.
3. Learn from the best
When you play one of the best, you should try and learn something from them. One of the glaring differences tonight was PG play. Mike Conley is having an all-star caliber season for Memphis this year, and he's not even the primary or secondary option on the team. He kept Memphis in this game on a shorthanded night by penetrating the lane, facilitating and knocking down outside shots. He finished with 28 points, four rebounds and four assists. Trey and Dante could learn a lot from his style of play, especially the floater. It's a dangerous move that, when used right a la CP3 or Steph Curry, is nearly unstoppable.
Trey was also the only starter to not finish in double figures tonight, which wouldn't worry me as much if he had more than four assists to counteract it. All that being said, not a terrible game from either Jazz PG, but always something to learn from.