1. Derrick Favors' first game winner, at any level, got the Jazz's win tonight. 
It seems hard to believe that this is Favors' first game winner, given how many games he has played, and especially given his status as his team's best player in high school, college, and now arguably with the Jazz. That being said, big men rarely get opportunities at the end of games: of current NBA big men, only really Al Jefferson has that ability to get the shot he wants in such a way that it makes sense to go through the effort to get him the ball in the last possession. It was a big deal for Favors too; after the game, he said "It's never happened to me before. I'm gonna have to call my moms. She's probably sleepin."
Derrick Favors had his big-man game winning basket in an opportunistic way: rebounding and slamming home emphatically the putback off of Gordon Hayward's missed shot. There's not much to say about the play other than it was actually drawn up the way it went: Hayward described it as an "angle pick and roll", chosen because "we had run it with success during the game." Yes, the goal was to get Hayward in a position to attack, where he could either make a layup, get fouled, pass to Favors, or miss in such a way that Favors could get the rebound. The only hitch in execution was actually fortuitous for the Jazz, as explained by Ty Corbin: "Maybe Trey should have gotten out of the way quicker than he did, but his movement may have helped Gordon turn the corner."
2. Lakers woeful starting lineup.
Fans who bought their tickets early for tonight's game (indeed, it was the season's first sellout of 19,911) and don't keep themselves apprised of injury situations were undoubtedly disappointed when the Lakers started Jordan Farmar, Jodie Meeks, Wesley Johnson, Shawne Williams, and Chris Kaman for tonight's game. That lineup is probably the worst starting lineup for the Lakers this season: the only other time they haven't started Kobe Bryant, Pau Gasol, or Steve Nash was a week ago against Golden State, in which they at least started Jordan Hill and his team leading 21.8 PER. Instead, tonight's starters averaged just a 12.5 PER.
D'Antoni does have the aforementioned Hill and Nick Young, his two PER leaders, coming off the bench at the moment. While Gasol's injury is a short-term one, it probably makes sense to have a little bit more shot creation in the starting lineup, perhaps at the expense of Wesley Johnson, who went 0-2 with 0 points, 0 rebounds, 0 assists, 1 foul, and 1 turnover in his minutes tonight. Shawne Williams also isn't adding much, with just 4 points and 3 rebounds. It may create an ultra-bad backup group, but the Lakers' best chance is to play their best players for the most minutes.
3. Enes Kanter got just 14 minutes tonight. What's his future for the Jazz?
Enes Kanter played for just 14 minutes and 46 minutes tonight, his 4th lowest total of the season. All 4 games in which Kanter's played 15 minutes or fewer have been Jazz wins. This isn't statistically damning, to be sure, but it's not a good sign.
Unfortunately, Kanter has regressed so far this season, and by huge margins. Check out this season's 82games Jazz summary page compared to last season's: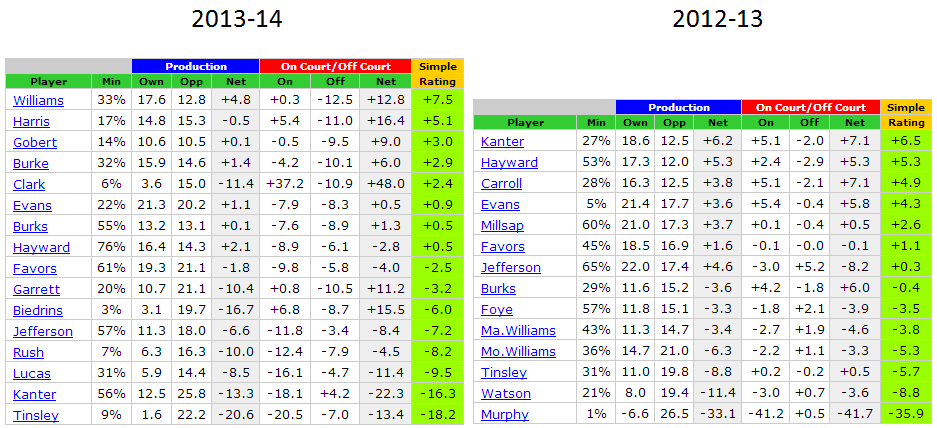 Last season, Enes Kanter ranked as the Jazz's best player, by 82games' simple rating, the recipe for which contains two-thirds PER differential and one-third adjusted plus-minus. He played efficient basketball on offense and used his size to limit his counterpart to a below-average PER, frustrating opponents with his strength. Furthermore, he had the best adjusted plus/minus on the team, a critical part of a vaunted bench lineup that drastically outplayed the starting lineup last season.
This season, it's a different story. He's been unable to make the shots he once did, especially outside of the restricted area. Last season, in the paint but not within 3 feet of the hoop, he shot 51%. This year, Kanter's shot 31 percent. It hasn't been a pretty sight. The performance is such that it makes you ask big questions about Kanter's identity: is he who he was last year, or was his mid-range shooting (some of the best in the league) a fluke? There's still time to figure it out, as Kanter's just 21, but does his current poor play damage the ability for the rest of the team to perform well? It's an open question, two sides of which were debated on Salt City Hoops today.  In the mean time, Jazz GM Dennis Lindsey remains in a pickle.