1. The Mavs made their shots, the Jazz missed them.
Around EnergySolutions Arena, you hear it a lot: the NBA is a make or miss league. Tonight's Dallas game was perhaps the perfect example of that: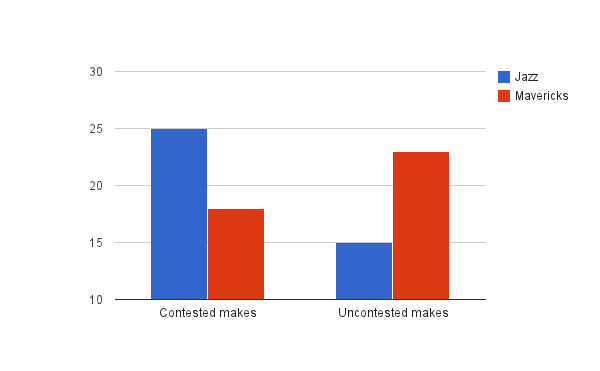 The Jazz actually had more open shots (defined as a shot without a defender within 4 feet) than the Mavericks tonight, 42 to 37. Unfortunately, The Jazz made just 15 of those shots (for just 35% on open shots!), compared to 23 makes for the Mavs (62%). This outweighed the Jazz's impressive finishing ability when there was someone nearby: as they made 8 more contested shots (going 25-42) compared to the Mavs, who shot just 18-50 while contested.
Some of this is to be expected: the Mavs have built a team that's pretty strong on the perimeter, 6th in the league in 3P%, while the Jazz's focus has been at the hoop. Of course, the team with Dirk Nowitzki and Jose Calderon is going to outshoot most opponents. Surely, some of it is luck too. But perhaps some of it might be preparation. This is a sample size of one, but I went out to ESA's court at about 5:30 to watch warmups. Here's what I found:
On the left, you see several Mavericks getting shots up, working on their form and moves with coaches and ballboys. On the other side, you see only Enes Kanter working on his game. 1 Kanter went 8-13 in tonight's game in perhaps Utah's best offensive performance. 2
Now, I'm not saying that the Jazz are preparing inadequately, and of course, correlation is not causation. But when I saw this, I remembered back to the Jazz's game against Miami, in which Ray Allen was taking hundreds of shots in a pregame warmup in his 17th NBA season. Allen is perhaps the greatest shooter of all time, while the Jazz are missing 65% of their open shots. Maybe there's something there.
2. Corbin's philosophy on youth development

Ty Corbin's time in Utah has not been all roses, but perhaps the hottest point for critics has been the distribution of playing time between young players and veterans. It's happened for several seasons now: Corbin has chosen to start veterans like Raja Bell, Josh Howard, and Richard Jefferson over their younger counterparts. It has left a lot of observers confused, especially given that in many cases the young players have outplayed said veterans.
Jim Burton, of the Ogden Standard-Examiner asked a question 3about this tonight, and in particular, whether or not that philosophy has changed given the Jazz's position in the standings.
Ty responded as follows: "I never think that it's good just to play guys just to play guys. I think you teach guys how to play right to win. We understand that we want to develop the young guys, but we want to develop them to play a certain way. That's not just putting them on the floor. We're playing to develop winners, we're not playing guys to be on the floor. It's a delicate balance between that. We want to make sure that we play a certain way and how to play to win."4
It's a philosophy that actually makes sense. There's some sense that playing time is the only real carrot a coach can use, and without the potential reward of more playing time, players don't choose to put in the out-of-game work that allows them to be successful players (see point #1). Of course, there's the obvious counter that the best practice minutes are game minutes, and I don't think Corbin would argue with that. But if success is at least partially a result of establishing certain habits, maybe the Jazz are trying to achieve that "delicate balance" that allows them to be best moving forward. I'm open to more conversation on this.
3. Leapin' Leaners & Low Tops is coming up.
Leapin' Leaners & Low Tops is a charity event thrown by the Jazz every year, taking place on the hardcourt of ESA. It's a typical charity scene, with an auction and catered dinner, etc. But it's a cool chance for the wealthy and/or well-connected to give their money to a good cause (Larry H. Miller Charities) to be able to spend some time with Jazz players and management. If you've got surplus money and love the Jazz, buy a table or ticket.
Just for fun, I asked Corbin which of his players he would choose to sit with at the event. His response? "Depends on what I want. I might see what Enes has on his mind. Explore that. Maybe sit with Derrick Favors, see if I can make him talk a little bit longer."
If I had the money, I'd probably choose to sit with Richard Jefferson. He spent about 15 minutes with a youth group after tonight's game, completely unsolicited. Even when the youth group had ran out of questions, Jefferson asked them to ask him more, trying to get the shyer kids involved. In the locker room, I've heard Jefferson act as storyteller and mythbuster with equal skill. He's been my favorite player to talk to as a part of the media, simply because he is so legitimately insightful. I've learned a ton by being able to interact with him.