1. Trey Burke's ability to get an advantage on a defense portends good things for his NBA future.
This game continued Trey Burke's coming-out party, scoring 21 points and accumulating 6 assists in tonight's game, both highs in his 7 game NBA career. Besides the impressive stats, subjectively he looks great: incredibly poised for a rookie (note his zero turnovers), and generally directing an NBA offense far better than the point guards the Jazz have cycled through the position so far. Indeed, the Jazz look like a worthy NBA team with Burke: since moving him into the starting lineup, Utah is 3-2 overall.
Perhaps most impressive is his ability to generate an advantage for the offense while handling the ball. He's displaying the pick-and-roll acumen that brought him success at Michigan, getting the defense to scramble by tightly but quickly using the screen then picking the right option in the ensuing defensive chaos. Even without a pick, he showed an ability to drive into the paint, drawing opponents towards him as he cycled under the hoop, before kicking out to an open shooter on the other end of the big man mixer. Steve Nash used to do that all the time, and while Burke definitely isn't Nash, it's great that he's showing that particular ability so early in his career.
It's now hard to remember Trey's difficult summer league and preseason, in which he shot below 25% and really struggled against sub-NBA level players. Burke said that he felt "more relaxed, but at the same time, more confident" than he did this summer. The difference may really have been the chance to watch from the bench during the finger injury: Burke indicated that he learned to pick his spots while on the bench, understanding that he doesn't have the responsibility to make every play. While it sunk the Jazz early, Trey's injury may end up helping his development.
2. G-Time is pulling off moves we haven't seen before.
Gordon Hayward also had one of his best games in a Jazz uniform, scoring 29 points overall and 17 in the 1st quarter as he got the Jazz out to a quick start. Hayward hadn't shot over 50% in a game since November 9th, so simply getting the ball in the basket was a relief. To some extent, this was the product of luck evening itself out: Hayward's true talent level is probably somewhere in between an 12-18 shooting performance and a 1-17 one. The shot chart validates that somewhat, as Hayward hit 5-9 on midrange jumpers.
But I also saw some things I haven't seen from Hayward, especially in that 1st quarter. In semi-transition, he pulled a quick change of direction move on James Harden to drive past him, the play resulted in an and-one. Later, Hayward pulled a nice spin while palming the ball, then dumped it to a baseline cutting Favors. There are times when Hayward looks like the kind of crafty, almost Manu-esque scorer that could conceivably lead an offense. In fact, that might be an ideal role for him in an eventual contender: coming off the bench to feast upon poor defenses the way he torched Harden's poor efforts tonight.
Rockets coach Kevin McHale agreed too: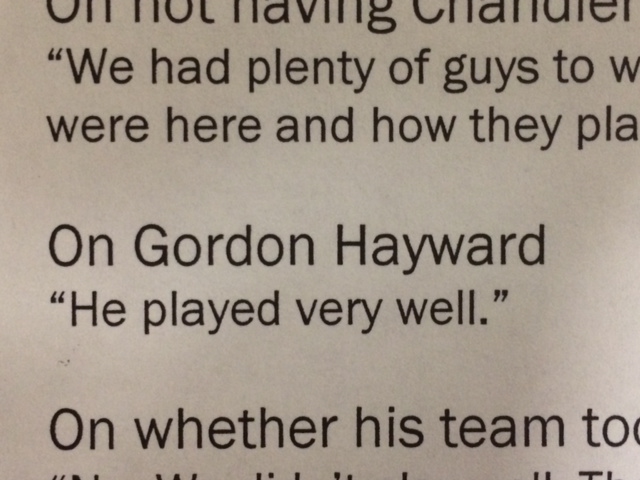 3. Marvin Williams: "The Masked Bandit"?
Marvin Williams has played extremely well in his new role, starting for the Jazz as a stretch 4 in a new-look and newly successful Jazz offense. Tonight, he left his baskets for the clutch. He started by getting a breakaway steal and nice one-handed dunk off of a bad pass by Harden. Then, just a minute later, he took advantage of Trey Burke's ability to roam in the paint by hitting a wide-open three to give the Jazz a clinching 8 point lead.
But on top of his play, he's also looked super cool since he started wearing a mask to protect his broken nose. He still has to wear the mask for another 4-5 weeks, but Marvin says his Jazz teammates haven't given him a nickname, or even talked about the mask since it first came out. With his game-clinching steal tonight, I nominate "The Masked Bandit" as a cool, if temporary, nickname for the former #2 pick, one he's earned with his stellar but sneaky play thus far.