In a game against the high-scoring Golden State Warriors, with their presumed starting lineup for next season healthy, the Jazz held their opponents to just 32.6% shooting. This was a team effort: no one on the Warriors shot above 50 percent. Compared to last season, the Jazz were able to play a defensive game with far fewer moments of desperation, as the Utah players largely held their men contained in one-on-one situations. When the help was required, it was later in the shot clock and closer to the scene of the crime. It's tempting to dismiss the performance: after all, it's just preseason. But the Warriors' stars played relatively big minutes, with Iguodala even playing a game high 30. The Warriors had played three games in four nights, so there's reason to be tired, especially early in the season before conditioning fully returns (especially in the altitude). But holding an NBA team to just 32.6% from the field is an accomplishment, no matter the circumstances.
2. Jazz bench's chaotic offense succeeded… but was it a fluke?
The turning point of the game occurred in the 2nd quarter, as the Jazz bench took a tied game at the end of the 1st quarter and went on a 34-16 run through the next period. Alec Burks, John Lucas, Jeremy Evans and even Andris Biedrins attacked with reckless abandon… and it worked. I counted 5 broken plays in the initial run in the first 5 minutes by the bench that ended up succeeding for the Jazz. Whether it was through hustle (again, probably compounded by a tired Warriors group) or luck (Biedrins' spinning drive through the lane which finished in a smooth hook, a move he hasn't even contemplated in 4 years), the Jazz ended up succeeding on plays that could have ended up in turnovers. The turnovers did later come, and the Jazz finished with 17 in the game (including 9 by the bench), but by then, the game was out of reach.
3. Hayward's two-faced game.
While we've put a lot of words down on Salt City Hoops about Hayward's faces – namely, with and without a beard – he had a game tonight that could be looked at two different ways, depending on what you're looking for from the Jazz's soon-to-be captain. Hayward finished with 8 points, 8 assists, 7 rebounds, and 3 steals in 26 minutes of play tonight, showing off his statistical versatility and secondary skills. The rebounding is especially a nice touch, as historically, Hayward's been a below-average rebounder compared to other wings.
That being said, those who wanted to see Hayward as a lead scoring option could be disappointed, as he finished 4-12 on the night, with 0 free throw attempts. Interestingly, this is despite shooting all of his shots from the right side of the floor: dedicated Salt City Hoops readers will remember that Hayward was significantly better from the right than the left last season.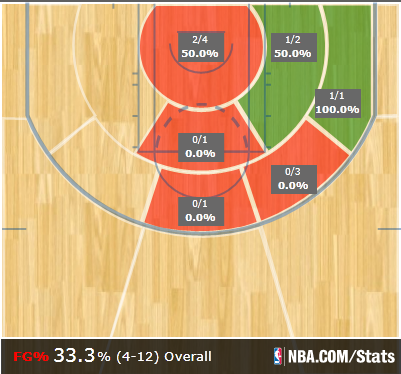 Subjectively, Hayward still probably takes too many long jump shots early in the shot clock. He finished 3rd in the NBA last season on 22-ft 2 point shots (i.e., those very close to the 3 point line, but not yet beyond it), and probably isn't a good enough shooter to be taking those low-efficiency shots. He did a good job of adjusting later in the game, making passes to open teammates, but in order to be a teams number one scorer, he simply has to draw free throws in every game. In short, there's a lot to be happy with in Hayward's performance tonight, but he wasn't an effective lead scorer. One meaningless preseason game, but something to keep an eye on as the season progresses.