1. The night belonged to Jerry Sloan.
Yes, a game was played at EnergySolutions Arena Friday night, in front of a nationally-televised audience and a sellout crowd. But the game, especially in this season of non-contending, came second to celebrating the wonderful career of Jerry Sloan. At Salt City Hoops, we've already said our piece about the Jazz coach.
Legends from around the Jazz, Utah, and the NBA came to celebrate Sloan. Utah Governor Gary Herbert and Senator Orrin Hatch, as well as Salt Lake City Mayor Ralph Becker supported the coach. Former Jazz players John Stockton, Karl Malone, Mehmet Okur, John Crotty, Howard Eisley, Bryon Russell, Mark Eaton, Thurl Bailey, and Matt Harpring all attended. Even both coaches (Tyrone Corbin and Mark Jackson) were former Jazz players under Sloan. Finally, some of the greatest names in the NBA sent their congratulatory messages via video. Each of the TNT crew (Kenny Smith, Charles Barkley, and Shaquille O'Neal) sent their respects. Coaching legends Rick Adelman, Gregg Popovich and Frank Layden recorded tributes. Outgoing commissioner David Stern sent in a video. It was incredibly well presented by the franchise, and the entire Jazz organization deserves credit for running such a good show.
However, the biggest name to send in his congratulations probably has more star power than all of the names above combined: President Barack Obama. He sent the following letter to Jerry Sloan: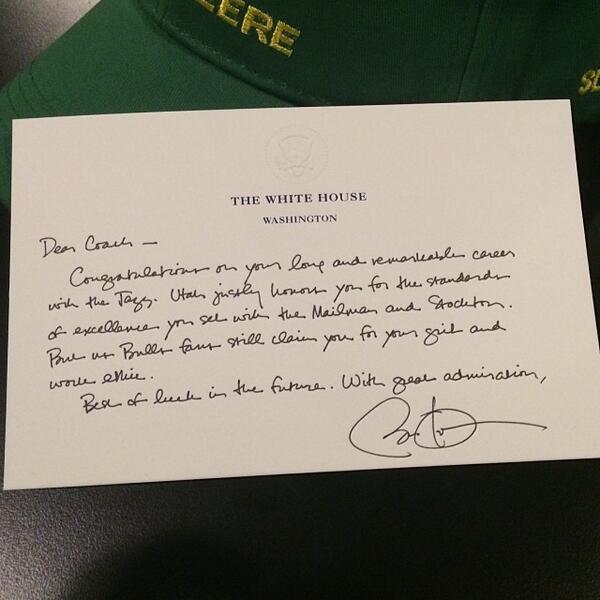 Now that's a get. Here are some of the other excellent quotes from tonight's proceedings:
Karl Malone, to Sloan: "You're the best. There will never be another one like you. I just want to say that I love you so much, Coach."
Charles Barkley, to Sloan: "You know how good you would have been if you had a real power forward like me?"
Jerry Sloan, on the banner raised with the number 1223 (the number of wins in his career):  "I thought that's how many technical fouls I had."
Ty Corbin, on what he's learned from Jerry: "You know, he's a different man. You can't fill those shoes. I try and be focused and prepared and driven as he is, but he's Coach, man. He's been through it all."
Karl Malone on his friendship with Sloan: "Anytime, anywhere, 24-7, 365, he can call me, and I drop anything I'm doing. I'm not going to say 'What you do', I'm just gonna say 'Where you at? Don't move, I'm on my way.' Any time. Every day."
Malone on Sloan's historical uniqueness, "He's the last of a dying breed. He did it the right way. He earned respect, he never demanded it, he earned by who he was a as a person and how he treated you as a player. So I take a real offense to a player who say that Coach Sloan wasn't a good person or wasn't fair, cause he was. He just demanded a lot. Nowadays, maybe kids don't want the onus on them. That guy there, there will never be another one like him."
Frank Layden on Sloan: "Whether he was a math teacher or he taught french or chemistry, or anything else, Jerry Sloan would have been a master teacher, because that's what he does best. He hopes, when they leave, they were better for having crossed his path."
Sloan, on his role of Senior Basketball Advisor with the Jazz: "I go to a lot of practices. I don't want to bother them, I just sit and watch practice. I enjoy it."
Sloan, on the loss in two consecutive finals: "Chicago beat us. We lost to a great team, a great player. Nothing to feel bad about. That's the way basketball is. That's the way life is sometimes."
Sloan on the Coach of the Year award: "The Coach of the Year Award should be reward a staff. One guy can't do it alone."
Sloan, on what he wants people to say about him after his retirement: "Anything they want. It's not a big deal. I can take criticism or whatever. I'm not looking for recognition. I was the luckiest guy in the world to get to be able to play this game, and be involved as a coach for all the years that I coached, and I don't think anybody could be any happier than myself for having those things happen."
At the end of the night, and after all of the festivities, Jerry Sloan left humbly and with dignity (photo courtesy Jonathan Rinehart, Jazz PR director):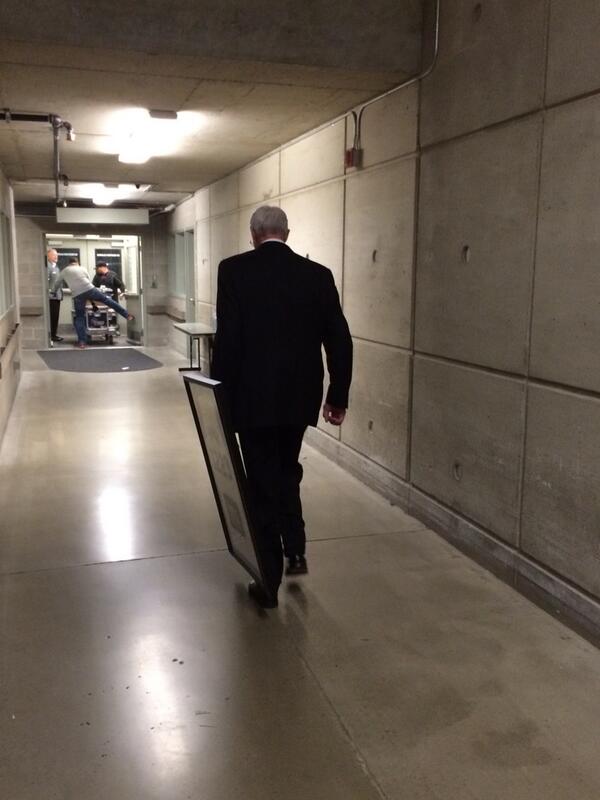 2. Diante Garrett made the biggest impact of his Jazz career so far.
In a nationally televised game, D-League callup Diante Garrett had the best night of his career, finishing with 13 points on 6-8 shooting, including 2 buzzer beaters to end the 2nd and 3rd quarters. Remarkably, he ended up with a +24 plus/minus in a game the Jazz lost by 5.
It wasn't just his offense that led the Jazz to be successful during Diante's 25 minutes in the game, but his defense as well. Yes, it seems silly to credit any of the Jazz's PG defense on a night in which Steph Curry went off for 44 points, but Diante Garrett looked to do a much better job of sticking with Curry around all of the screens and pullups, likely due to his 6'4" size (giving him extra length compared to the 6'0" Burke).  Curry had 44 points tonight, but only 16 of those came against Garrett in his 25 minutes of play. On the other hand, it may be time to keep an eye out on Burke's defense at the PG position.
3. Fans are maybe being a little bit hard on Gordon Hayward.
This tweet came from former BYU player Jackson Emery:
And a number of fans agreed, calling for Hayward's trade, either now before the deadline or in a sign-and-trade in the offseason. Let's slow down. Yes, he had 8 turnovers, including one on the final possession that mattered in the game. That's not very good, and yes, with a normal number of turnovers, the Jazz would have won the game. However, it's also worth noting:
Hayward allowed his starting opponent, Klay Thompson (probably one of the top 5 shooting guards in the league), to shoot just 3-20 from the field tonight. That's pretty good defense. Had Gordon not defended Klay in this manner, the Jazz wouldn't have even been close.
Hayward accumulated 9 rebounds over the course of the game. That's a nice bonus from your starting SG.
Hayward also had 5 assists tonight. Again, nice.
The final play was called for Hayward by Corbin; in no way was it a careless decision on Hayward's part. When asked if he had any regrets about calling the play for Hayward, Corbin responded, "No. No regrets. None whatsoever. I feel very confident in what he can do for this team."
Look, it wasn't a good night for Hayward. But if a player is having trouble producing with the ball in his hands in a given night, you'd like to see this kind of secondary production. Hayward delivered in other ways tonight. Is he capable of better? Of course; his 37 point performance in which he out-battled Kevin Durant for a win is evidence of that. But it's far, far too reactionary to ship him out as a result of that game.