Welcome to the first ever Utah Jazz Trade Target Power Rankings. The 2016 NBA trade deadline is only about 4 weeks away, which makes now a great time to talk about the Utah Jazz and possible trades. So based on criteria like player fit, contracts, cost, and team direction (meaning the Jazz and the team they would be trading with), I have compiled a power rankings to sort out likely trade candidates this trade deadline. For example, Lebron James would score very highly on desirability and team fit with the Jazz, but because, he would cost too much to acquire and because his availability is basically zero, he doesn't rank highly at all on the Jazz trade target power rankings. Be sure to add comments in the comments section if you think this power rankings unwittingly leaves your favorite player or trade target out.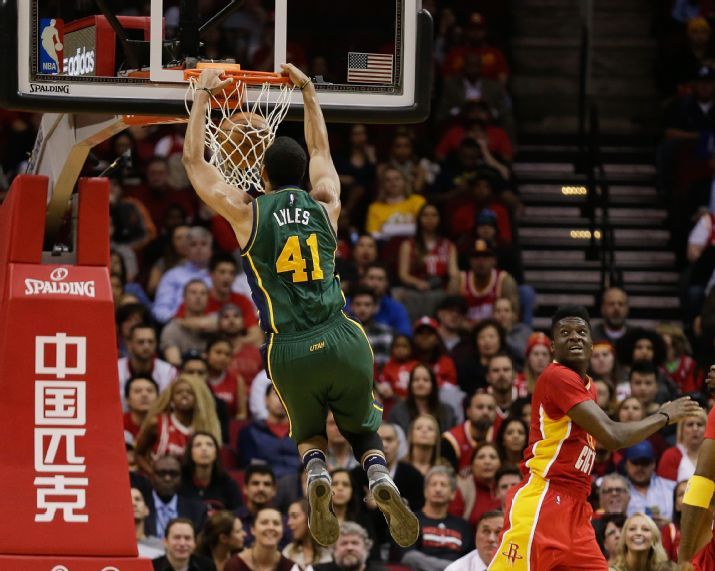 The recent good play of Trey Lyles has altered the power rankings.
1. OMRI CASSPI
Casspi checks off almost all the boxes on what the Jazz might be looking for at the trade deadline. He's a 27 year old, versatile wing who can play the 2, 3 and 4 and who has thrived playing anywhere from 12 to 28 minutes per game. He could start for the Jazz or be an excellent role player as a scorer off the bench and adequate defender. He's currently shooting 52% from the field and a blistering 47% from three. His cost would probably be something like a late first round pick, which the Jazz have several different variations they can offer. The problem is that Casspi is playing a major role for the Kings, who have major playoff aspirations and only sit one game behind the Jazz and out of the playoffs. The Kings probably won't deal any of their contributors until they are out of the playoffs. But a trade for Omri Casspi to the Jazz might make much more sense this offseason, anyways.
Hypothetical deal: Casspi to the Jazz for the 2018 first round pick from OKC.
2. DARREN COLLISON
Collison is only 28 years old and has two years left at about $10 million. He makes a lot of sense for the Jazz because he could come in and start the rest of this season and play behind or even with Dante Exum next season before being completely of the Jazz's salary books. He's probably less of a long term fit for the Jazz, as he will have suitors and aspirations to become a starting point guard in 2017, but he would fit nicely in Utah the next two seasons. Collison is a scorer, who is very effective in pick and roll situations and is probably a slightly below average defender at his position given his size. His cost would be similar to Omri Casspi's, most likely, but the Kings might also be more willing to move Collison if they feel Rajon Rondo can carry the bulk of the point guard minutes while moving Seth Curry to the backup role. The Kings may value a first round pick more than paying $5 million to a backup point guard in 2016-17.
Hypothetical deal: Darren Collison to the Jazz for Utah's lottery protected 2017 first round pick.
But the Jazz would rather have one of his teammates.
3. JARED DUDLEY
Dudley would be such a smooth fit on almost every NBA team as a team-oriented wing/stretch big, who can shoot and defend. He has been a real plus-minus superstar over the last few seasons, even though at first look, he doesn't seem to be a game changer by any measure. Dudley is a career 40% three point shooter and is hitting threes at a 46% clip this season on almost 4 attempts per game. Dudley cost the Wizards a highly protected 2nd round pick that was virtually nothing, and his asking price in trade season would probably only be slightly higher. If the Wizards realize in the next few weeks that they cannot contend for a top seed in the East, they may value the $4 million in savings that trading Dudley would grant them. The problem for the Jazz is that Dudley is already 30 years old, with a history of back surgery and doesn't fit the development of the young Jazz core perfectly. Although there is an argument to be made that bringing Dudley to Utah to finish his career would be the exact type of move the Jazz need to make in order to transition from playoff hopefuls to legitimate contenders in the next 3-4 years.
Hypothetical deal: Jared Dudley to the Jazz for Detroit's 2017 2nd round pick.
4. GARRETT TEMPLE
On the surface, Garrett Temple provides nothing exciting that the Jazz would need. Temple only shoots 40% from the field and 32% from three. However, Temple is an above average defender and a 7 year veteran, who would be an upgrade over Christapher Johnson and possibly Joe Ingles. Temple scores very highly on the defensive real plus-minus metrics the last few seasons, and although he has played major minutes for Washington this season, his minutes are almost certain to go down once Alan Anderson returns from injury. Temple would probably be the cheapest asset to acquire on this list, but it would also be a risk whether he was a talent upgrade for Utah at all.
Hypothetical deal: Garrett Temple to Utah for a conditional 2016 2nd round pick protected 31-45.
5. CJ MCCOLLUM
McCollum's inclusion on this list may come as a surprise, since it seems that Portland would never want to rid themselves of such an elite scorer. The problem is that McCollum will struggle to start next to franchise piece Damian Lillard defensively. The Trailblazers could remedy this by acquiring a bigger shooting guard to start and make McCollum a super 6th man, but even if it isn't the Jazz, I could see the Blazers selling high on McCollum during the next 6 months.
Hypothetical Deal: CJ McCollum and Chris Kaman to Utah for Alec Burks and Tibor Pleiss.
Here Quin Snyder is really considering the magnitude of these trade target power rankings.
6. DANILO GALLINARI
Galinari seems like a long shot, but he is a very good player who can play the three or the stretch four the Jazz dearly covet. Trading for Gallinari would be quite a sea change in terms of team building and the Jazz would have to give up a lot to acquire a player of Galinari's ability. It wouldn't be cheap, but it would be the type of risk the Jazz might decide to take if they really believe in Gallo. As good as Trey Lyles has been this last week, or so, Gallinari is probably a pretty good comparison to what the Jazz hope Lyles ultimately becomes.
Hypothetical Deal: Gallinari to the Jazz for Alec Burks, Trey Lyles, OKC's 2018 first round pick.
7. AL FAROUQ AMINU/ED DAVIS
It's hard to know exactly what Portland's plan is longterm, but they have a handful of threes and fours that need minutes and can all contribute. Some heads were turned when Aminu was one of the first announced signings of the 2016 offseason at a 4 year, $30 million deal. But moving forward that will be a very attractive contract for a player who is only 24 years old and is already one of the leagues more versatile defenders. If Aminu isn't available, his teammate Ed Davis would make a good replacement for Trevor Booker long term as an energetic big off the bench who grabs offensive rebounds and shoots an incredibly high percentage on his field goals.
Hypothetical Deal: Aminu to the Jazz for Trevor Booker and a Utah Jazz lottery protected 2016 first round pick.
8. BEN MCLEMORE
McLemore represents an option of buying low on a young prospect in hopes of giving him a better environment for improvement and growth. Who knows if the Kings have moved on emotionally from McLemore's development, but they have replaced his minutes with the play of veterans like Casspi and Bellinelli and George Karl doesn't have a long track record of patience with young players. McLemore played well last season and hasn't been able to take "the next leap" in his development. And Sacramento could use some first round picks to address other needs down the road.
Hypothetical deal: Ben McLemore to the Jazz for Christapher Johnson and OKC's 2018 first round pick.