Since John Stockton hung up his Jazz jersey in the spring of 2003, Utah has struggled to find that one special point guard that can be the general for a brigade of talented basketball players. From Mo Williams to Jamaal Tinsley, Utah hasn't exactly had the best luck in terms of point guards since the departure of Deron Williams during the winter of 2011.
As  the Jazz make their transition into the 2nd half of the 2013-14 season and beyond, Dennis Lindsey, Kevin O'Connor, Ty Corbin and the rest of the Jazz organization are putting their stock into the overall skills and potential of rookie point guard Trey Burke. The Jazz are clearly an extremely raw team with their eyes clearly set towards the not so immediate future. Despite that fact, the overall performance of Burke during his rookie season is still extremely important for the organization going forward.
To really capture and judge Burke's performance during his rookie season, I've compiled a large amount of graphs consisting of point guards who have been drafted in the 1st round since 2008. From Westbrook to Carter-Williams, Burke will be compared to some of the best young guards in the NBA. Since I'm using advanced stats from the NBA Media Site and Synergy, I've made sure that every single one of these guards are currently active (sorry Derrick Rose) and have played more than 25 minutes per game, which would basically place them in your typical starter or 6th man role.
Offensive Points Per Possession/ Usage Rating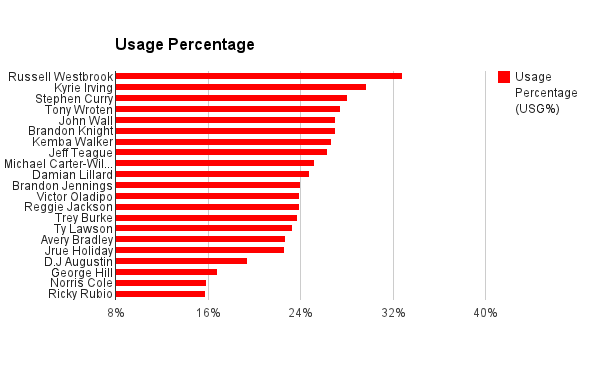 Offensive Points Possession and Usage Rating are two advanced statistics that basically coincide with each other when you try to find a player's total impact on offense. For example, George Hill's superb Offensive Points Per Possession (OPPP) is kind of masked by the fact that he's the least used player on Indiana's starting 5. As the player gets used more, the numbers tend to even out to get a true and honest reading on how good or bad that certain player is. With that in mind, a superstar like Russell Westbrook ranks near the middle of the pack in terms of OPPP because of how often he's used on the court. Meanwhile, these two graphs really showcase how fantastic top-notch scorers like Kyrie Irving and Stephen Curry really are, because of their ability to be so efficient while  also being one of the most used players on their given teams.
Transitioning to Burke, he's one of the stranger cases as he's in the middle of the pack in both categories. Since he's slowly making that rookie transition to a team that features a multitude of quality young pieces (i.e. Gordon Hayward, Derrick Favors and Alec Burks), Burke hasn't necessarily been used as much fellow rookies Carter-Williams or Victor Oladipo. With that said, that shouldn't take away from the fact that Burke has been a pretty inconsistent shooter.
The real reason behind Burke's mediocre to below average scoring output is the simple fact that he's just not an extremely efficient scorer. While his below average TS% might be concerning, Burke has still been performing relatively well in PnR (44.7 FG%) and in transition (1.1 PPP), two areas that he flourished at during his stint with Michigan. The only real play type in which Burke has been shooting poorly is spot-up situations (shooting 28.6%). While he's shooting well below average from that area, it should be noted that around 75% of Burke's spot-up shots have come from the perimeter.
While Burke is mediocre from the perimeter, his main issue deals with his performance from around the rim. Even though it's a cause for concern for the 6'1 guard, it really shouldn't come off as a surprise considering the fact that his work around the rim was a big issue when he played for Michigan. The following quote from Draft Express's scouting report on Burke goes deeper into Burke's struggles from inside the paint:
One area which Burke may struggle at the NBA level is with his ability to finish plays inside the paint in traffic. He converts just 52% of his attempts around the basket in the half-court, a fairly average rate, as he's hampered at times by his lack of size and strength against bigger, longer and more athletic frontcourt players. He tends to settle for tough runners and floaters in the lane, which he finds mixed success with, and needs to get much better at using his left hand around the rim, which he seemingly avoids at all costs.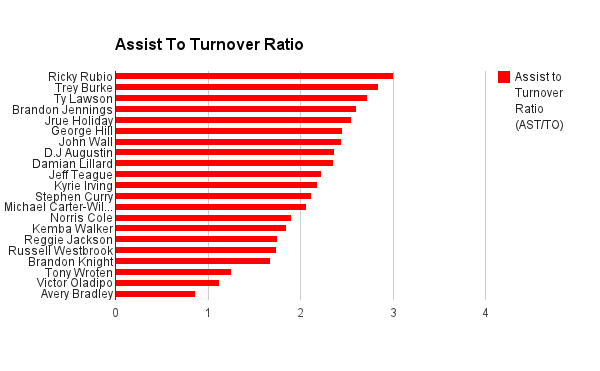 Where Trey Burke really makes his impact on the Utah offense is his overall ability as a distributor. While a good portion of that could be due to the fact that he plays alongside the likes of Gordon Hayward, Derrick Favors and Alec Burks, probably the biggest reason behind Burke's high AST/TO ratio would be because of his experience in a slow-paced half court offense from back during his time with Michigan. Another trait that he's carried over from Michigan would be his expertise in the pick and roll. As 16% of the team's total offense, the pick and roll has become a crucial element towards Utah's progression as an overall unit, which will definitely help Burke progress as a player more quickly.
As for the general future of Utah's offense, Trey Burke has really transitioned nicely into the NBA offense thanks to his PnR partner Derrick Favors. The quickness and athleticism of Favors often pulls the opposing defense towards the paint, leaving a clear opening for Burke to either shoot from the perimeter, or drive and kick it to out to Richard Jefferson or Gordon Hayward.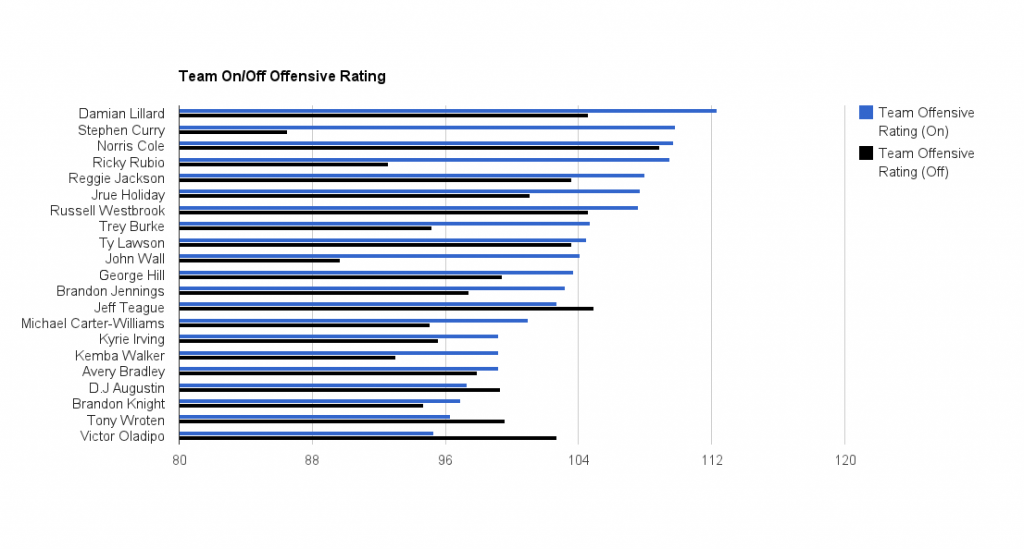 To conclude this look at Burke's overall impact on the Jazz, let's take a glance at the above chart, which lists how the particular team does when the player is on and the court. While this piece talked about individual stats that focused on different offensive aspects (Offensive Points Per Possession, True Shooting Percentage and Assist to Turnover Ratio), this takes an overall glance at how important the player actually is to the team when he's on the court. As you can tell from the above chart, Utah's offense isn't nearly as good when Burke is sitting on the bench. The way Burke orchestrates the overall offense shouldn't be taken for granted, as Utah is in a similar range to the likes of OKC, Denver and Indiana when Burke is on the court. While advanced stats don't represent the totality of a player's performance, the data displays Burke's overall positive impact on the Jazz's offense.