With only a few familiar faces returning to the Utah Jazz for 2013-2014, and with many experts predicting a dismal season when it comes to racking up wins, the marketing department may need to get creative in order to get folks to the arena to sell tickets. Here are a few ideas:
1. Drawing Competition with Jeremy Evans.

Thanks to a great Earl Watson tweet and a Slam Dunk Contest attempt using a canvas/drawing prop, Jazz fans are aware of the drawing talent of Jeremy Evans. Here's my idea: folks could submit their drawings, and then a pool of those selected (have to weed out the stick-figure artists) were able to sit in a room with Jeremy Evans, easels, paints, leads, a canvas, some tunes, and go to town. It could be wacky, it could be creative, it could be a lot of fun. But whoever wins the competition could get tickets for the night.
I'm still blown away by Jeremy's talent whenever I see this picture Earl Watson tweeted a while back: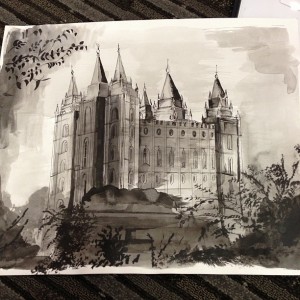 2. Rec Team vs. Jazz Bench.
The strength—or lack of—the Jazz's bench this coming year has been discussed over and over again. What if you could make things a little interesting? There could be a tournament in the Salt Lake area of five-man teams in rec leagues. Whoever wins the rec league tournament gets a chance to play the Jazz's much-maligned-by-the-national-media bench. If your team beats the Jazz's bench, you'll move behind our bench so you can cheer them. Or move you behind the other team's bench so you can taunt them. Just don't do this: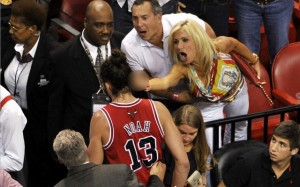 3. You (Don't) Know This Guy! (or this guy, or this guy, or this guy—come get to know them!)
The tag line for the Larry H. Miller commercials in the 90's and early 00's was the classic "You Know This Guy!" His approachable nature, complete with the khakis, polo, and sneakers, were the perfect match for Utah's friendly and down-to-earth audience. So, why not flip that tag line—You (Don't) Know This Guy! Or That Guy!—and invite Jazz fans to come to games to get to know the players? The Jazz have A LOT of new players, personalities who are unfamiliar to the fans.
In the past, we've had Deron's surliness mixed with genuine caring for the community; Earl's new-age-tinged encouragement and wisdom; Al Jefferson's goofy, easy-going nature; Paul Millsap's straight-forward, blue-collar, play-hard-every-night scrappiness. Now we've got four up-and-coming players in Gordon Hayward, Derrick Favors, Alec Burks, and Enes Kanter. Of those, Kanter's personality could probably overshadow the other three combined if he returned to his Twitter ways from yesteryear, though that's unlikely with the Jazz's PR team. Hayward's known as the Subway fan who looks like a missionary with a fresh hair cut and clean shave.
But what about Trey Burke? Brandon Rush? Andris Biedrins? Richard Jefferson? John Lucas III? Ian Clark? Getting to know the new guys could be fun and keep fans engaged, especially if the bench is as bad as some people predict and some games aren't all that close.
On second thought, maybe just unleash Kanter on Twitter again.
4. Match the player name with the picture of every Jazz player and get the season 10% off.
Similar to #3. This could take place just outside Energy Solutions Arena. Anyone who can match up a picture of a player with his name for each of the players gets a discount on tickets. There should be some "gotcha!" pictures on there, whether it's Stockton or Malone, or Delany Rudd or Walter Palmer, just to confuse people a bit. If the game's a bit too easy, you could Photoshop this picture, put a Marquette jersey on there, and someone might confuse Ian Clark for Wesley Matthews. It could happen.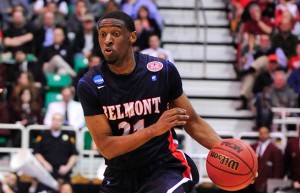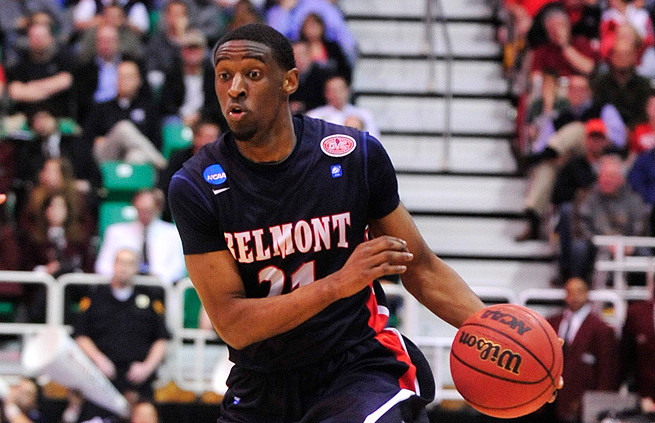 5. The Sign Competition. Come up with the best, wittiest, funniest sign or t-shirt at each game and you'll get great seats.
Is there a storyline during the season that has interested you? Maybe you've been keeping track of Gordon Hayward's ever-changing beard and have found a way to create a sign where you can Chia Pet the beard on there and have it grow throughout the game. If that's your invention, you deserve good seats.
Do you have a sign that can taunt an opposing player as well as this sign? If so, you deserve good seats for that game. This LeBron example is one that is pretty much a guaranteed winner in my book, as is the following picture taunting Tony Parker using his ex-wife's likeness in larger-than-life form.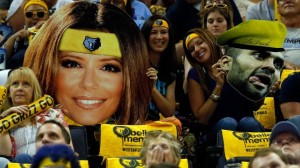 If you can trump these ladies with your creativity, wit, or understanding of dramatic storylines, I think you deserve these seats.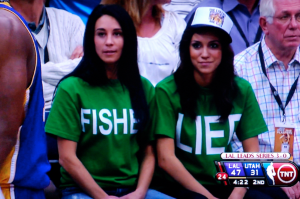 What're your ideas for getting fans out to the games?