5:08 PM MST: That'll do it for our SCH Jazz media day live blog! Thanks to everyone who followed along live, and in advance to those who will catch up later on. Another big shout out to our fearless leader Andy Larsen, who was on scene throughout bringing you quotes and news from his Twitter handle (@andyblarsen). As the season starts up in full, be sure to check back to Salt City Hoops frequently for the best online source of Jazz news, analysis and much more!
5:06 PM MST: I'll use my final entry as a quote on perhaps the biggest question mark/theme going into the year, the Favors/Kanter pairing. From Andy again: "Quin: 'I think we have some unique combinations that we can put out on the floor, Derrick and Enes being one of them.'" The duo had a number of issues last year, ones we've explored at length. Snyder faces a real challenge here in making the pair playable together on both ends of the court, but appears confident he can do so. Should he prove correct and able to mold the unit into an above-average NBA frontcourt, a return to contender status may be coming more quickly than even the most optimistic prognosticators anticipated.
4:57 PM MST: From Andy, on the ground: "Dennis Lindsey: 'Players are like water, they always find their level.' (What does this mean??)" If I may, Andy, I think it is a metaphor for the flexibility of the team. When exposed to a different environment, water never insists on keeping its previous shape; rather, it quickly flows into a position that is in tune with the surroundings. I think the Jazz envision their roster of the future as something similar, a group of adaptable players willing to mold their games to the larger interests of the team.
4:50 PM MST: When asked which of the other's on-court qualities they would choose to emulate, the answers were to be expected. Exum said he'd love to have Hood's shooting stroke – he came in during summer league and "lit it up", something Exum knows he needs to work on. Hood, for his part, says he'd love the kind of quickness and explosiveness Dante exhibits on a regular basis while also showing an ability to see plays as they develop.
4:47 PM MST: Exum and Hood join 1280 together – they're remarkably polished interviewees for their ages, especially Exum at 19. They both acknowledge that they bring bits of hope and expectation to Salt Lake with their high draft status, and both seem ready to handle the challenge. Just like the rest of the team we've seen come through before them, both seem confident and willing to improve. Can either make an immediate dent and enter the ROY conversation?
4:44 PM MST: Rudy Gobert joins the broadcast next, and immediately talks about how his performance this summer was a combination of both hard work and an opportunity afforded to him to prove himself. He talks about how his anticipation has improved, something that's visible in his on-court game. How he may fit alongside Favors, Kanter and the rest of the projected frontcourt rotation will be one of a number of large number of questions facing the team personnel-wise going into the year.
4:39 PM MST: Evans, coincidentally, is on the final year of his contract with the Jazz – he will become an unrestricted free agent after this season. I've wondered over the summer whether or not this might be the last chance for him, both with the Jazz and to prove his worth as anything more than a deeper bench piece on an NBA roster. But like the rest of the team, he seems confident and ready to prove himself on the court.
4:35 PM MST: My main man Alec Burks has joined the 1280 crew, talking first about how he loves space and can't wait to see how much of it he's afforded under the new offensive scheme. He wants to "keep applying the pressure" from last year, and thinks both the halfcourt and fullcourt systems will help him do so. He also maintains firmly that he, not Jeremy Evans, would win a dunk contest among the current Jazz roster. Evans, who joined the broadcast seconds later… well, didn't agree.
4:30 PM MST: Ian Clark on 1280 says, "I think we're going to surprise a lot of people." He thinks the Jazz have embraced their youth and that multiple players competing for playing time across the roster will create a hungry culture. Carrick Felix is in the booth along with him, and both are quick to again note how Snyder's system will empower them as basketball players and allow them to succeed rather than placing them in a predetermined box.
4:26 PM MST: It's easy to discern the positive tone of this year's media day. The players seem genuinely excited to turn over a new leaf from last year, and the team's youth is evident in their somewhat carefree attitudes during these proceedings. It's a truly excellent time to be a Jazz fan and get in on the ground floor of a core that shows the potential for big, big things.
4:22 PM MST: Fifth overall draft pick Dante Exum joins Locke, and mentions his love of Cheesecake Factory – I got coupons bro, let's hit it up.
4:20 PM MST: Utah's big money man, Hayward, now joins the guys on 1280 along with Steve Novak. He continues the team-wide theme of noting how Snyder is implementing a more player-friendly system, and how the Jazz will get out and run far more often and play a more open style. Gordon notes how much more comfortable he is individually in space, and how the new system should lead to many more uncontested jumpers. There aren't any specific mentions of former coach Ty Corbin, but reading between the lines, Jazz players to a man seem far more loose and excited to have a new staff on board.
4:14 PM MST: Jazz rookie Rodney Hood joins Locke, and mentions how he wants to get NBA2k so he can start playing as himself. Knowing the way those games tend to overrate shooters (at least in my experience), Rodney very well might be in my starting lineup with a gun to my head.
4:09 PM MST: Addressing his personal situation, Trey Burke said that he has apologized to his family and teammates about the photos that have leaked of him. He said they were meant to remain private, per Jody Genessy – certainly a mistake from a young man who will be expected to mature quickly.
4:06 PM MST: More Favors, talking about how the Jazz, like many other teams in the league, are attempting to emulate many elements of the Spurs organization going forward. The Jazz aren't being secretive about any of this, nor should they be – if you can't beat em, join em, and no one can beat San Antonio's organizational success, particularly within the framework of a smaller NBA market.
4:01 PM MST: Derrick Favors has joined the guys on 1280, and they first ask him about Quin Snyder. Favors says he can't wait to work with the new coach, who has already started discussing an expansion of his game with him. He mentioned a 15-foot jumper specifically – I've written this summer how such a development might be the single most vital piece of his development this season, and stand by it. His ceiling with a reliable midrange jumper is nearly limitless given all his talents defensively and on the pick-and-roll.
3:58 PM MST: A number of players enter the new year with physical developments – Gordon Hayward, Alec Burks, and Rodney Hood have all commented on it so far today. This is somewhat to be expected given their young ages, but is a positive factor nonetheless. Hayward, in particular, has looked jacked since his appearances with Team USA (Photo by Nathaniel S. Butler/NBAE via Getty Images):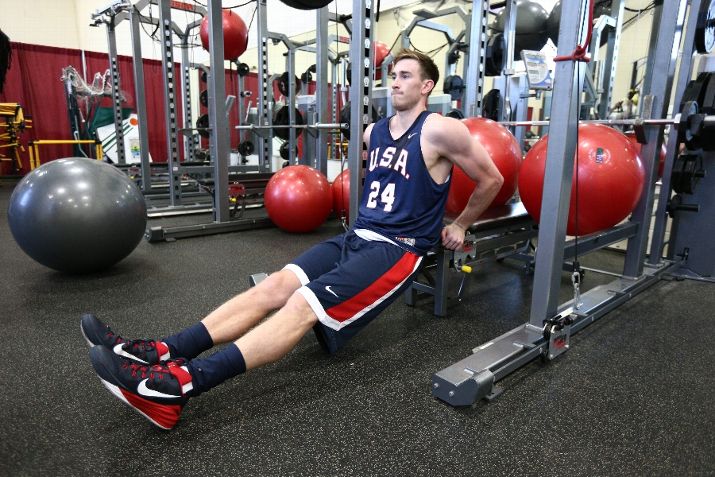 3:53 PM MST: Snyder confirms that he has, at minimum, had conversations with Kanter about shooting 3's this year. While many are assuming these will come mostly from the corners given the slightly smaller distance, I'd caution against that assumption. Big men, even the best floor-stretchers, just don't shoot many from the corners because of the potential negative impact it'd have on misses – it takes a lot longer to run back on defense from the opposing corner than from the top of the key. But Kanter should have the range for some of both if previous years are any indication, and Snyder will surely engineer such shots as part of a system that won't give up disadvantages on the other end.
3:45 PM MST: Alec Burks is now joining Jazz radio voice David Locke, and he is simply radiating confidence. He's talked about how much he loves the new offense, and it should fit him perfectly as a motion style meant to emphasize his slashing prowess. Frequent readers will know my soft spot for Alec, and seeing him so confident and ready for the year does nothing to diminish my high hopes for him.
3:42 PM MST: Per our own Andy Larsen on the scene, an interesting comment from Snyder: "The process of 'good to great' goes through 'the crucible of experience.'" We can glean multiple bits of information here: for one, Quin is well-spoken, to say the least. And on a more serious note, he's exactly right – there are countless examples of teams and individuals across all sports who needed the experience of both failure and success before they could truly achieve the latter. The Jazz have already experienced some of the former over the last couple years, and the hope is that this experience will continue to build toward better days ahead.
3:35 PM MST: New head man Quin Snyder takes the podium, and quickly gets into personnel discussions. He talks of competition for starting spots and how such competition is healthy for younger players, and how the Jazz will have a number of unique combinations to throw at opponents this season. To my eye, this is one of Snyder's largest positives on a roster that may lack them from time to time – the ability to swap guys in and out given some overlapping skill sets. Talk has been loud all summer about more "positionless" basketball, and this line of thinking matches up.
3:30 PM MST: Greg Miller is on 1280 The Zone, following Rigby from a few minutes ago. Both have discussed a benchmark of 10 extra points-per-game, and whether the Jazz can realistically expect to improve at such a rate. Miller is a little more hesitant to commit to such an arbitrary number – I tend to favor his viewpoint. Rather than any specific figure, the process and understanding level of the offense among all the players involved should be the key elements for such a young team.
3:28 PM MST: From beat man Jody Genessy, the Jazz have reportedly engaged in extension talks with both Alec Burks and Enes Kanter. This is the only remaining unknown element of this busy offseason, and one the Jazz will have to act on before October 31st if they wish to extend either player. I examined Burks' case for an extension back in July, and he would appear to be the more likely of the two in my estimation given his perceived market value around the league relative to the position the Jazz are in. Kanter is a tougher case; would a potential eight figure yearly deal be too much for the Jazz to offer given his less-than-exemplary performance last season, particularly alongside Derrick Favors? The Jazz have a number of variables to weigh here.
3:22 PM MST: Jazz GM Dennis Lindsey takes the stand following Rigby, and discusses the youth across the roster. He notes how the Jazz "doubled down on the youth movement", and evidence is clear for this – the Jazz are the youngest team in the league as currently constructed. He also addressed the recent Trey Burke situation, as did Rigby – the Jazz are still gathering all the facts, and while they state that they're disappointed thus far, they will wait for all the facts to be collected before making any sort of final decision. This seems prudent to me; there's no point in jumping to any conclusions before anything is out, particularly with so much else on the docket for the upcoming weeks. The Jazz will be expected to handle the issue as they always do with such things, in a classy and deliberate manner.
3:18 PM MST: Jazz President Randy Rigby addresses reporters to start off the day. He comments on how, like last season, the year won't be measured entirely on wins and losses. Standard company line, to be sure, but it'll be interesting to see if fans are able to maintain the same demeanor throughout what could be a long season. Jazz Nation is accustomed to winning and relevance, and whether or not the fanbase will be able to detach these elements from the development of the team's young core will be interesting to see.
2:45 PM MST: Welcome, one and all, to the official beginning of another Utah Jazz season! Media day is upon us, and we here at SCH want to bring you the most comprehensive coverage on the web. Those not already doing so should be sure to follow SCH editor Andy Larsen on Twitter (@andyblarsen) – Andy will be live at media day proceedings keeping us all updated. For further detail, I'll be your host for this live blog, which will run throughout the event and add little bits of analysis to the various quotes and happenings of the day. Check back regularly for all the latest!
Media Day

September 28th, 2015

In an environment typically associated with phrases like "new beginnings" and "fresh starts," Utah Jazz Media Day had a...Read More
Media Day

October 2nd, 2012

In case you haven't listened to the David Locke one-on-one interviews with the players and Dennis Lindsey on Media Day,...Read More