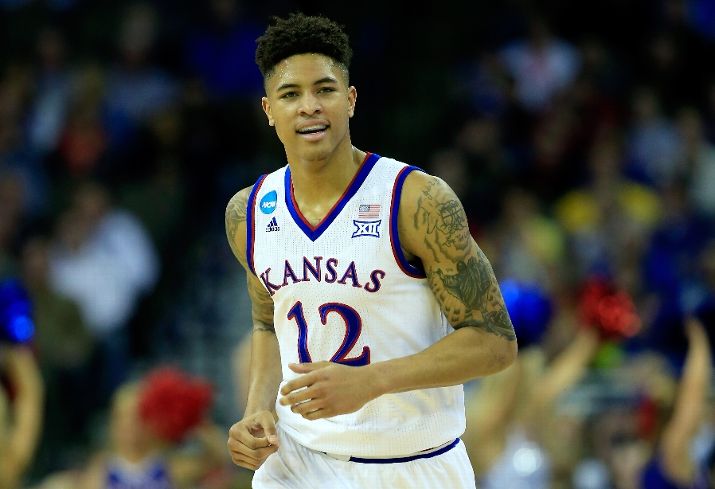 As the Jazz continue their ascent up the Western Conference, the organization will have to make an important decision as they near the NBA Draft: Do they go for the player that can make an immediate impact, or a high upside prospect that they'll have to nurture for multiple years? While the team has gone towards the second option over the past few years with the selections of Dante Exum and Rudy Gobert, their recent success could lead to them going away from the mindset.
However, if the Jazz do decide to keep picking "high upside" talent, Kansas forward Kelly Oubre might be the most ideal draft prospect. As a former McDonald's All-American and five-star recruit, Oubre entered the star-studded Kansas organization with high expectations. While he never lost his reputation as a lottery-bound prospect, Oubre struggled to get consistent playing time until the team started conference play. That inconsistent playing time lead Oubre to only average 20 minutes per game.
Whenever Oubre was on the court, he showed off an insane amount of defensive potential. Standing at 6'7 with a tremendous 7'1 wingspan, Oubre can utilize that tremendous length in multiple ways, including as a defensive ball-hawk. By consistently working the passing lanes, Oubre is able to use that length to force the opposition to commit turnovers. That ability is showcased by Oubre averaging 2.3 steals per 40 minutes, which is more than the likes of Arizona's Stanley Johnson or Duke's Justise Winslow.
Aside from that, Oubre does display a high amount of defensive awareness for a prospect that's so young. He does a terrific job of using his long frame to keep pace with players, from point guards or power forwards. While he's a menace in the passing lanes, Oubre rarely tries to force plays, and does a good job of staying in an ideal position.
Oubre's tendency to force turnovers in the passing lanes has helped him become a huge transition threat. Once he gets possession of the ball, Oubre does a great job of pushing it down the court. In that process, Oubre tends to break away from the opposition, which allows him to finish with a ferocious dunk.
In the half-court, Oubre does tend to have a bit more trouble. As was showcased in Kansas' NCAA Tournament defeat against Wichita State, Oubre has periods where he tends to stay hidden from the action. This may be partially due to Bill Self, however, who tends to be more reliant on his stable of sophomores (Wayne Selden and Frank Mason) or juniors (Perry Ellis).
When he does get an offensive opportunity, Oubre displays flashes of an ability to score in a multitude of different ways. Perhaps the most intriguing would be his ability to shoot the perimeter jumper. Whether it would be off-the-dribble or via catch-and-shoot, Oubre has a smooth shooting stroke that's helped him shoot 36% from beyond the arc on five attempts per 40 minutes.
Perhaps one of the most intriguing parts of Oubre's offensive game is his ability to work as an on-ball penetrator. While the forward has a pretty solid crossover that he likes to display on a consistent basis, he seems to be pretty loose with the ball, which has lead to him turning the ball over frequently. However, when Oubre is 100% zoned in, he's snake-like in the way he slithers his way through the defense as he works his way to the rim.
Because of his quickness and athleticism, Oubre has a tremendous amount of potential as an off-ball threat. When he doesn't worry about maintaining control of the ball, Oubre is an extremely explosive threat as he can tear from the perimeter to the paint within a blink of an eye. Once he does get to the paint, he's able to use his long frame to get an easily look at the rim.
The addition of Oubre into Utah's cavalcade of defensive-minded players might force some sleepless nights among other wing units around the leauge, and the 6'7 forward could only help the team's already elite defensive unit. With his aggressive yet controlled defensive approach, Oubre already has the same mentality that has helped lead to Utah's defensive turnaround. Oubre's aggression in the passing lanes would also be able to help a Jazz defense that's currently 16th in the league in steals, with 7.9 per 100 possessions.
On the offensive end, Oubre probably won't be able to make a huge immediate impact, but he does have potential to be another weapon for Dante Exum down the road. Utah's motion-heavy offense could lead to some perimeter looks for Oubre, who could either use that open lane to drive to the rim or shoot the jumper.