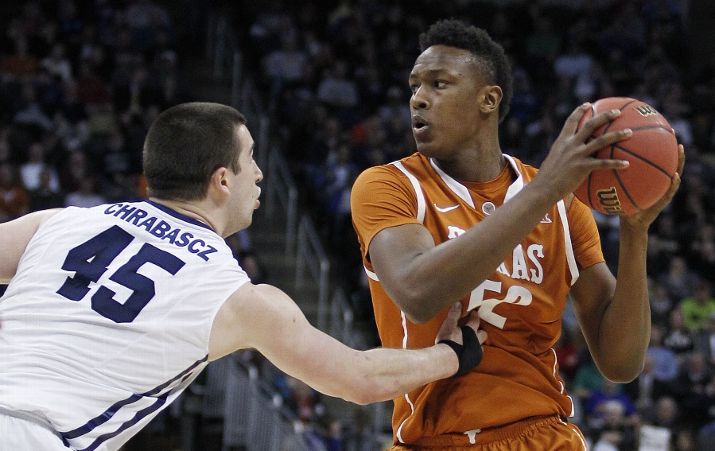 Since the Jazz moved Enes Kanter to the Thunder during February's trade deadline, it's been no secret that the organization wants a stretch four that they can place next to Rudy Gobert or Derrick Favors. You could only look at how Quin Snyder pushed Kanter and Trevor Booker to become more perimeter-oriented to see how much the organization wants a front-court player that can also spread the floor. While those offensive skills from Kanter were good, his lack of improvement on the other end of the court was one of the reasons behind his departure from the organization.
As the Jazz transition into the off-season, one of their biggest tasks would be centered around trying to find a front-court player that could anchor the second unit. The first step towards possibly filling in that hole would be through the NBA Draft. One of the more promising players that could that role could be Texas center Myles Turner.
Prior to his debut with the Longhorns, Myles Turner went through a different journey as other highly-touted high school prospects. Although he's currently known for his outstanding frame, Turner started high school as a 6'2 guard. In those following three years, which included a massive four-inch growth spurt, Turner was finally able to etch his name as a potential college stud during his senior season.
While that sudden rise have pushed the inevitable comparisons to Anthony Davis, the Texas-born Turner has seemingly patterned after Longhorns alumni and current NBA superstars Kevin Durant and LaMarcus Aldridge. 
Turner molding his game after those two superstars is easily evident if you watch his work on the offensive end. On a possession-by-possession basis, Turner is working in that high-post setting screens for his Longhorns teammates. After those screens are set is when Turner's appeal really becomes noticeable. Sticking around the perimeter, Turner displays a quick, smooth shooting stroke, which has been utilized beyond the college three-point line. However, Turner isn't entirely comfortable with shooting from that range, as he shot 27% from the perimeter.
A more realistic understanding of his shooting stroke would be with how he performs from mid-range or the free-throw line. On jumpers from inside the perimeter, Turner is shooting a solid 43%. Meanwhile, Turner was a very reliable free-throw shooter, as he shot 83% from the charity stripe.
The Texas product is able to showcase that shooting stroke as a post-up threat. Per Synergy Sports (and DraftExpress), around 40% of Turner's half-court possessions are through post-ups. Where that shooting stroke comes in handy is through Turner being able to hit turnaround jumpers out of the post. Outside of that, Turner has showcased an ability to work on both the left and right block. Turner is able to utilize his long 7'4 wingspan to put up a little baby hook with both hands.
While that shooting stroke would be Turner's biggest asset, it could also be his biggest downfall. There are times throughout each game where Turner launches up a perimeter jumper, even when he's heavily guarded or there's enough time on the shot clock for him to move the ball to a teammate.
Alongside his potential as a pick-and-pop weapon, Turner's work as a rim protector is an appealing part of his all-around game. Per 40 minutes, Myles Turner averaged 4.7 blocks, which is only exceeded in NCAA by Washington prospect Robert Upshaw. Unlike Jakob Poeltl or Kentucky's crop of bigs, Turner is mostly comfortable with sticking inside the paint and waiting for players to come to him. As evident by those numbers, that approach has worked out great as Turner seemingly stops any player that comes towards the paint. 
In regards to his potential with the Jazz, Turner could immediately implement himself as a de facto 3rd big inside Snyder's rotation. Turner's shooting stroke could become even more lethal with Utah, as he'll get a lot more open opportunities inside the team's spaced-out offense. As well, the Jazz are filled with solid facilitators which could create some chances for him to showcase that athleticism as an off-ball threat, which he really didn't get a chance to do with Texas.
While Turner's still a pretty raw prospect, moving to Salt Lake City might give him the best opportunity for immediate success. As well, the addition of Turner will allow Utah that stretch big /rim protector that will help anchor the team's second unit for years to come.