As the league reaches the end of November, initial excitement over a new season begins to give way to more of a "daily grind" temperament. Unsustainable early trends start to regress back toward the mean, fan bases grow accustomed to young surprises, and coaches settle into more of a routine as many of the kinks of a young season are ironed out.
For the Jazz, at least in the past week or so, this has meant the end of something of a honeymoon phase for the new-look team under Quin Snyder. Much of this is to be expected; some of the shine from early success has worn off as the process therein has become more commonplace. To be sure, a great deal of this trend is the norm, especially for a team like the Jazz with so many new moving parts.
But some of it isn't. Utah has shown several tendencies and habits early on that, at this point, are cause for concern. Chief among them, perhaps not unsurprisingly for such a young group, has been a broad category: their play away from the ball, both individually and as a group. There are issues up and down the roster, and on both sides of the ball. Let's split them up into some sortable categories and break this thing down.
Off-Ball Defense:
Possibly the single most significant issue plaguing this Jazz squad has been their off-ball defense. Despite a simpler and less labor-intensive scheme put in place by Snyder, the team continues to operate at a bottom-five rate leaguewide in large part due to their inability to stay focused when their own man doesn't have the ball in his hands. Opponents are feasting on actions that introduce even the slightest layer of complexity, and Jazz players are caught leaning or cheating as much as any team in the league.
Alec Burks, suffering from a bevy of issues all over the court following his lucrative extension, remains one of the guiltiest culprits in an area he's struggled with his entire career. His attitude toward the defensive possession as a whole seems to frequently flop between "not interested at all" and "interested in entirely the wrong thing", and his inability to navigate simple off-ball screens continues to obscure what's become excellent man-to-man defense when he's engaged. Watch him die without a whimper into an exceedingly simple Pero Antic down screen as the best three-point shooter in the world gets a wide open look:
Far from making even token effort to push through or run around the pick, Burks actually appears specifically to run directly into Antic here, rendering so much as a vague contest basically impossible. Seeing Korver's distance from the screen and Alec's own angle, it's very difficult to attribute such a play to anything but simple laziness. This continues to happen all over the court, and appears to have not improved at all from previous years despite surely being a point of emphasis from his coaches by now.
Another area he continues to struggle with is his chronic over-helping. This is surely far less agonizing from Snyder's perspective, as at least his heart is in the right place and he's making an effort, but Burks remains a long way behind in his recognition and reaction skills as far as off-ball rotations. Here he is abandoning a now-wide-open Monta Ellis in the ultra-efficient deep corner to help with a closeout that Trey Burke was already well on top of:
Check out a still from partway through this play: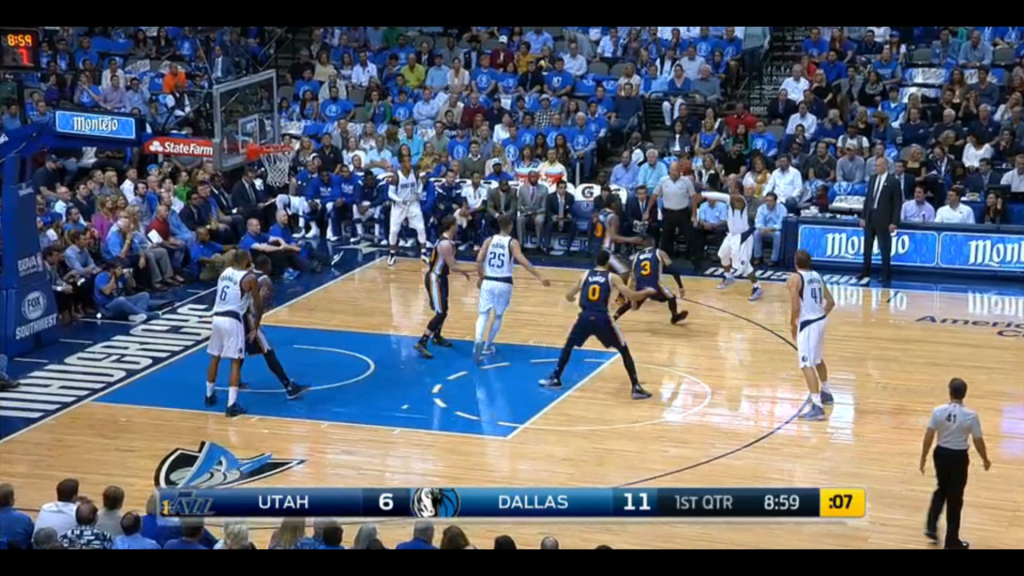 There's just no way the Jazz are recovering from this without a wide open look from somewhere, and they were actually lucky Chandler Parsons foolishly chose not to dive to the hoop once Ellis received the pass, a move that likely would have resulted in his own layup or a wide open Dirk triple.
Burks has been far from the only roster member with serious issues away from the ball, however. Here's Trey Burke getting badly lost among some big bodies down low before running into his own man and conceding a wide open J:
The bigs are in on the party too, most notably Enes Kanter. Try and figure out what he's doing on this next play – he's certainly not staying home on Al Horford, but it sure doesn't seem like he's doing Burke any favors as one of the league's premier slashing points in Jeff Teague walks to the hoop…what is he doing?
Good question, Ben. And here he is needlessly engaging Andrew Bogut (and putting himself a step behind on his rotation in the process) before one of his increasingly common "don't alter the shot whatsoever but still take a silly touch foul" and-ones against:
There could be 50 more of these clips featuring basically every Jazz rotation player, but this is enough of a downer already. The Jazz simply must improve their play away from the ball if they hope to even sniff league average defensively.
Defensive Rebounding:
Certain simple metrics might paint this as less of an issue, as the Jazz rank just a mediocre 18th in defensive rebounding percentage and are only slightly below average for per-minute offensive boards allowed. But as our fearless leader Andy Larsen noted on last week's SCH Radio show and elsewhere, second chance points have been a huge issue for the team. They're giving up the fifth-most per-minute in the league, a number that's actually improved a tad in the last week and was closer to dead last for portions of the year.
There's blame everywhere here for a team that has, at times, appeared allergic to boxing out. In Saturday night's game, here was Ryan Anderson flying in completely untouched for a rebound over three defenders. But even worse, watch as all five Utah players stand around listlessly, waiting for Alexis Ajinca to come flying in for a look at the rim:
The Jazz allowed 18 offensive rebounds to New Orleans Saturday night, the second time this season their opponent has reached such a total. If there are children in the room, please shield their eyes for this still of the previous play: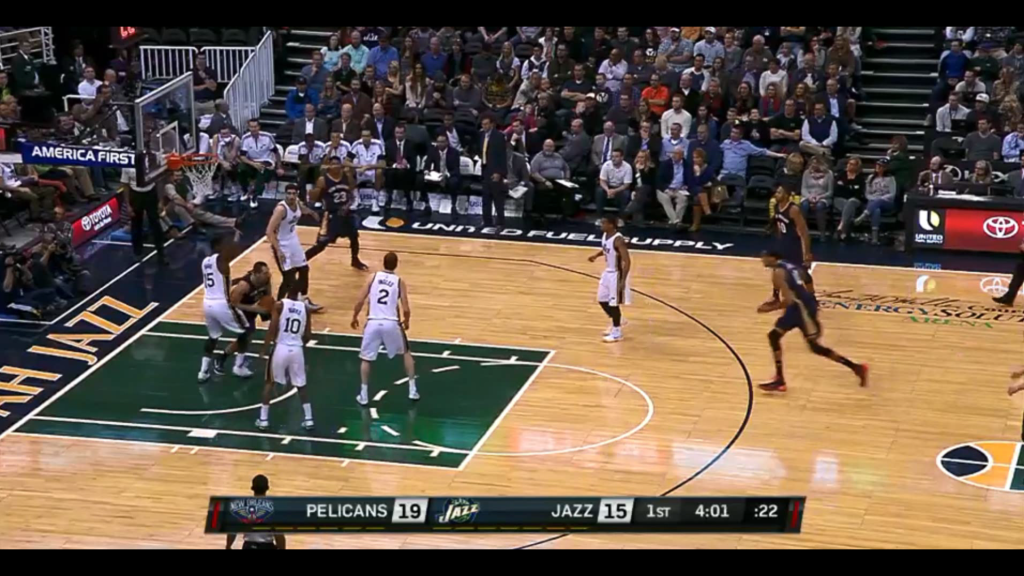 The ball-watching just burns one's retinas.
Or here, watch Burks1 from the start of this play, as he actually backs away from boxout position, though in this case he gets a quick swipe on Tyreke Evans' putback attempt to bail himself out:
The issues haven't all been with boxouts, either. For all their skills as rim protectors, guys like Derrick Favors and especially Rudy Gobert are still a ways away as far as their selectivity goes. It's another issue of hearts being in the right place while minds are elsewhere; both are far too keen to contest every shot possible, even when it does very little to actually alter the shot and, more damagingly, takes a very tall person out of rebounding position. Watch an example of each:
In both cases, Rudy and Derrick would have been far better served simply staying at home and positioning for the rebound, though it's easy to understand how these sort of split-second decisions are very difficult for younger players. This is an area coach Snyder will want to drill specifically, as both here and with simple boxout fundamentals, there's a lot of room for improvement.
Off-Ball Offense:
In an issue SCH's own Dan Clayton touched on in his Triple Team from Jazz-Warriors last week, the Jazz as a whole are struggling mightily to initiate their offense, both after failed transition chances and when their first action breaks down. A lot of this has to do with simple stagnation among the players away from the on-ball set, a big no-no for the sort of scheme Snyder is trying to break in. Motion offenses have a large amount of individual license built in; plays are almost never fully diagrammed for all five players, and guys are expected to impart their own bits of creativity, particularly when secondary or tertiary actions come into play.
The Jazz are having big problems here. They'll get the ball up the court, often at a good pace, and initiate their typical side-to-side ball movement2. But when the initial action from these sets is bottled up, Utah's offense often becomes a lethargic, iso-heavy slogfest:
Across the roster, guys aren't yet confident enough within the scheme to make purposeful screens and cuts in these situations. As Dan mentioned in the link above, this sort of thing has been a huge factor in Utah's still-snail-like pace, an issue Snyder and his staff openly were looking to reverse this year. This is easily the most fixable of all the problems within this piece, however; the group is young and still grasping a very new system, and it's not uncommon at all for these things to take time. Expect improvements, both in overall execution and the resulting speed of play that'll come with increased comfort.
None of this is meant to be any sort of condemnation of the Jazz team or staff. Both continue to impress in a multitude of areas, and Utah's outlook is worlds better now than it was at the end of a very difficult 2013-14 season, something we'd all do well to remember when the going gets tough. But as a developing team, the time is ripe to… well, develop, and these are the sorts of areas that need addressing. I'd like nothing more than to eat these words sooner rather than later, and a group that's proven it's willing and capable of progressing in weaker elements of their game won't disappoint.