Water Cooler Conversations are glimpses inside Salt City Hoops. These are posted dialogues between staff members and contributors that share what we're saying among ourselves about Jazz-related topics. The conversation this time: Ben Dowsett and Clint Johnson talk Quin Snyder's hiring as new head coach of the Jazz.
Clint: Yes!
Yes, yes, yes, yes, yes!
Obviously, I'm happy. In fact, I've daydreamed about Quin Snyder as head coach of the Jazz since last summer. I heard his name mentioned as a possible head coaching candidate for some other job1 and I thought to myself, "Wow, haven't heard that name in a long time. I didn't even know he was still coaching. He was pretty good."
"Pretty good" kept getting better as I learned more about him, both refreshing what I knew about his Missouri days and filling in the gaps since. There is a ton I like about Snyder, and even more I like about Snyder for the Jazz. But for me, the key selling points come down to two things: teaching and creativity.
I think the central objective of a head coach is to ensure that you maximize the effectiveness of your most important resource – players. The modern NBA is like a giant piggy bank for potential. Too often, teams hoard raw, under-instructed talent and expect it to develop through survival of the fittest. A sadly small fraction of that talent actually approaches anything close to its ceiling. This Jazz team in particular desperately needs development, including individual skill development. That's Snyder's calling card.
Also, I much prefer a coach with the creativity and adaptability to proactively adjust to gain advantage. Tyrone Corbin was a traditionalist who believed you make the other guys adapt to you2. Snyder coached as both an assistant and head coach in the NCAA, as a head coach in the D-League, and as an assistant for three NBA teams, and then decided to see if he could pick up a few more tricks by barnstorming across Siberia3 with CSKA Moscow. He's got to have a huge bag of tactical tricks, and I can't wait to see them employed on the court.
Ben: This sort of creativity is my initial favorite thing about Snyder from a coaching perspective, as those who follow my X's and O's preferences closely will know I just love counters and keeping the opponent off-balance. A look at some video from his time with Missouri and later the Austin Toros in the D-League is encouraging in this area, in particular the simple fact that Snyder's two teams did very different things from each other, a positive sign that he's an adaptable coach capable of fitting his scheme to personnel. I especially enjoyed some of the defensive tweaks he employed in both head coaching positions, little situational caveats he puts in place for a particular game, matchup, or even possession. Here's one such tweak; Snyder's teams in the past have typically played a very conservative, stay-at-home defensive style (one I expect we'll see more of with the Jazz, as it fits their personnel best for now), but when they do give a little help in the low post, watch the unorthodox place it comes from:
Rather than having the wing defender guarding the entry passer help off his man briefly, as most coaches would for a basic help show in the low post, Snyder has his top-of-the-key wing defender drop down to cut off the middle of the floor. The side wing defender does sag down a little, but is in quick recovery position. Meanwhile, because opponent Oklahoma's spacing is bad and their weak-side man isn't a shooting threat, sending the high man down to help carries very little risk as the other high wing defender can block off both shooting options: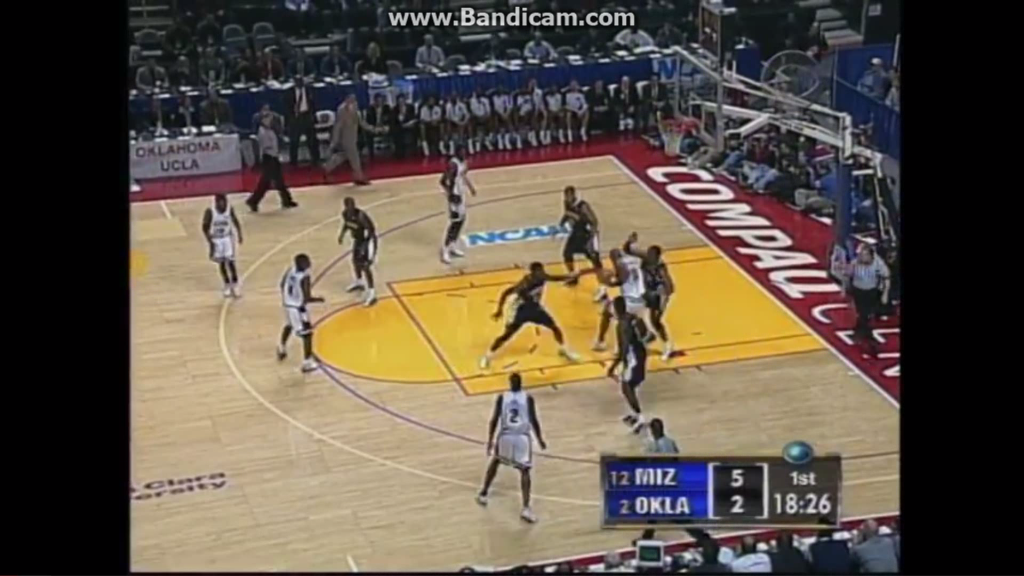 This particular play resulted in a questionable touch foul, but more often than not such advantageous positioning will lead to a win for the defense. Snyder's playbook is full of these sort of unorthodox little tweaks, and to my eye he will pull them out for a variety of reasons, be it an individual matchup he wants to exploit or something more vague like the spacing he prefers to push the offense towards. On the NBA level, with smarter and more coordinated athletes, I see him quickly instituting these sorts of heady counters that will keep the opponent guessing.
Having followed Snyder far longer and more intently than myself, what can you tell me about his success with player development over the years?
Clint: The most important thing about Snyder's history of development is its consistency.
Mike Krzyzewski was always profuse in his praise for Snyder's teaching ability while an assistant at Duke. Then, in his first job as a head coach, Snyder took a team that had made one NCAA Tournament in the last four seasons, the worst stretch for Missouri since 1975, and promptly took them to four straight tournament appearances. He didn't only produce team success either. The last twenty-one NBA drafts have seen only four Missouri players drafted in the first round. Three of those – Keyon Dooling, Kareem Rush, and Linas Kleiza – were products of Snyder's seven-year reign in Missouri.
The record only strengthens in his time with the Toros in the Development League. From 2007 to 2010, Snyder won more games and boosted more players up into the NBA than any other coach in the D-League.  Players who benefited from his instruction include NBA contributors Ian Mahinmi, Alonzo Gee, and more. It was his teaching that brought him back to the NBA. Doug Collins – respected around the league for his ability to teach the game – brought Snyder in as a player development coach for the Sixers4, one element which led to more stops on his eventual rise to the top spot on Utah's bench.
But the most encouraging sign of all to me is DeMarre Carroll's public endorsement of Snyder's one-on-one teaching. In his exit interview with the Hawks, Carroll admitted Snyder was the first coach to devote substantial time to helping him with details of his game, such as footwork and shooting mechanics. Consider that Carroll played under the coaching regimes of Lionel Hollins, Rick Adelman, George Karl, and Tyrone Corbin (with Jeff Hornacek as an assistant coach). There are a lot of good coaches there, but Carroll never received that individual instruction until Snyder's single season with the Hawks.
Now, word is Brad Jones and Alex Jensen – both praised by the Jazz for their teaching and development ability – are likely to earn places on Snyder's staff. Marc Stein of ESPN even reported Snyder is trying to pry Chip Engelland away from the Spurs. You know, Engelland, the shooting coach widely credited with fixing the shots of Tony Parker and Kawhi Leonard? Yeah.
Snyder's whole career is marked by effective teaching of the game. From what we're hearing about how he's building his staff, that won't change at all now that the Jazz are his to mold. Thank heavens.
Ben: There's no question that his two previous head coaching destinations saw major improvements during his tenures, both to the overall on-court product and the individual players themselves. SCH editor Andy Larsen and I talked to one of such players, Luke Bonner (younger brother of Spurs forward Matt Bonner), on Thursday's podcast, and he was about as complimentary of a coach as you'll ever see from a former player. He had previously told Andy that Snyder was "the best coach I've ever played for", and backed up that statement with some really eye-opening anecdotes from his brief time under Snyder in Austin. Luke told us how, despite being the 10th man in the rotation5, he would frequently be taken aside by Snyder for video review or work on some part of his game. He noted how, despite a sometimes-ridiculous D-League travel schedule that would have them on buses at 5 AM regularly, the coaching staff always seemed to be huddled together or with players, talking basketball and working on how to improve. True dedication, and there appears no doubt it was instilled from the top down.
The potential addition of Engelland to his staff is tantalizing, and would give the Jazz a true powerhouse coaching staff as far as player development goes. He would also further assist with Snyder's stated goal of introducing more pace and Spurs-ian movement into Utah's offensive game, and his masterful touch as a shooting coach could be a godsend for some of the Jazz's developing young players. I expect to see lots more creativity from the Jazz on both ends next season – likely more diversionary actions before intended sets to confuse defenses (known as "fluff', as Zach Lowe pointed out in a Grantland piece last week), more hand-offs and cuts designed to give wings like Hayward and Burks the ball with momentum to the hoop, and a general increase in the all-around activity level of a Jazz team that was badly lacking in pace and tempo last year.
This sort of thing likely happens nearly every time a franchise makes a regime change, but I can honestly say that the fan side of me is very excited to see what Quin Snyder and his staff can bring to the table. Every angle I can find tells me he's energetic, caring and loyal towards his players, remarkably intelligent, and most of all highly adaptable and creative. He comes with an elite pedigree and recommendations from some of the most well-respected names in all of basketball, on more than one level. Like you, Clint, I simply can't wait to see what he can do with this young team that's now his to mold.
Clint: I'm as big a fan of this hire as there is, but that doesn't mean I'm unrealistic.6 I'm under no delusion that Quin Snyder is a better head coach than Jeff Van Gundy or some others of Jazz fans' most dreamed of candidates. Nor am I ignorant of his checkered past.7 I also have my questions and reservations about his possible coaching weaknesses, or "blindspots" as Snyder named them in his introductory press conference.
Will his guys work as diligently on defense as offense? Will he focus so much on scheme that simple execution sometimes suffers, as sometimes happened at Missouri? At 47 and without previous head coaching experience at this level, can he establish both authority over and trust from his players? Can he assemble a potent stable of assistant coaches without feeling threatened by them?
There is no such thing as a perfect hire, and this isn't the exception that proves the rule. But the Jazz are at a point of foundational change, and change can be frightening. They could have retreated to the safety of the known quantity, of the "safe" choice. Instead, they reached for a coach with genuinely transformative potential, and of the options in this riskier direction, I believe Snyder is a clear best option.
I think he's really good, and I think he can be great. I'm so excited to see him work to prove it.