In the craziness of NBA players being on national television, starring in commercials, contract amounts I can't even wrap my brain around, playing in the Olympics, sometimes I forget that these men who don Utah Jazz jerseys are husbands, fathers, sons, brothers, uncles, cousins, and friends.
And then sometimes they do something that jolts me back to reality that they are human. And sometimes they do something so classy or cool or fun or witty that it's just a nice reminder that they human, too. Here are a few that have reminded me of some of the ordinary in their extraordinary lives.
1. Paul Millsap wrote a letter to the Jazz organization, thanking them for the last seven years. Here's what Randy Rigby had to say about it this week:
"We got today, also, a very nice letter. And in fact, my assistant, Judy Adams, said in her 25 years [with the Jazz], it's the first time ever, she says, we've heard people say thank you, but actually Paul Millsap wrote a very nice letter to the Jazz organization saying, 'You know what? You've, over seven years' time, you've done a great thing for me and my family and I want to say thank you for all you've meant and all you've done for the Utah Jazz.'
And you know what? That was a class act from Paul Millsap. And I really appreciated, you know, the time Paul gave us and the job that he did in Utah."
What an incredibly classy, incredibly kind move. Paul Millsap was my favorite Jazz player his first six years on the team, and to see him in another uniform this season will be weird. But I'll have fond memories of him and an even fonder memory of a thoughtful and surprising move here with his letter.
2. Al Jefferson and Paul Millsap called Derrick Favors to give him encouragement. After they signed with their new teams. According to the HoopsWorld article on Derrick Favors this week:
"As Favors tells the story, both outgoing Jazz starters Al Jefferson and Paul Millsap called him when they reached free agent deals to leave the team to tell him that the Jazz was his team now, and that in their eyes he was ready to take the mantle of franchise player."
"As Favors tells the story, both outgoing Jazz starters Al Jefferson and Paul Millsap called him when they reached free agent deals to leave the team to tell him that the Jazz was his team now, and that in their eyes he was ready to take the mantle of franchise player."
Once again, an unnecessary—and thus classy—move by the veterans. Both Jefferson and Millsap were no longer Jazz men when they made calls to Favors; they were under no obligation to make the call or cheer on their new competitor. But they did. They've spent a couple of years around Favors and found both his game and his character to be worthy of commendation and encouragement. In a league so often wrought with massive egos and "it's all about me" selfishness, that's a very impressive move.
3. Jeremy Evans wrote a thank-you note for a wedding gift. Spencer Ryan Hall provided another glimpse into a player's character this week with these tweets:

Sometimes I forget these players have lives and families and friends and celebrations outside of basketball, because all I see of them is playing basketball on TV, answering questions before or after practice or games, tweeting that they're in the gym again, etc. Then we get a wonderful glimpse like this. Friends of mine who've been married recently have said getting all the thank-you notes sent out after the wedding is a long and tedious process, though one for which they're obviously grateful. So to see an NBA player doing that same non-glamorous, long and tedious process is cool.
3. Karl took Kanter fishing.
Enes Kanter is tweeting again! Hallelujah! Whether fortunately or unfortunately, he's much tamer on Twitter this summer than last, but we've gotten some fun gems recently. This week, Karl Malone took Enes fishing. Malone's job description as part-time big-man coach probably didn't have a bullet point for "Take the Big Turk Fishing", but we're glad he did. It shows a relationship that's about more than post-up moves, which can only help the coach-player relationship. It's just such a real, down-home, down-to-earth activity to do. No glitz. No glamor. Just fishing. (and Twitter) Also, sometimes I wonder if you'd have to play the "Let's see how long we can be silent so we don't scare the fish" game with Kanter like you do with four-year-olds sometimes. Just me?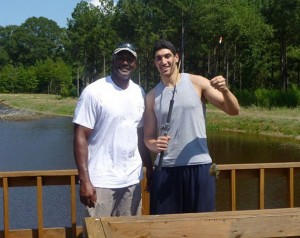 4. Karl's four days with Larry H. Miller in the hospital.
After Larry H. Miller's heart attack and subsequent hospital stay, Malone flew to Utah and stayed with him for four days. From the autobiography "Driven" with Doug Robinson,
"During those four days, Malone say by Miller's bedside from morning till night. 'I punched in like I was going to work,' says Malone. 'I'd get there at 7 or 8 and leave at about 8 or when he got too tired, and I'd spend the night in a hotel and show up the next day.' Malone became another nurse for Miller. He fetched cold towels and glasses of water; he massaged Larry's arm and wiped his mouth and helped him in and out of his wheelchair and bed."
I found this paragraph to be one of the most touching moments of the book. Jazz fans who have been around for a while likely remember the nearly yearly spats between Malone and Miller every offseason, so to have the relationship have, as part of its ending, something like this, is beautiful. Once again, we get a glimpse into a very human side of both men.
We may have a lot of new faces on this year's roster, but thanks to social media, sports websites, books, and other sources, we're able to get some wonderful glimpses into the men we're rooting for. And that makes it even more fun.